This Great Gable walk is a classic encompassing hands on scrambling, wild mountain scenery and breathtaking summit vistas. You'll also pass one of the most photographed natural attractions in the Lake District and a popular wild camping spot.
Walking Route – Great Gable from Seathwaite
Distance: 10.1 km (6.3 miles) / Elev Gain: 872m (2,862ft)
High Point: Great Gable - 899m
Map: Lake District BMC Map
GPS Download: Great Gable from Seathwaite
Starting Point: Seathwaite Farm
Highlights: Sourmilk Gill / Gillercomb / Green Gable / Great Gable / Climbers Path / The Napes (Napes Needle) / Styhead Tarn
This circular walk starts from the small hamlet of Seathwaite in the Borrowdale valley. A head for heights, some scrambling skills and a good weather window are suggested for this route. The first 2.5 miles are pretty much all uphill, starting with a steep scramble at Sourmilk Gill (waterfalls). There are various routes up the Gill, the easiest being a grade 1 scramble – note, in wet or icy conditions it can obviously become more challenging. As you get higher the view back over the Borrowdale valley opens up, presenting the first of many photo opportunities.
You'll walk steadily up into the valley (marked Gillercomb on the map) passing behind Base Brown (646m), here there is some great wild mountain scenery as you look back down the valley and to the ridge line of Grey Knotts (697m) and its slightly taller neighbour Brandreth (715m). A bunch of cairns lead up to the summit of Green Gable, the first high point of the day at 801m (2627 ft) above sea level. On a clear day the views here are sublime, in high winds a couple of stone windbreaks also provide a welcome sight and a chance refuel.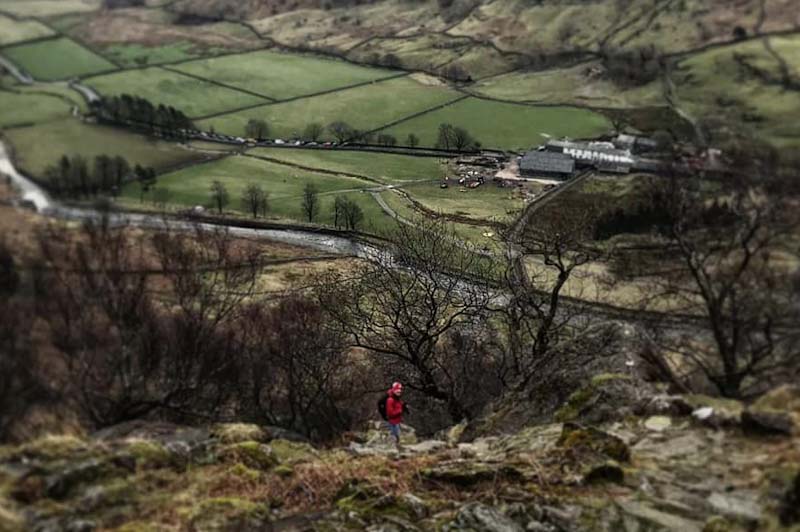 From the summit of Green Gable you drop down to a trail intersection named Windy Gap, no doubt called such due to the insanely strong winds that can funnel up from the valley floor. (Note – if you need to bail out for some reason here is where you do it, head down the steep rocky path ('Aaron Slack' on the map) to Styhead tarn and rejoin the route). Ahead is the final push to the summit of Great Gable, this rocky face appears somewhat intimidating, however you can pick a scramble to suit your capabilities – no worries. The views from the summit of Great Gable are both exceptional and panoramic, and if you only get your camera out once on the walk this is place to do it! 100m metres SW of the summit is Westmorland cairn, erected by two brothers in 1876 to mark what they believed to be the best view in the Lake District.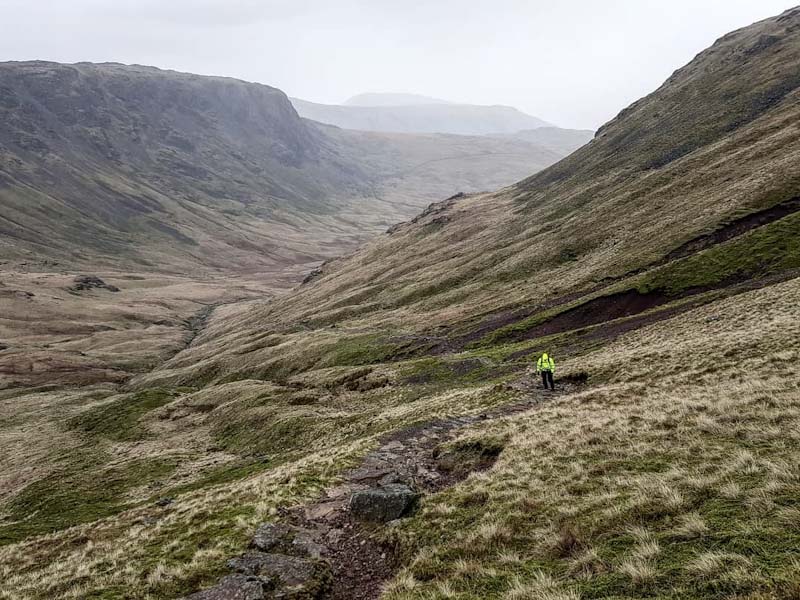 From the summit the route drops steeply towards Beck Head, go south and join the start/top of the Climbers Path, marked by a small cairn at the col. This path traverses the upper south side of Great Gable, and forms part of Wainwright's Gable Girdle route, albeit in reverse on this occasion. The faint scree path initially heads uphill for a few hundred metres to the base of a crag. You are now high above Wasdale Head and will no doubt be aware of the exposure and somewhat tricky terrain underfoot!
The Great Napes (aka The Napes) crag is home to the much photographed Napes Needle, an awe-inspiring rock pinnacle which holds mythical status amongst rock climbers and is regarded as the birthplace of British rock climbing – see here for info. For a proper look at Napes Needle you'll need to take a detour scrambling uphill over loose scree, more often than not there will be climbers about if you're struggling to find it. Back on the Climbers Path a fairly steady descent continues on with some great views to be had. You'll eventually reach an intersection of paths, here head towards Styhead tarn and past the Mountain Rescue stretcher box. Styhead tarn is a popular wild camping spot if you fancy a night under the stars – although you'll likely not be alone!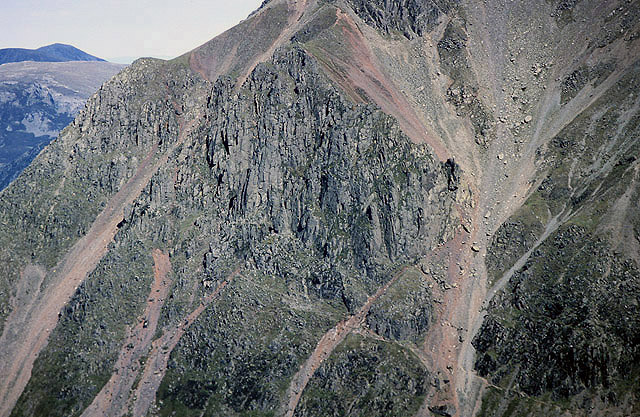 The walk is now straight forward really, following Styhead Gill down the valley back towards Seathwaite farm. The path not always obvious though the direction of travel should be. The long descent is a bit of a quad burner however the good views will hopefully take your mind of that! In conclusion this is a classic walk with awesome views, requires a head for heights and some hands on scrambling, and is best tackled in fine and dry weather.
Further Info
Starting Point – Seathwaite Farm (Postcode CA12 5XJ) is located in the small hamlet of Seathwaite at the end of Styhead pass, within Borrowdale valley. The closest town is Keswick.
Parking – Limited free layby parking at the end of Styhead pass in Seathwaite. Paid parking is available at Seathwwaite Farm – £5 at the time of writing.
Other Notes – there is a public toilet at the farm. In terms of maps I use the Harvey BMC Lake District map, along with the ViewRanger app.