The Skiddaw range is home to some classic Lake District mountain biking. At 931m (3,054ft) Skiddaw itself boasts the longest and fastest big mountain descent in the UK. The surrounding fells also offer some great adventure riding including technical singletrack, lung-busting climbs and everything in between. Oh and the views aren't too shabby either !
Skiddaw Range Circular
Distance: 20.3 miles (32.6 km)
Elevation Gain: 2,579ft (786m)
Trail Difficulty: Intermediate
Time: 3h – 5h
This popular circular route (known by UK mountain bikers as Back o' Skiddaw) traverses the northern area of the Skiddaw range in an anti-clockwise direction. Start the ride from Mosedale or Keswick (the town or Lattrig car park). Its a mixed terrain ride and includes bridleways, loose rock tracks, fields and tarmac sections. Highlights include the descent into Branthwaite, the Whitewater Dash (one of the finest waterfalls in the Lake District) climb and a 7 mile predominately downhill blast into Mosedale. The route is pretty remote in parts so prepare accordingly.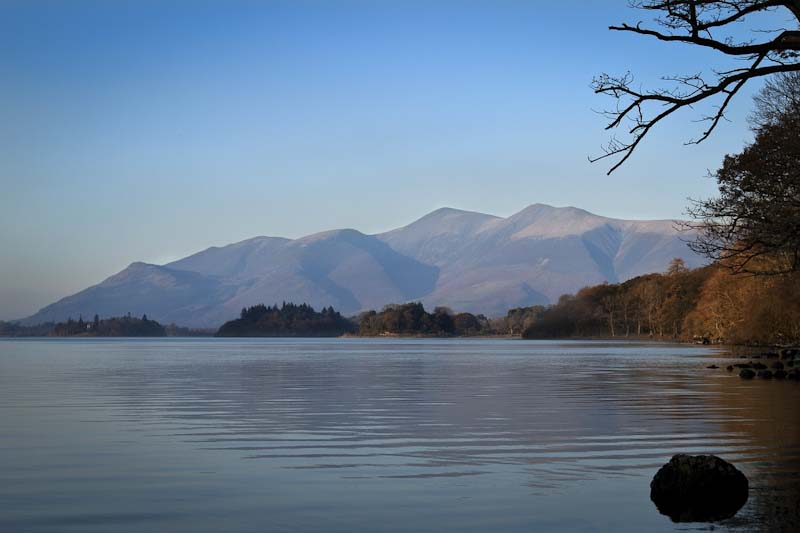 Skiddaw Summit MTB Ride
Distance: 9.5 miles (15.2 km)
Elevation Gain: 2,826ft (861m)
Trail Difficulty: Advanced
Time: 2h – 4h
Dominating the skyline of the northern lakes is Skiddaw, this unmistakable beast is England's sixth highest mountain and for mountain bikers of a certain ilk an opportunity awaits. Not for the faint of heart this is a ride of two halves, starting from the market town of Keswick.
First is a mammoth uphill struggle and at 4.5 miles its long, steep and unrelenting. At the edge of town you head onto Spoonygreen lane, this section of the Cumbria Way long-distance footpath takes you up through woodland and towards the main car park for Latrigg – a small fell popular with walkers.
The trail becomes exposed and you join a bridleway which leads all the way to the summit of Skiddaw. Unless you are super human you will be pushing your bike for long periods of time, and possibly questioning why you are putting yourself through the ordeal! The higher you get the greater the payback, in part because the summit is getting closer but also because the views are breathtaking. Make the most of it as you'll need to focus on the trail (not the views) on the way down!
You'll reach the summit with mixed emotions, and if nothing else you can smile in the knowledge you'll likely never attempt the climb again! After spending some time resting, taking photos and fueling up its time to turn you're bike around and psyche yourself up.
The descent is fast and furious, scary and sketchy – with drop-offs, deeps ruts, rocks and some gates thrown in to thankfully slow you down. Hold on for dear life and feel the adrenaline flood your body, for this is a ride like few others in the UK! It should be noted this is not a dedicated MTB trail, you may therefore come across walkers, horses and other riders – please slow down and show respect and courtesy to others.
This type of ride is clearly not every mountain bikers cup of tea, however if you plan to do it choose a fine weather day with good visibility, and of course most importantly have fun!
Further Info
Getting There – You'll need wheels to get to Keswick. There is loads of paid parking around town, including Lakeside Car Park. Limited on-road parking on Brundholme Rd (Postcode: CA12 4NW), at the head of Spoonygreen lane. The closest train station to Keswick is Penrith, followed by an approx 40 min bus journey.