Stand Up Paddle Boarding has landed in Cheshire and its here to stay, so pump up your SUP and lets go paddling!!
Where to SUP in Cheshire
Stand Up Paddle Boarding (SUP) is the fastest growing water sport in the UK, and the good news is there are now a number of locations in Cheshire where you can learn to SUP or self launch with your own board.
Manley Mere
Located in the heart of the Cheshire countryside is Manley Mere, a man- made lake dedicated to water sports and popular with SUPers. They offer 1hr SUP taster sessions, paddle board hire or you can simply pay to go paddling with your own board.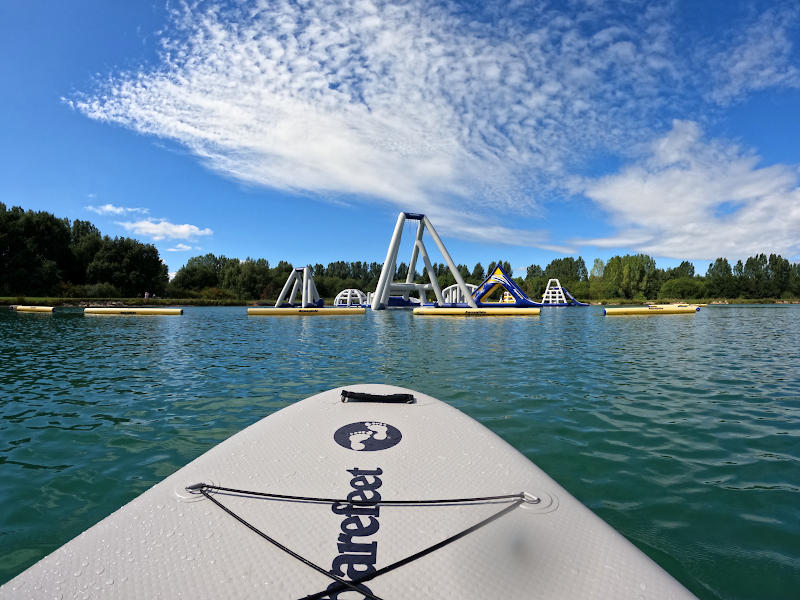 Other water sports on offer include windsurfing and kayaking, they also have an inflatable aquapark (summer only) and a muddy adventure trail for those who prefer to stay on land!
Note – you'll need coins for the pay on entry barrier. Refreshments are available at the onsite bar and restaurant.
Further Info – manleymere.co.uk
Wild Shore Delamere
Wild Shore Delamere opened in summer 2019 and promises to be a big hit with SUPers from Cheshire and beyond. The Watersports and Aqua Park is located at Delamere Lake, a large fresh water lake situated close to Delamere Forest.
The team at Wild Shore offer a menu of SUP experiences covering all levels of ability. Beginner focused Learn 2 SUP lessons take place within SUP Bay which is a sheltered section of the main lake. Here the super friendly instructors will introduce you to the world of SUPing and equip you with the essential skills to go paddling.
Pay & Paddle are supervised sessions also in SUP Bay, allowing you to practice in a safe environment and build confidence before transitioning to the main lake.
SUP & Explore is a guided group tour of the main lake, meet new people and pickup some new skills from the knowledgeable instructors. For more experienced SUPers and those with their own board you can pay for a 3 hour open session on the main lake, explore at your own pace and hone your skills in this relaxed environment!
Further Info – wildshoredelamere.co.uk
Cheshire Canals & Rivers
Unleash your inner adventurer by exploring the waterways of Cheshire by SUP. You'll need a license to paddle on the waterways mentioned below – I recommend joining British Canoeing, an On The Water membership is currently £45 and includes both a license and public liability insurance. See here for a list of all the waterways covered by the license.
River Weaver
The River Weaver Navigation spans 20 miles (including 5 locks) and provides plenty of scope for SUPing. There is a dedicated launch at Acton Swing Bridge (near Northwich) – its an idyllic location with some beautiful Cheshire views.
Paddle either left towards Saltersford lock (past the rowing club) or right towards Dutton locks – you can easily do a couple of hours paddling here.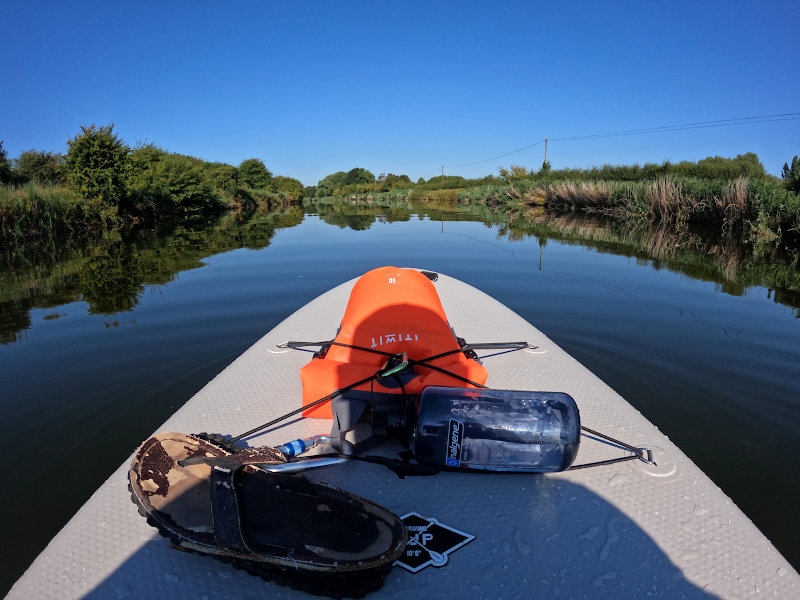 On-road/lay-by parking on Willow Green Lane by the Leigh Arms pub, access the launch by walking towards the swing bridge and down through the gate (no need to cross the busy A49).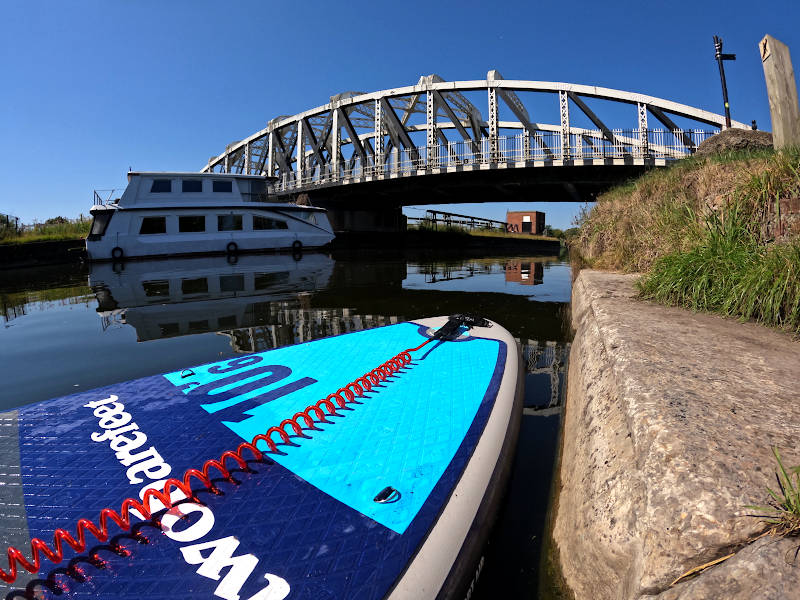 Bridgewater Canal
The Bridgewater Canal is a 40 mile stretch of canal which runs through the heart of rural Cheshire. Its popular for Canoeing and Kayaking, with SUPers now starting to enjoy its gentle waters and many picturesque locations en-route (including canal-side pubs in places such as Lymm and Stockton Heath :D).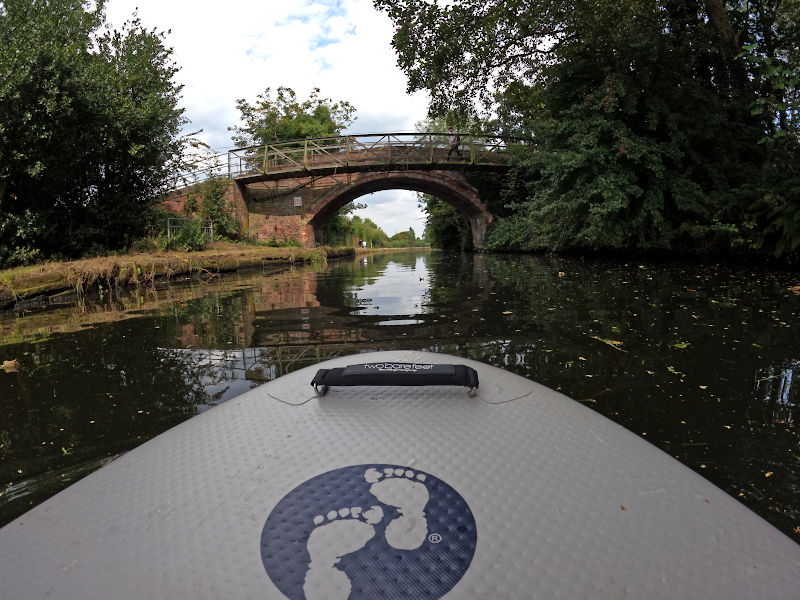 With the towpath running adjacent to the canal there are endless launch spots for your SUP. One such location with limited free canal-side parking is on Walton Lea Road, close to Walton Gardens in Warrington. There is space for 5-6 cars (arrive early on a weekend), the off-road parking is at the junction with Hough's Lane next to the humpback bridge.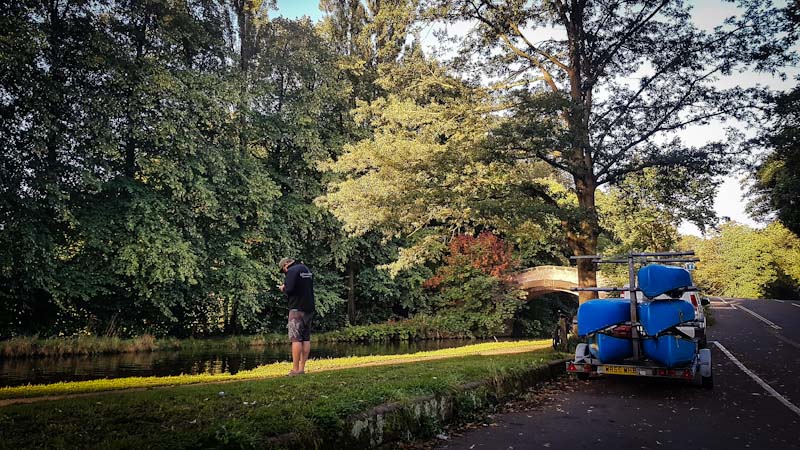 Macclesfield Canal
Macclesfield Canal is a 26 mile stretch of canal passing through many rural areas of east Cheshire. Its runs from the town of Marple (Greater Manchester) south through Macclesfield and Congleton, eventually linking up to the Trent & Mersey Canal. Along with some great scenery which includes views of the Peak District, the canal has a Green Flag award (keep Britain tidy) so hopefully your paddling experience wont be interrupted by floating 'fatbergs' or other human generated debris !
Where do you go SUPing in Cheshire? Comment below and we'll include it in this guide !
Hazards
Water can be dangerous, expect the unexpected and be aware of wind speed which can make paddling (and staying on your board) harder – always carry a phone and please wear a buoyancy aid.
Remember – we cannot highlight all potential hazards when out in the great outdoors. Safety is ultimately down to you. Educate yourself in safety, weather reports, navigation and equipment specific to the activity you intend to undertake and conditions/terrain you may encounter! Check out adventuresmart.uk for general outdoor safety considerations – and activity specific guidance for hill walking, paddle boarding, mountain biking and open water swimming.