Snowdonia National Park in North Wales is home to some iconic mountains and epic walks. The crown jewel is Snowdon, the highest mountain in England and Wales attracts walkers from far and wide. The equally impressive Glyderau and Carneddau ranges offer big mountain walking amongst stunning scenery. With gems such as Cadair Idris lurking towards the outer reaches of the national park, its fair to say North Wales packs a big punch on the adventure scale – so grab your hiking boots and go explore!
Mt Snowdon is the most popular of all the mountains, and the highest in England and Wales. Part of the Snowdon massif, its distinctive summit dominates the skyline for miles around. Classic walking routes to the summit include the infamous Crib Goch – a knife edged ridge walk not for the faint hearted! Away from Snowdon the neighbouring mountain ranges of the Glyderau and Carneddau are less popular but equally as impressive. In particular Tryfan and Carnedd Llewelyn appear on many walkers to-do list. Further afield to the south is the mighty Cadair Idris, an impressive mountain boasting magnificent views towards the Irish sea and beyond.
Snowdon massif
Mountains: Snowdon 1085m / Garnedd Ugain 1065m / Crib Goch 923m / Y Lliwedd 898m / Lliwedd Bach 818 m / Yr Aran 747m / Moel Eilio 726m / Llechog 718 m / Moel Cynghorion 674 m / Foel Gron 629 m / Gallt y Wenallt 619m
The Snowdon massif is a mountain range in the heart of Snowdonia National Park. Within the range is Snowdon, the highest mountain in England and Wales at 1,085 metres above sea level. Snowdon itself is the most popular mountain in the UK and attracts busloads of walkers throughout the year. The summit can be approached via multiple different paths, allowing you to traverse or summit other peaks en route. This allows you to choose a route which suits your fitness, walking skills and sense of adventure!
Crib Goch
Crib Goch is a knife edged arête (ridge) with a high point of 923m above sea level. Infamous for its exposure (and occasional fatality), the classic traverse should only be attempted on a clear and calm day by walkers with scrambling experience who are comfortable with high mountain exposure. Crib Goch is part of the Snowdon Horseshoe route, and can also be walked as a alternative to the Pyg track and Miners Track. Most people will tackle the ridge via its classic East to West direction, if you choose the opposite you may find yourself queuing against a steady flow of walkers! In winter conditions Crib Goch is considered a mountaineering route and only expert mountaineers should attempt the route. Show Crib Goch respect and you will have an unforgettable experience, and hopefully some awesome photos!
Snowdon Walking Routes
There are a number of established walking routes all of which lead to the summit of Snowdon. The same path can be used to walk up and down the mountain, or a combination which will make a more interesting walk. The Snowdon Sherpa bus service travels around the foot of the mountain, linking the main paths and car parks.
| Route | Return Distance | Elev Gain | Approx Time | Difficulty |
| --- | --- | --- | --- | --- |
| Llanberis Path | 14.6km (9mi) | 975m (3200ft) | 5-7 hours | Moderate |
| Pyg Track | 11.3km (7mi) | 723m (2371ft) | 4-5 hours | Moderate |
| Rhyd-Ddu Path | 12km (7.5mi) | 895m (2936ft) | 4-6 hours | Moderate |
| Miners Track | 12.9km (8mi) | 723m (2371ft) | 4-6 hours | Moderate+ |
| Snowdon Ranger Path | 13.5km (8.4mi) | 936m (3070ft) | 5-7 hours | Moderate+ |
| Watkin Path | 13km (8mi) | 1015m (3329ft) | 5-7 hours | Moderate/Hard |
| Snowdon Horseshoe | 13km (8mi) | 1030m (3400ft) | 4-6 hours | Hard/Severe |
Comparison of Snowdon routes.
Glyderau
Mountains: Glyder Fawr 1001 m / Glyder Fach 994 m / Y Garn 947 m / Elidir Fawr 924 m / Tryfan 918 m / Foel-goch 831 m / Carnedd y Filiast 821 m / Mynydd Perfedd 812 m / Y Foel Goch 805 m / Gallt yr Ogof 763 m / Y Fronllwyd 720 m
The majestic Glyderau is a wild and untamed mountain range which includes five of Wales fifteen summits over 3000 feet (aka the Welsh 3000s). It attracts less walkers than the Snowdon massif however is still a busy walking area, especially on a summer bank holiday weekend. Popular peaks in the range include Tryfan, Glyder Fach and Glyder Fawr – all of which can be scaled on a day walk.
Tryfan
Tryfan is one of the most recognisable peaks in the UK due to its classic mountain appearance; from the East its distinctively shaped ridge resembles a dinosaurs spine, and from the slopes of Glyder Fach its pointy summit is unmistakable. There are numerous routes to the boulder strewn summit, each of which requires a level of scrambling – the route you choose will determine the difficulty, with easy scrambling an option. The summit itself is home to the famous twin upright rocks known as Adam and Eve. Visible from the Ogwen valley below, there is somewhat of an obsession with stepping/jumping between the 3 metre high rocks. The gap is approx 1.2 metres however the exposure is great and a mistake here would not be pleasant.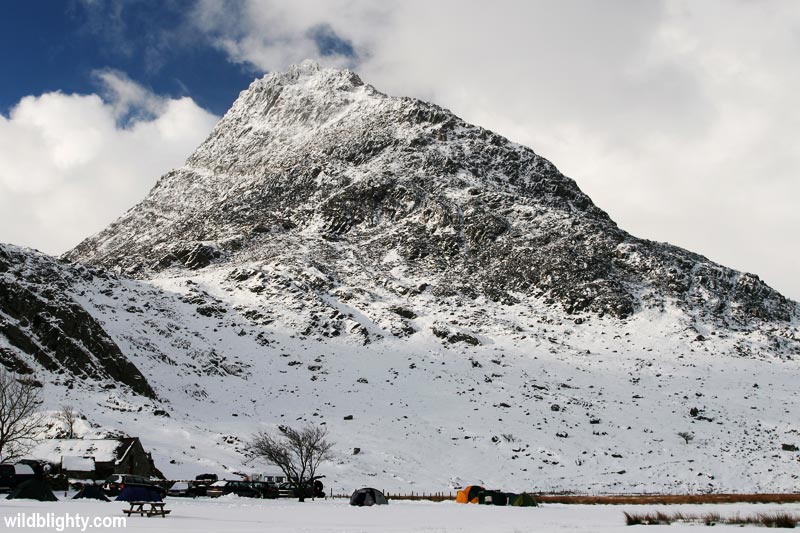 Glyder Fach & Glyder Fawr
The mountains of Glyder Fach and Glyder Fawr are a barren yet majestic landscape. The otherworldly boulder field on Glyder Fach is home to the iconic Cantilever Stone, a rocky slab which appears to balance delicately and resembles a diving board when viewed from the correct angle. On a busy day you'll be queuing to get your photo taken here! Castell y Gwynt (972m) aka 'Castle of the Winds' is a prominent rock pinnacle close to the summit of Glyder Fach. A mountain in its own right, in reality its more of a feature albeit an impressive one.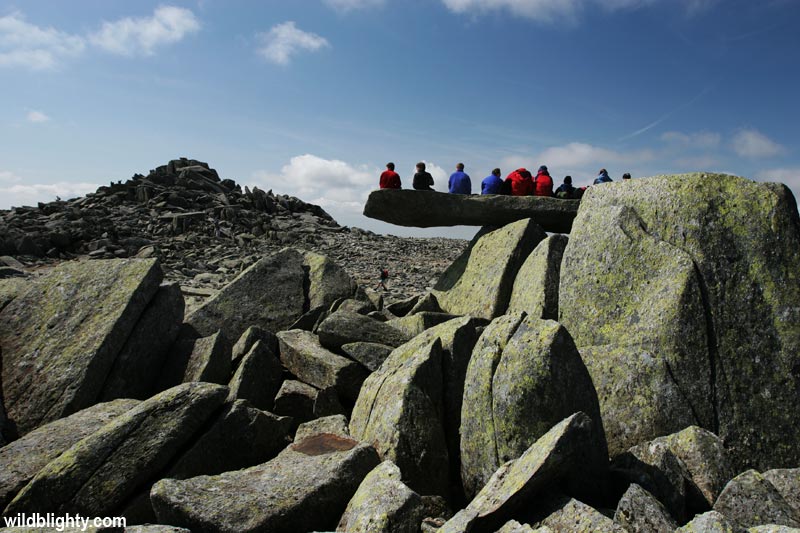 Carneddau
Mountains: Carnedd Llewelyn 1064 m / Carnedd Dafydd 1044 m / Pen yr Ole Wen 978 m / Foel-fras 942 m / Foel Grach 977 m / Yr Elen 962 m / Carnedd Gwenllian 926 m / Llwytmor 849 m / Pen yr Helgi D 833 m / Bera Bach 807 m / Foel Meirch 800 m / Pen Llithrig y Wrach 799 m / Bera Mawr 794 m / Drum 770 m / Drosgl 758 m / Craig Eigiau 735 m / Carnedd y Ddelw 688m / Creigiau Gleision 678m / Gyrn Wigau 643 m / Creigiau Gleision North Top 634 m / Pen y Castell 623 m / Craiglwyn 623 m / Tal y Fan 610 m
The Carneddau is an untamed and lofty mountain range with no less than six of the highest mountains in Wales. Often overlooked for the Snowdon massif and Glyderau, the Carneddau should certainly form part of your itinerary when in the area for a few days. The towering Pen-yr-Ole-Wen dominates the skyline from the Ogwen valley at the southern edge of the range. Moving north are the giants of Carnedd Dafydd and Carnedd Llewelyn, the latter being the second highest peak in wales after Snowdon. Other highlights in the range include Bera Bach, a magnificent and photogenic rocky tor. At the northern edge of the range is Aber Falls, an impressive 120ft waterfall which is also a possible starting point for your adventure into the Carneddau.
Cadair Idris
Cadair Idris is a beast of a mountain located at the southern end of Snowdonia National Park, approx 50 miles from the Snowdon massif. The mountain consists of a whopping 6.5 mile long ridge, and is one of the most popular peaks in wales for walkers. Its summit Penygadair is 893 metres above sea level and on a clear day boasts awesome views in all directions, including the Llyn Peninsula and the island of Ireland. The summit of Cadair Idris is marked by a trig point, there is also a mountain bothy (roofed stone shelter) should you run into bother or need to seek shelter from the elements. 3 main routes lead to the scree covered summit:
Pony Path – the easiest and longest path beginning from Dolgellau or the Mawddach estuary. Distance (one-way) is 5km/3.1mi, with 600m/2000ft of ascent.
Fox's Path – the most direct route to the summit which ascends the cliff and scree strewn northern face. Caution should be taken on this path, with the descent being dangerous due to erosion. The overall ascent is 3.8km/2.4mi.
Minffordd Path – this routes begins close to Tal-y-llyn (Lake) on the southern side of the mountain. The ascent passes the beautiful Llyn Cau (lake) and also traverses the sweeping rim of Craig Cau, and impressive rock-wall. The path is 4.4km/2.7mi long.
Cadair Berwyn
This 8.5 mile circular route takes you off the beaten track into the wild Berwyn range – a great alternative to the ever popular Snowdonia. In addition to summiting Cadair Berwyn (the high point of the range), the walk also takes in the impressive Pistyll Rhaeadr – the 73m waterfall is one of the seven wonders of wales, and (for some) worthy of a trip in its own right!