Surfing in North Wales was traditionally focused around the Llyn Peninsula and rugged coastline of Anglesey, however in 2015 that changed with the introduction of the world's first inland surf lagoon at Surf Snowdonia!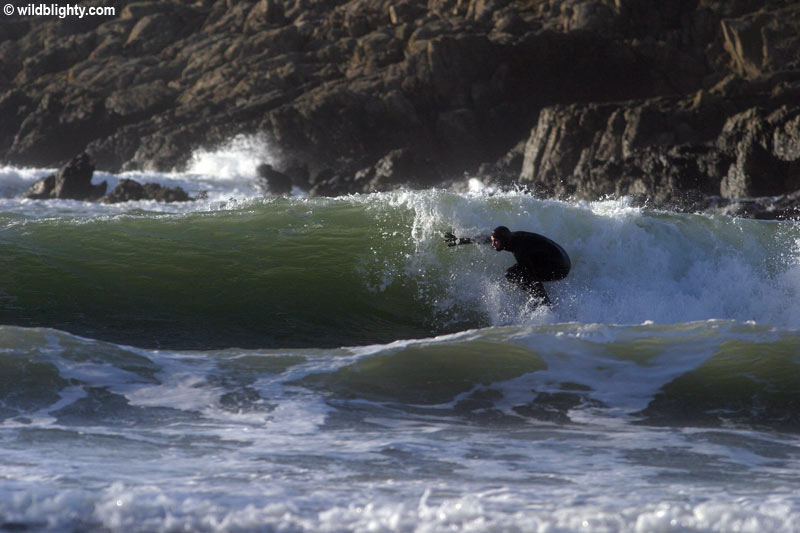 Surfing at Cable Bay (Porth Trecastell), Anglesey, North Wales.
Llyn Peninsula
The windswept beaches of the Llyn Peninsula are a popular surfing destination with south-west winter swells from the Atlantic producing some solid waves. The main tourist town of Abersoch is the place to head for accomodation, supplies and surf equipment – for the latter check out Abersoch Watersports.
Hell's Mouth (Porth Neigwl)
Hell's Mouth is regarded as the most consistent surf spot on the Peninsula, this unbroken 4 mile long predominantly sandy south west facing beach is suitable for all levels. West Coast Surf Shop and Offaxis both run surf schools at Hell's Mouth during the summer and autumn months. The beach is also popular for body boarding and surf kayaking. The way-marked Llyn Coastal Path runs alongside the beach if you fancy a wander.
Sat Nav Postcode: LL53 7LG / Google Maps
Porth Ceiriad
Situated between the popular town of Abersoch and Hell's Mouth is Porth Ceiriad. This untouched beach is surrounded by high cliffs, and is a short walk from the car park which overlooks the break. Can be flat in the summer however with the right winter conditions produces the best barrels around. Beginners should avoid the easterly end of the beach where waves bounce off the cliffs to produce some powerful peaks. The beach is also popular for swimming, body boarding, kayaking etc in calmer summer conditions.
Parking is at Nant Y Big campsite, take £1 coins to pass through the barrier.
Sat Nav Postcode: N/A / Google Maps
Aberdaron
Suitable for experienced surfers this stunning 1-mile long beach break sits at the western tip of the Llyn Peninsula. The beach is protected by headlands and is in an Area of Outstanding Natural Beauty. Outside of the main summer tourist season the beach is deserted and if conditions aren't favourable its great locaation to chill. There are shops and cafes situated close-by and a large national trust car park above the beach. Beware of the rips.
Sat Nav Postcode: LL53 8BE / Google Maps
Anglesey
The island of Anglesey has surfing beaches on the south-west coast between Rhosneigr and Aberffraw. A south west wind together with a big swell provides the best surfing conditions which are generally in the winter months.
Rhosneigr
Rhosneigr is west facing and best suited to beginners. Kite surfing and wind surfing is also popular here.
Sat Nav Postcode: LL64 5QB / Google Maps
Local Surf Shop: FunSport Rhosneigr
Cable Bay (Porth Trecastell)
Cable Bay is a small sheltered bay which produces some good waves on a big swell during the winter months. When its on this place inevitably gets busy and also attracts kayakers.
Sat Nav Postcode: LL64 5JZ / Google Maps
Further Info: thebeachguide.co.uk
Aberffraw
Aberffraw is an unspectacular and exposed beach, best surfed in the winter months on a high tide. Beware as there can be strong rips close to the river mouth.
Sat Nav Postcode: LL63 5EX / Google Maps
Surf Snowdonia
Surf Snowdonia is a 300 metre long inland surf lagoon nestled in the Conwy Valley of Snowdonia National Park. Imagine the perfect wave time and time again and you start to get a feel for what this place can offer. The consistent waves mean the surf is always on even when nature isn't playing ball! Purists might not like it but its here to stay and is undoubtedly a great place to learn to surf or indeed hone your skills in a predictable environment.
Further Info: surfsnowdonia.com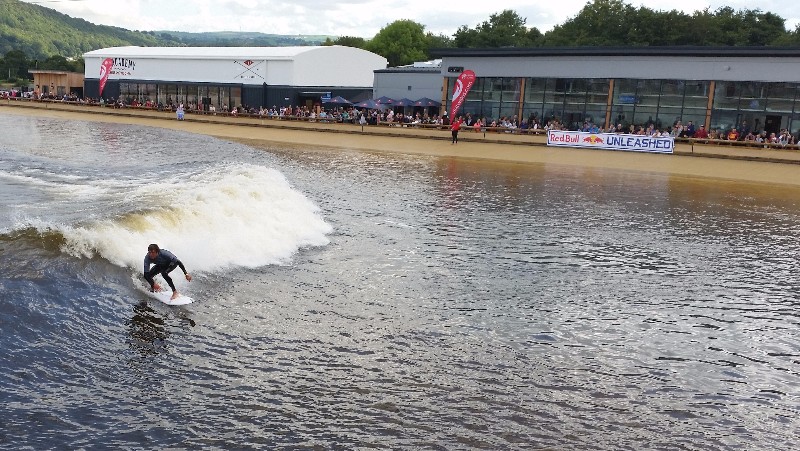 Surf Snowdonia by Hogyn Lleol / CC BY-SA 4.0