Cheshire's climbing spots may not be on the tip of every climbers tongue, however with indoor and outdoor options there is something for every climber to jam their toe into!
The sandstone crags and indoor climbing walls of Cheshire provide an invaluable stomping ground for local climbers of all levels.
Here are the main indoor and outdoor climbing locations in Cheshire:
Boulder Hut
Boulder Hut is a dedicated bouldering centre with an epic 1,000 sq metres of climbing, including tall steep walls and cave-like overhangs. Situated in Ellesmere Port and purpose built in 2018 it has an extensive array of problems to challenge all abilities.
The friendly staff are great with beginners and run regular guided training sessions and events. The onsite vegetarian and vegan cafe is highly rated, and the coffee is good to !
Further info: boulderhut.com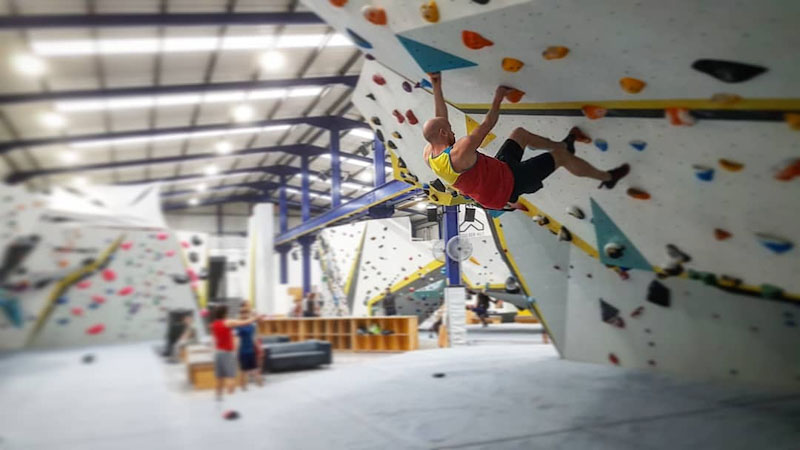 Awesome Walls Stockport
Awesome Walls climbing centre is based in a former cotton spinning mill, close to the Cheshire border in Stockport. It caters for all genres and levels of climbing, and has a wide range of lead climbing routes, top-roping, some auto belays, a large bouldering room and a traversing wall.
Its famous engine room is home to a colossal 23.5 metre tall wall, a great way to test your nerve in a controlled environment !
There is a cafe and the usual array of climbing accessories available onsite.
Further info: awesomewalls.co.uk
The Northwest Face
The Northwest Face is a climbing centre in Warrington, based within a former Church. The climbing walls are set-up for a mix of top-roping and lead climbing – in total 54 climbing lines including 5 auto belays.
A small bouldering area supplements the main climbing walls. The centre has a shop and cafe.
Further info: northwestface.com
Helsby Hill
Climbing at Helsby Hill is based around the sandstone cliffs close to the summit edge. Limited bouldering and some traversing is possible on the top tier of the crag, which is just below the summit trig point.
Trad climbing and top-roping is popular on the lower tiers of the crag, also accessible from the summit. Park at the Helsby Quarry car park (postcode: WA6 9PT), the summit is signed – head up the road opposite and through woodland up to the summit, an approx 10 min walk.
Further details: ukclimbing.com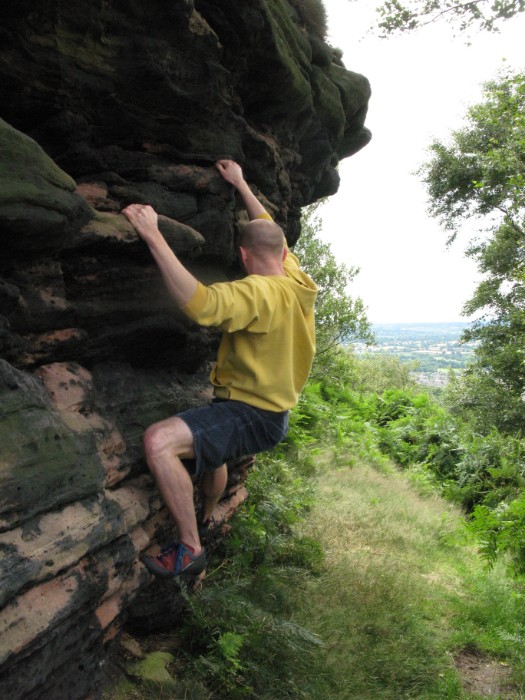 Pex Hill Quarry
Pex Hill is a semi-urban disused quarry on the Cheshire border with Merseyside. The tall vertical sandstone walls are home to a plethora of problems and routes, mostly up to 10 metres.
Climbing here requires a fingery style not suited to all, many locals solo the routes however top-roping is recommended as the exposed near vertical faces allow little margin for error.
Further details: ukclimbing.com