After an epic day walking in the mountains you find the perfect wild camping location, far from civilisation and with awesome views. You start to set-up camp and then realise you've forgotten an essential piece of kit. Don't be this person! Make your next wild camping trip one to remember by ensuring you don't forget these kit list essentials.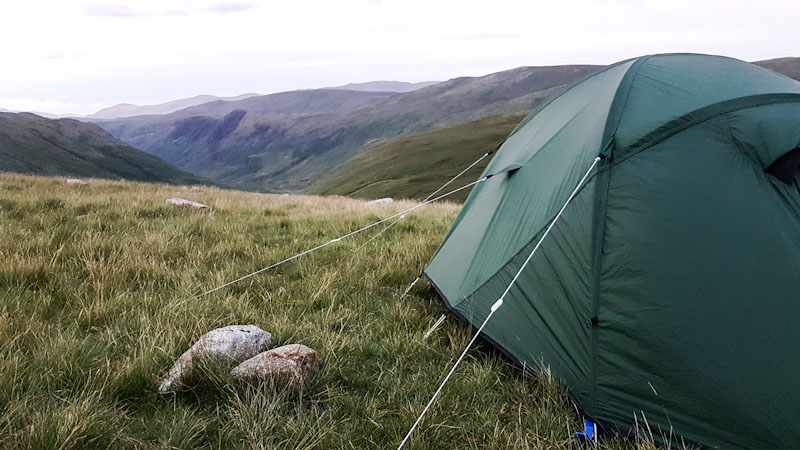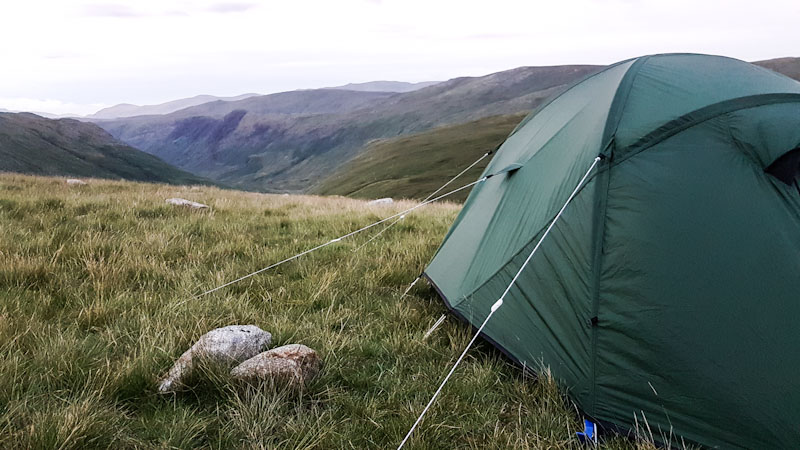 Kit List Essentials
This list covers what I consider to be the essential items for an enjoyable overnight or multi-day wild camping mountain adventure in the UK. For a super quick summary of items available to purchase via Amazon see my kit.co wild camping page – also embedded below:
Towards the end of the list there are a few less obvious items, which weigh next to nothing and may well save your bacon (or ensure you can cook it!) should something unexpected happen. Remember the more stuff you take the heavier your rucksack will be!
I've also created a handy wild camping kit list pdf download, with check boxes and space to add any personal essentials you may have.
Rucksack – as a rough guide a capacity of between 40 – 60 litres, however ultimately the rucksack you require will depend upon how much equipment you intend to carry, the season, length of trip etc. For summer season UK overnight adventures I use a pretty minimalist (i.e. lightweight) but ageing Berghaus 45L rucksack, soon to be replaced by the highly rated Osprey Talon 44.
Rucksack liner – if there is rain in the forecast I advise using a rucksack liner to ensure your stuff remains dry. You can use a large dry bag or I personally use a rubble bag – available from all good DIY stores!
Tent/Bivvy – a tent or a bivvy bag, both have there merits. I personally prefer the comfort and space that a tent provides. I have an old North Face tent, which is due to be replaced by an MSR Elixir 2. I normally remove the tent from its bag, fold and stuff into my rucksack – i find this makes packing much more practical. Sharing the load with your fellow wild camper (assuming you have one) also halves the weight.
Sleeping Bag – a synthetic or down sleeping bag with a temperature rating to suit the conditions. I personally take extras layers with me and go for a lower rating and therefore less bulky bag.
Sleeping Mat – a self inflating sleeping mat is the comfy option, I personally use a short but thick version of the Therma-a-Rest ProLite, other brands are available! Alternatively a more traditional (and cheaper) foam camping mat can be used, or indeed on a winter camp I use both to provide an additional layer between me and the frozen ground!
Dry bag – I use a small exped dry bag to keep my valuables and tech protected from both external (rain) and internal (water, food supplies etc) sources of moisture.
Water/Water Bottles– water is super heavy and whilst its tempting to take more I personally carry only 1.5 – 2 litres, assuming there are water sources on the intended walking route. A bottle allows you to easily collect water from a stream or lake, and having 2 covers you incase you drop one, and also allows for clean water in one and 'dirty' water in the other. Don't forget to purify your water, either by boiling (preferable) or using purification tablets (see below).
Tips from the Wild: In cold weather fill a metal water bottle with hot water and slide into a wool sock, this makeshift hot water bottle will help keep you warm overnight, and in sub-zero temperatures provide non-frozen water in the morning!
Water purification– my preference is to boil water, however as a backup ill always carry a couple of water purification tablets just in case.. An alternative and becoming increasingly popular are water purification bottles, the 75cl Water to Go is one such option – they take the effort away, at a price !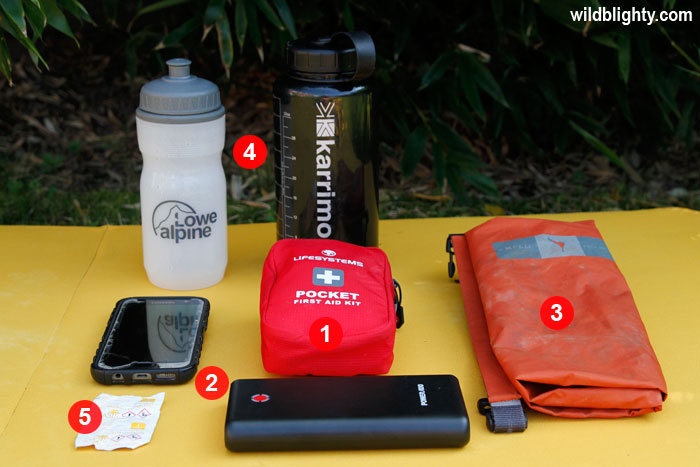 1. First Aid Kit | 2. Phone & Power Bank | 3. Dry Bag | 4. Water Bottles | 5. Water Purification Tablets
Food Supplies – enough food to support your trip, my personal favourites include salted nuts, pitta bread, avocados, passata, tortelloni, tuna, beans, chocolate (snickers!), energy bars, oats and dried milk (powder).
Cooking Stove/Fuel – a stove for cooking and to boil water for hot drinks/water purification. I use the classic MSR PocketRocket.
Fire Steel – My choice of Fire Steel is a Light my Fire Swedish Army Firesteel. Incidentally I lost mine recently and went with a cheaper alternative, namely the 2XPLORE Ignite Firesteel, which whilst it does work (and includes a handy whistle) I personally find the striker to be a little fiddly and therefore not as consistent at producing a spark. Alternatively carry matches or a lighter.
Cookware – I generally carry a Pan, Mug, Plate, Spork and Folding Knife – the latter being sharp enough for all round usage.
Cleaning Sponge – A sponge (cut in half to save space) for cleaning cookware during your trip. This item is on my kit list from experience, I once drank coffee from a pot previously used to heat some baked beans – the resulting 'boffee' was unpleasant to say the least! Note – I only use water to clean with – thus avoiding the possibility of introducing any cleaning products into the land/water source.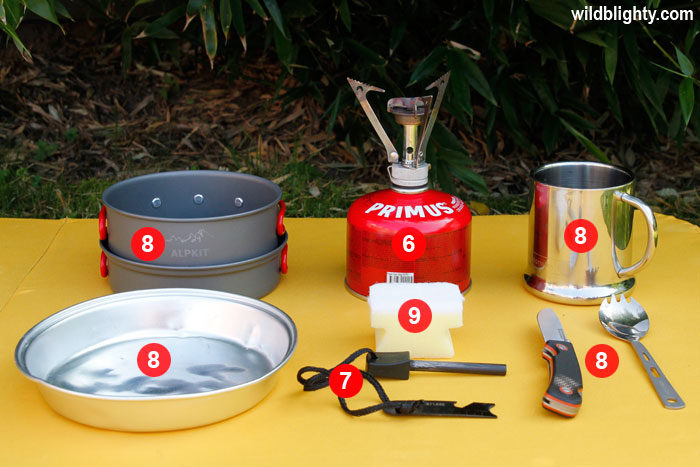 6. Pocket Rocket Stove & Fuel | 7. Fire Steel | 8. Cookware | 9. Cleaning Sponge
Mini Shovel/Toilet Roll – I don't wish to see your poo, and i'm sure you don't wish to see mine! Please don't ruin a beautiful spot through laziness…I carry a Sea to Summit Pocket Trowel which weighs a meagre 150g. A small amount of toilet roll folded up also makes it into my rucksack.
Map & Compass – a map and compass together with the knowledge to use it! Don't rely solely on your smartphone and know the battery life of your phone – carrying a Power Bank as appropriate
Head Torch – a head torch for night navigation, reading or using around the tent when dark. As of 2020 I use the Silva Trail Runner 4 – a bad ass head torch perfect for wild camping, running, hiking, climbing etc. I've since done a review of the Silva Trail Runner 4.
Waterproof Jacket – I carry a waterproof jacket even in favourable conditions, it acts as an extra layer and of course given how changeable mountain weather can be id rather be safe than sorry! I currently own the Mountain Equipment Rupal.
Waterproof Pants – if the weather forecast is for persistent rain you need to pack waterproof pants. I often substitute in place of mountain pants (especially if its wet but warm) and use thermals underneath If I need to. Whilst cheap waterproof pants will do the job they tend not to be breathable and are generally super baggy. I prefer fitted pants with air vents for all day comfort.
Base Layers – thermals pants and a thermal top will provide additional warmth when on the move or for those cold nights in the wild, i've been surprised just how cold it can get during the night on the summit of a mountain – even in the summer months!
Neck Gaiter – a neck gaiter (e.g. a Buff) has multiple uses, i'll start off using it as a head or wrist band and transform it into a beanie if it gets a bit chilly!
Beanie & Gloves – in the winter months these can keep you toasty at altitude.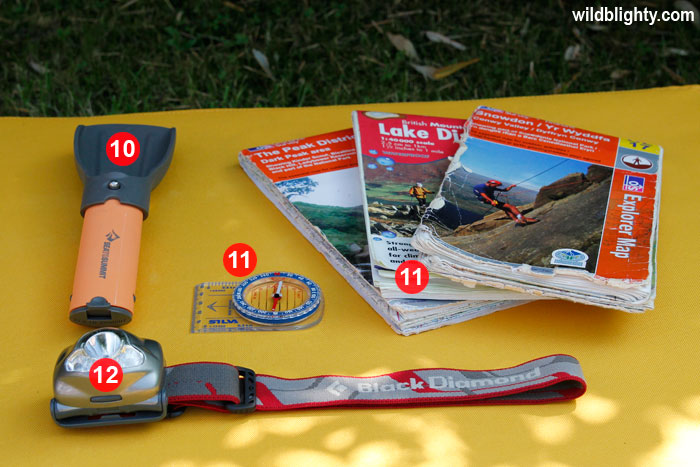 10. Mini Shovel | 11. Map & Compass | 12. Head Torch
Toothbrush & Toothpaste – I personally don't want to go to bed with peanuts and tuna lodged between my teeth! If your weight conscious you can saw off the handle of the toothbrush.. Travel toothpaste is preferable.
Gaffa Tape – approx 1 metre of quality gaffa tape. Wrap it around your water bottle or stick it to itself, unravel and cut to use. This can help with emergency repairs to kit and equipment – think a tear in your tent, a broken zip on your waterproofs, a snapped tent pole etc
Cord – approx 2-3 metres. This can be used for emergency repairs to kit and equipment – think snapped shoe laces or tent guy ropes. More practical uses include a makeshift washing line to dry wet clothes in your tent vestibule, or to tie equipment to your rucksack