Delamere Forest is home to an extensive network of trails perfect for mountain biking. From sweeping single-track to steep hills, rutted forest paths to gravel fireroads and a bike park to hone your enduro and downhill skills – there really is something for everyone.
To get you started we've covered off the main sections in the forest, including Manley Hill Bike Park and Old Pale Hill. For first time riders sticking to the perimeter of the forest will help you gain your bearings.
Manley Hill Bike Park
Manley Hill Bike Park at Delamere Forest is made up of a skills area incorporating a short downhill track, a 4x track, dirt jumps and berms. Some riders will spend a few hours sessioning the park, others will simply pass through as part of an XC loop of the forest. Even if park riding is not your bag it's still worth the detour, as the features are easily rolled or avoided as necessary.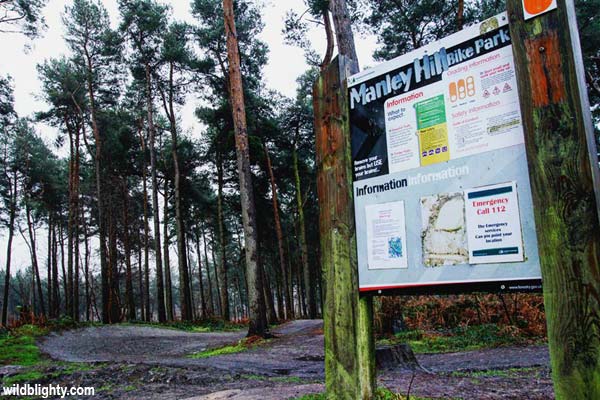 There is also some good single track riding beyond the top of the sandy path climb (which leads to the top of the bike park). Hence don't make the mistake of thinking this section of the forest is just about the bike park – its not!
The bike park can be accessed on a fireroad towards the bottom of Ashton Road – head into the forest via a gated entrance almost opposite the Outdoor Education Centre. Stick to the main fireroad and you'll arrive at the bottom of park – lookout for the signs. Lay-by parking is available along Ashton road.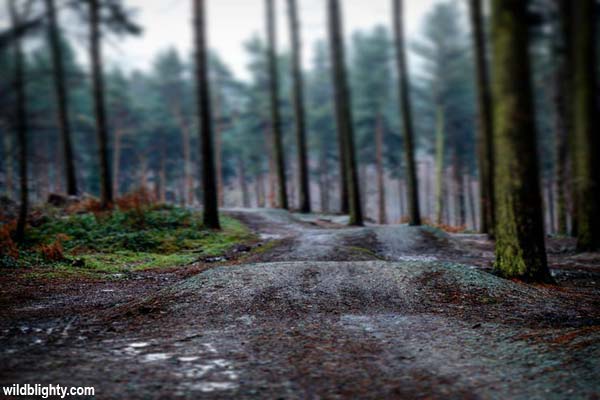 Old Pale Hill
Old Pale Hill juts out of the landscape to a height of 176m, and is the high point for miles around. Expansive views from the summit (known as Pale Heights) include the forest canopy as well as many distant landmarks – all are listed on the orientation markers within the stone circle at the summit.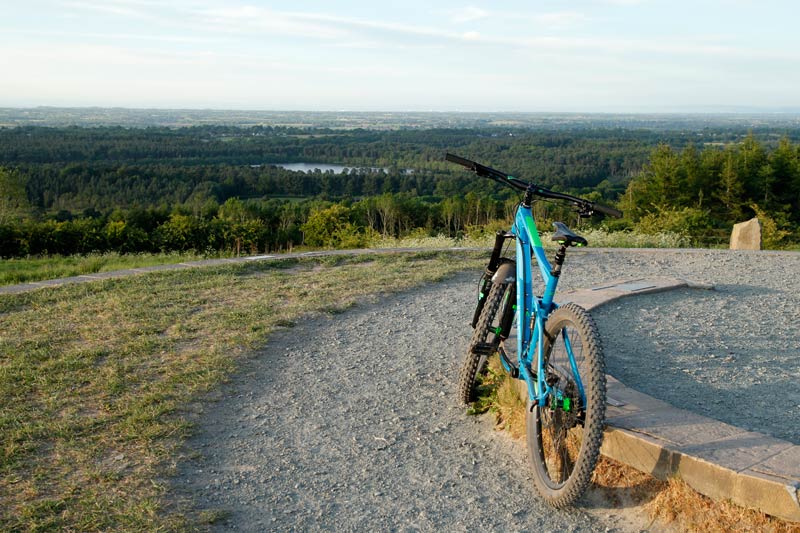 Old Pale can be approached by different paths, each are steep in places and can be descended at speed when safe to do so. Below are the 3 main routes to the summit, i'd recommend ascending via Old Pale Climb and descending via Cheeky Old Pale Climb. If you have enough energy then go up again via Radio Tower Climb and down via Old Pale Climb. Note – these are not dedicated mountain biking trails so caution must be taken – expect the unexpected, including families and horses!
Old Pale Climb
Distance: 0.8 km (0.5mi) / Avg Grade: 8% (Max 20%)
Strava Segment: Old Pale Climb
The Old Pale Climb is accessed far right behind the Old Pale Car Park. This obvious gravel path is steep in places as it winds its way up to the summit. The loose gravel can make cornering interesting on a high speed descent!
Radio Tower Climb
Distance: 1.1 km (0.7mi) / Avg Grade: 7% (Max 18%)
Strava Segment: Climb to Radio Tower
The Cat 4 radio tower access road is deceptively steep and is guaranteed to get your heart pumping! The single-lane road starts off as loose stone and transitions into tarmac as the gradient begins to ramp up. As you reach the top of the steep straight road, bare right on the access road which leads to the radio masts.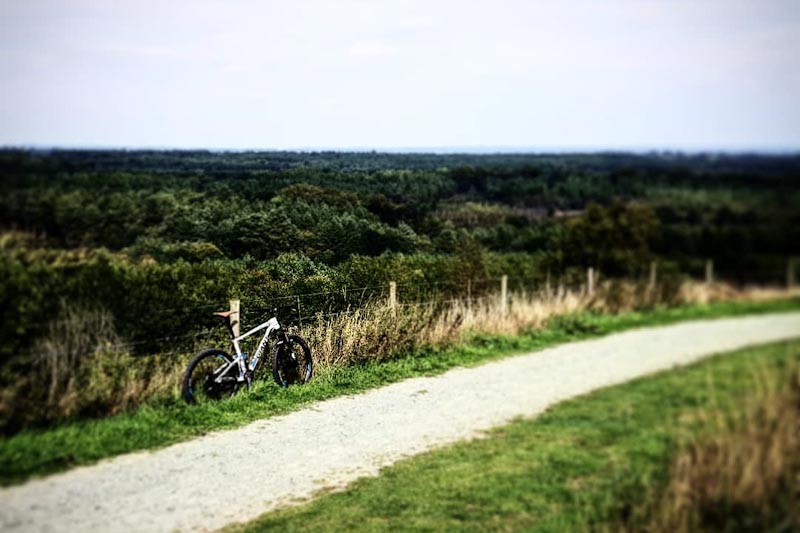 Cheeky Old Pale Climb
Distance: 0.6 km (0.4mi) / Avg Grade: 8% (Max 33%)
Strava Segment: Not up to the Mast 🙂
Continue along the Old Pale Car Park access road (rather than turning left into the main pay & display visitor centre car park), after approx 300 metres turn left onto an obvious wide path. This climb is steep in places and will undoubtedly test your climbing credentials! Bear left at the top of the climb towards the masts.
Whitefield 'Secret' Single-track
There is some good XC riding off the main B5152 road. Ride through Whitefield Car Park and explore beyond out to the forest perimeter, and to the left. Fast double-track and 'secret' single-track runs are waiting to be discovered!
Primrose Wood
Primrose Wood is not strictly within Delamere Forest however its a good way to extend the mileage of an XC ride. Its predominantly forest fireroad however there is some single-track. Its accessed via the Sandstone Trail through the back of Gresty's Waste car park, down a steep set of wooden steps (you can ride to the side if you possess the skills not to fall off!)
Further Info
Getting there: Sat Nav Postcode for Delamere Forest is CW8 2JD. Free layby parking along Ashton Road, or there is paid parking at Old Pale by the visitor centre and Whitefield opposite Blakemere Moss lake.
Bike Hire: Tracs Bike Shop hire mountain bikes, they are situated next door to the cafe – park at the Old Pale car park.