Delamere Forest is home to an extensive network of trails perfect for mountain biking. From sweeping single-track to steep hills, rutted forest paths to gravel fireroads and a bike park to hone your enduro and downhill skills – there really is something for everyone, if you know where to look!
To get you started I've covered off the main sections in the forest, including Manley Hill Bike Park and Old Pale Hill.
Manley Hill Bike Park
Manley Hill Bike Park at Delamere Forest is made up of a reletively small albeit fun skills area incorporating a 4x track, dirt jumps and berms. A run from top to bottom will take 30-40 secs. Some riders will spend a few hours sessioning the features, others will simply pass through as part of an XC loop of the forest. Even if park riding is not your bag it's still worth the detour, as the features are easily rolled or avoided as necessary.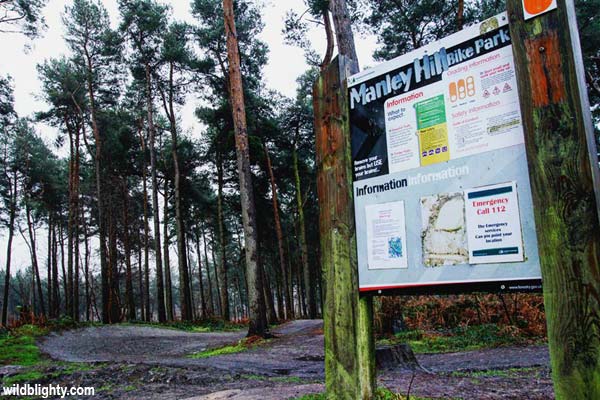 How to find Manley Hill Bike Park?
Manley Hill bike park can be accessed from a fireroad towards the bottom of Ashton Road – head into the forest via a gated entrance almost opposite the Outdoor Education Centre. Stick to the main fireroad and you'll arrive at the bottom of park – lookout for the signs. Lay-by parking is available along Ashton road.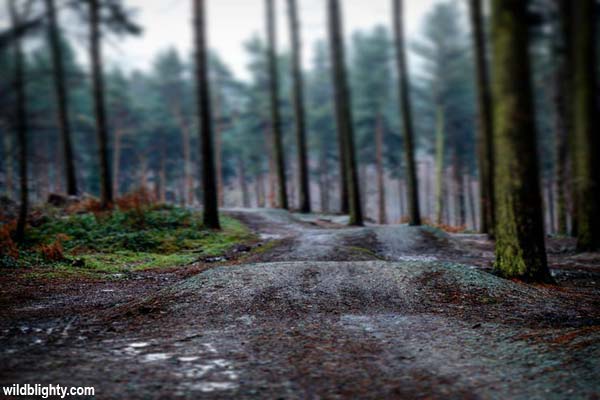 Manley Hill Downhill Track
Adjacent to the bike park is a short downhill track – which has slowly fallen into disrepair over the years! There are a number of lines to choose from, incorporating a few berms but mostly just rutted and rooted steep terrain amongst overgrown foliage – Its OK but nothing special. Access via a track that runs off the right side of the main bike park (towards the top).
Old Pale Downhill
Old Pale Hill juts out of the landscape to a height of 176m, and is the high point for miles around. Expansive views from the summit (known as Pale Heights) include the forest canopy as well as many distant landmarks (including the mountains of North Wales) – all are listed on the orientation markers within the stone circle at the summit.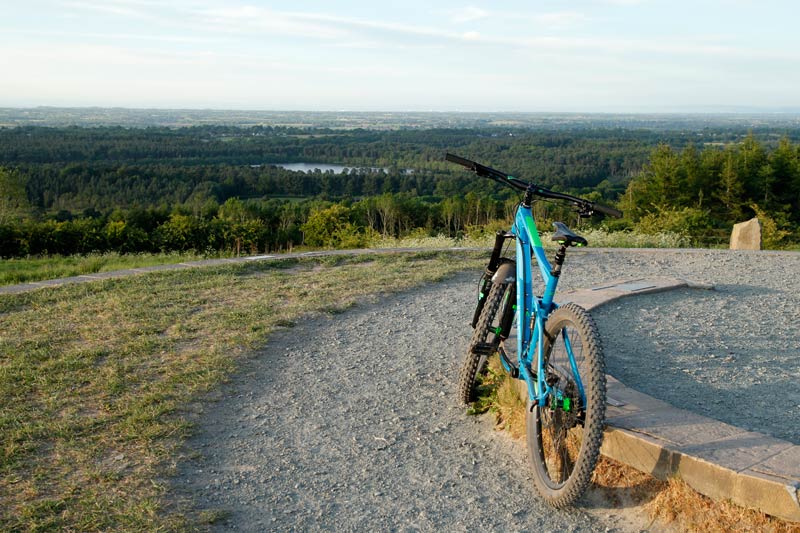 What goes up must come down and the Old Pale Downhill runs are in dry conditions a highlight of Delamere Forest.
The high speed descents are a test of skill and endurance – chaotic in parts as they weave amongst trees via bumpy and rutted single-track, mid-way down traversing an open plantation on ungroomed double-track.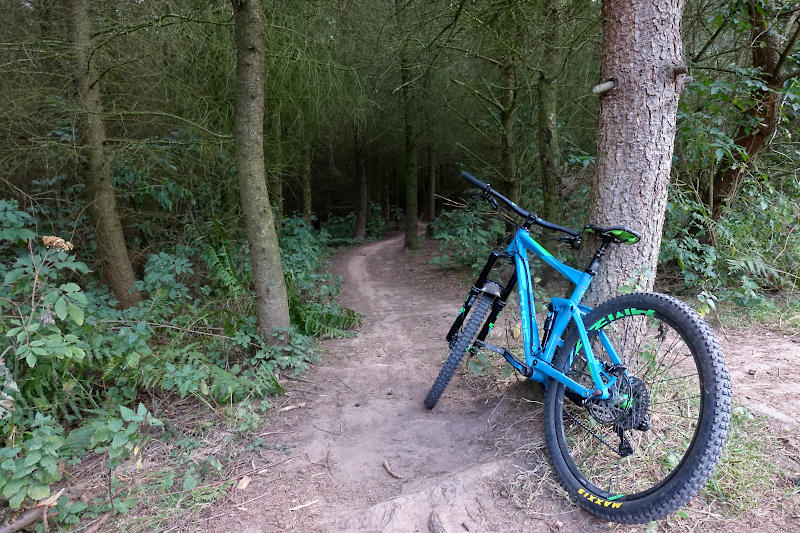 Variations in line are plentiful, with the track splitting in two within the top section of woodland to provide a completely separate run – rejoining lower down the hill. Of course choosing your line and sticking to it is key, a mistake could see you in very close proximity to a tree (or lay in a bush)!
How to find the Old Pale DH runs
Old Pale DH Trailhead: ///jazz.rainfall.coasters
Approach Old Pale from the visitor centre, up the Old Pale Climb (see below). Close to the top near the masts there is a hedgerow and narrow track on the left of the path. Approx 100 metres along that track is the trailhead.
Old Pale climbs
Old Pale can be approached by multiple paths, each are steep in places and can be descended at speed (when safe to do so). Below are the 3 main routes to the summit, from the visitor centre side of the forest.
Note – I'd personally recommend ascending via Old Pale Climb and for a high speed descent try Cheeky Old Pale Climb.
Old Pale Climb
Distance: 0.8 km (0.5mi) / Avg Grade: 8% (Max 20%)
Strava Segment: Old Pale Climb
The Old Pale Climb is accessed far right behind the Old Pale Car Park. This obvious gravel path is steep in places as it winds its way up to the summit. The loose gravel can make cornering interesting on a high speed descent!
Radio Tower Climb
Distance: 1.1 km (0.7mi) / Avg Grade: 7% (Max 18%)
Strava Segment: Climb to Radio Tower
The Cat 4 radio tower access road is deceptively steep and is guaranteed to get your heart pumping! The single-lane road starts off as loose stone and transitions into tarmac as the gradient begins to ramp up. As you reach the top of the steep straight road, bare right on the access road which leads to the radio masts.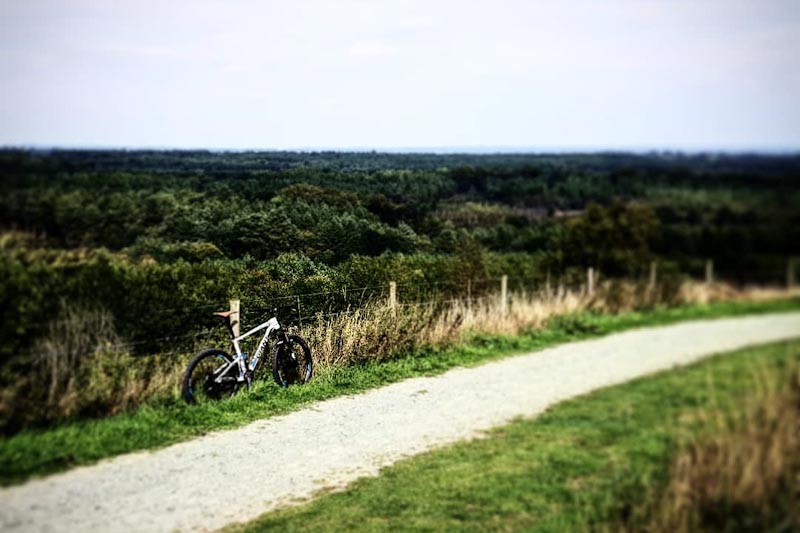 Cheeky Old Pale Climb
Distance: 0.6 km (0.4mi) / Avg Grade: 8% (Max 33%)
Strava Segment: Not up to the Mast 🙂
Continue along the Old Pale Car Park access road (rather than turning left into the main pay & display visitor centre car park), after approx 300 metres turn left onto an obvious wide path. This climb is steep in places and will undoubtedly test your climbing credentials! Bear left at the top of the climb towards the masts.
No Brains
For years I'd heard tales of No Brains, some kind of mythical run hidden deep in the forest and ridden only by those who knew of and kept its whereabouts a strict secret. When I eventually found No Brains, it was pretty much none of those things!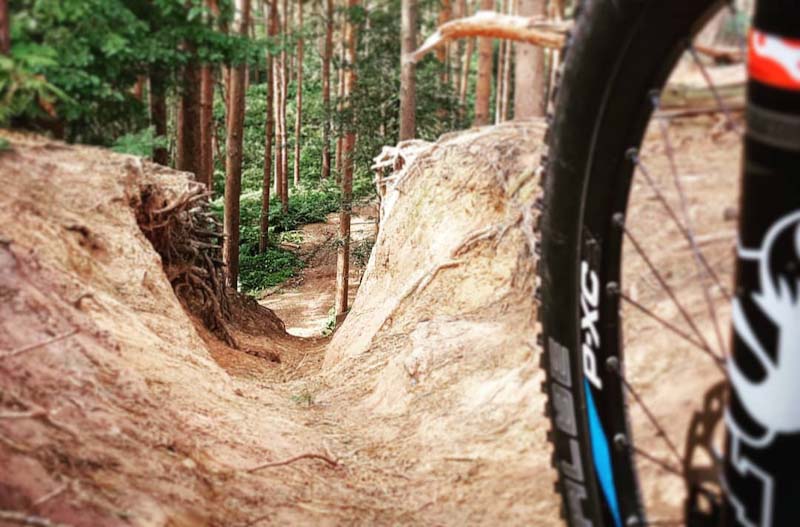 Essentially No Brains is a short steep run which initially appears quite daunting, mainly due to the gully one has to navigate at the top. After that its just a bumpy fast run that soon fritters out – its good fun though!
The No Brains Freeride area is what I call the longer runs surrounding No Brains itself. There is some decent riding here, with some trail pixie jumps throw into the mix. Various runs and lines to choose run, one being over to the left from the top of No Brains.
How to find No Brains
Its a secret…. only kidding! From the bottom of Manley Hill Bike Park, head left, up a hill and then its on the right – over a low wooden fence (a little exploring and you'll find it!)
Nettleford Wood
Nettleford Wood is the section of forest between Old Pale Hill and Gresty's Waste car park (off the A54). There is a good (and fast) natural run through the wood, with a few small jumps and even an optional drop-off over a sandstone edge (its maybe a 1m drop – so not as bad as it may sound!) – I call this the Sandstone drop-off.
How to find Nettleford Wood
Nettleford Wood Trailhead: ///found.outraged.community
Its easy for me to find, a little trickier to describe! From Pale Heights head away from the visitor centre side of the forest along a wide track. Initially downhill it will flatten, before a noticeable short righthand descent – passing through a hedgerow. A little further on, head left onto a grass track (if you reach the Sandstone trail you've gone too far) and then you'll see some single-track heading right into the woods – easy peasy !
Further Info
Getting there: Sat Nav Postcode for Delamere Forest is CW8 2JD. Free layby parking along Ashton Road, or there is paid parking at Old Pale by the visitor centre and Whitefield opposite Blakemere Moss lake.
Bike Hire: Tracs Bike Shop hire mountain bikes, they are situated next door to the cafe – park at the Old Pale car park.
Hazards
Please do be aware the trails at Delamere forest are multi-use, and not dedicated MTB trails. Expect the unexpected is a good mantra to follow – I've previously encountered angry cows, horses, dogs, kids, riders coming in the opposite direction (often pushing their bike) and a nutter running up Old Pale with 2 kettlebells. I've even had families and dogs walking up the trails at Manley Hill Bike Park.
Remember – we cannot highlight all potential hazards when out in the great outdoors. Safety is ultimately down to you. Educate yourself in safety, weather reports, navigation and equipment specific to the activity you intend to undertake and conditions/terrain you may encounter! Check out adventuresmart.uk for general outdoor safety considerations – and activity specific guidance for hill walking, paddle boarding, mountain biking and open water swimming.
Let me know where you ride at Delamere – there are no doubt sections I'm still yet to discover! Leave a comment below.