You'd be forgiven for taking endless photos on this 8 mile circular walk which includes a traverse of the iconic Great Ridge. After walking from Mam Tor to Lose Hill, you'll descend into the pretty village of Hope before walking over fields to the busy village of Castleton. An ascent of the majestic Winnats Pass will get your heart racing before a final push back to the start. This classic Peak District walk has everything!
Distance: 7.9mi (12.7km) / Elev Gain: 1790ft (545m)
High Point: Mam Tor - 517m
Map: OS Explorer OL1
GPS Download: The Great Ridge and Winnats Pass
Starting Point: Mam Nick Car Park
Walk highlights include Mam Tor, Back Tor, Lose Hill, Hope village, Castleton village and Winnats Pass.
This circular walk starts at Mam Nick Car Park from which a steep path takes you directly to the summit of Mam Tor. The panoramic views at the summit are pretty awesome (on a clear day), and include the Kinder Plateau, Edale, Castleton and of course the Great Ridge.
From the Mam Tor summit trig a clearly defined path traverses the undulating Great Ridge for approx 2 miles. Points of interest along the ridge include Hollins Cross – a cross roads marked by a circular stone pillar with paths leading to both Edale and Castleton, Back Tor – easily recognised by its steep and rocky (albeit short) ascent, and of course the broad and grassy summit of Lose Hill.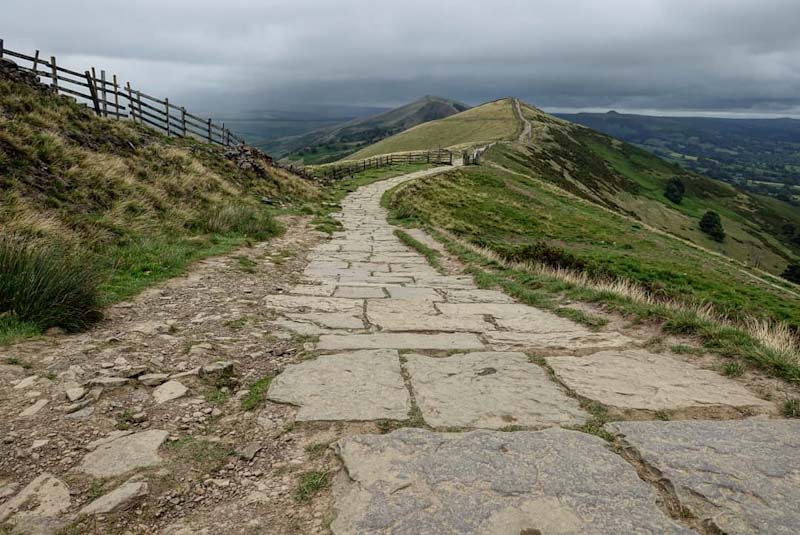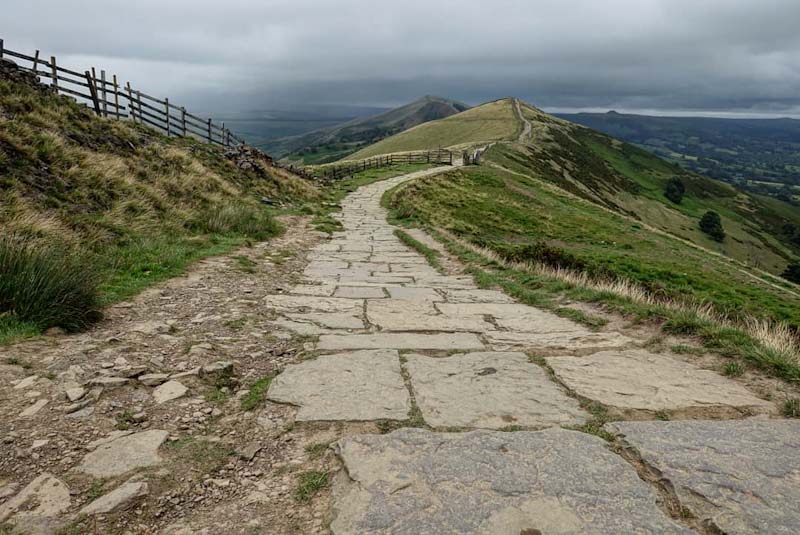 From Lose Hill a steep slabbed path marks the beginning of the long descent into Hope. The route covers a series of open fields and well signed paths, and includes a crossing of the Hope Valley trainline.
The pretty village of Hope marks the halfway point of the walk. Refuel at the Grasshopper Cafe or Cafe Adventure, or head for a pub lunch at one of the drinking establishments on Castleton road.
Leaving Hope its a short yomp up Pindale Rd before joining what is initially a narrow path (with a seemingly inordinate number of gates!) before traversing a bunch of fields en-route to the village of Castleton.
Castleton is larger than Hope and has a good selection of tea rooms, gift shops and pubs – there is also a tourist information office and large car park. The route continues on via Market Place, which is tucked away from the main road and is home to a couple of outdoor shops. Here you will also pickup signs to Peveril Castle.
From Market Place you'll head down The Stones and past Castleton fish & chips. A small stone bridge (there is another cafe and gift shop here) leads onto a narrow road called Goosehill. The road ramps up and you'll pickup 'Public Footpath' signs before joining a path (rocky in places) which sweeps around the edge of farmland to Arthurs Way, opposite the Speedwell Cavern show cave.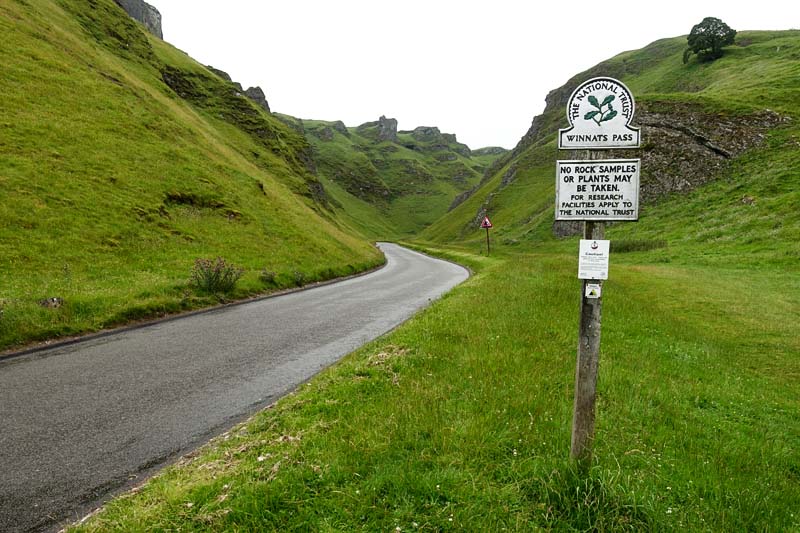 The unmistakable towering limestone cliffs of Winnats Pass lay before you, and the walk continues over the cattle grid and up the super steep pass via a path which runs alongside the narrow road (on the right side). Caution should be taken here as rockfalls are possible!
Local Knowledge.
To explore the summit of Winnats Pass and experience its epic views head left up the grassy slope before you reach the cattle grid, towards the top of the pass. You will soon pickup a roughly defined summit path. Note – extreme caution is required if you venture off the summit path, as the edge is extremely exposed and a slip could be fatal.
Towards the top of Winnats pass and just before you reach the cattle grid go through the gate on your right, picking up a roughly defined path over fields. You'll see Mam Tor ahead in the distance, continuing almost straight on and crossing the road a couple of times you'll arrive back at Mam Nick Car Park in no time!
Further Info
Parking – Pay and display at Mam Nick Car Park (free for National Trust Members), or limited lay-by parking almost opposite.