Delamere Forest is a trail running mecca with miles of mixed terrain to explore, a big hill to get your heart pumping and a string of annual events for the competitive runner looking to test their running credentials!
Delamere Forest is a great trail running location set in the heart of Cheshire. An abundance of trails provides challenges for all levels, whether you are embarking on a Couch to 5k, training for a trail marathon of running just for fun. Your running track is a network of fire-roads which leads to a maze of undulating forest trails. There is also big hill, namely Old Pale Hill which rises to a height of 176m. For the uninitiated a 10k Wild Running Trail (see below) will guide you around the south of the forest and includes an ascent of Old Pale Hill. On that subject there are a number of paths which lead to the summit of Old Pale (See our Delamere MTB page for further info) – making it ideal for hill repeats!
For a less structured run grab your trail shoes, a set of headphones and go explore. Newbies should perhaps carry a GPS and/or map if heading into the deep forest as navigation can be tricky, a short run can easily turn into a much longer one if you get lost!
Delamere Wild Running Trail
Distance: 10.1km / 6.3 mi
Ascent: 280m / 919ft
Starting point: Delamere Forest Visitor Centre
GPS Download: Delamere Forest Wild Running Trail 10k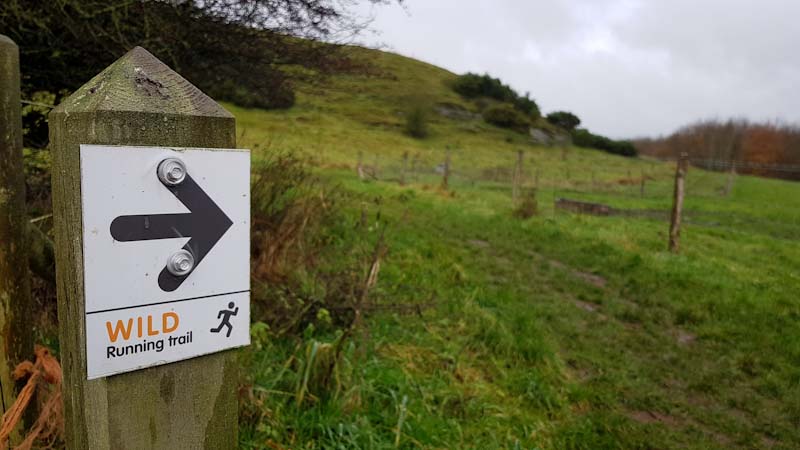 The Wild Running Trail is a great introduction to trail running in Delamere Forest. The route is undulating and on mixed terrain including loose stone trails, narrow muddy paths and wider grassy tracks. You will traverse the less trodden south side of the forest boundary which includes a section of the Sandstone Trail and Delamere Way. It includes an ascent (and descent) of Old Pale Hill and will undoubtedly get your heart pumping – and perhaps even bring a smile to your face! The trail is way-marked and starts by the visitor centre. Trail shoes are recommended, and waterproof socks would be useful during the wet winter months when you'll be faced with unavoidable sections of boggy trail.
Running Clubs
For a short social run there is a weekly Delamere Park Run or if you want to get more serious the Delamere Spartans trail running club are based in the forest.
Running Events
If you are a competitive runner a number of annual running events take place within the forest:
Montane Trail 13 & 10 Delamere
The Montane Trail Tour comes to Delamere Forest in September, with 10K and half marathon (13 mile) options.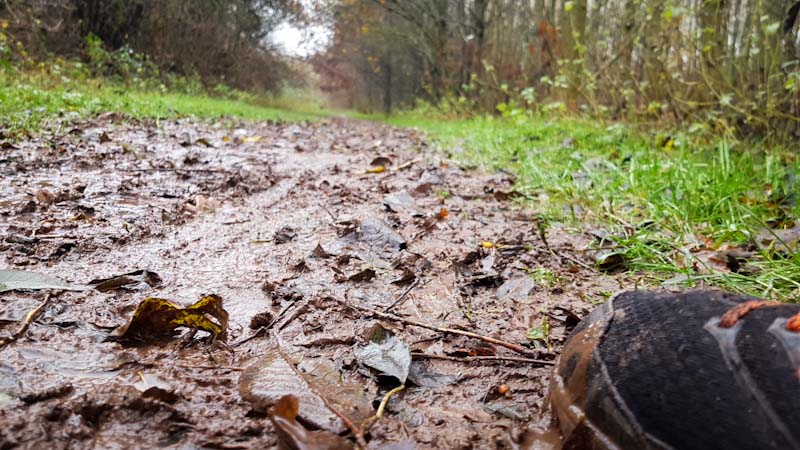 Petzl Night Runner Delamere
Round 1 of the Petzl Night Runner Series is hosted in October at Delamere Forest. Halloween costumes are optional and head-torches are a must on this 10k winter mud-fest!
Hell Up North
Rat Race Hell Runner bring their Hell Up North event to Delamere Forest in October. Its billed as the toughest half marathon in the UK with mud, bogs and pain all on the menu!
In conclusion Delamere Forest is a great place to run whether you are a seasoned trail runner or making the transition from tarmac. To steal a phrase from the famous sporting brand, Just Do It !