Sublime single-track and epic views await at Whinlatter, the UKs only mountain forest and home to 16 miles of purpose-built mountain bike trails.
Intro
Whinlatter is a mountain bike trail centre situated within the UK's only mountain forest on the northern edge of the Lake District. The single-track trails rise to an elevation of almost 500m (1600 ft) providing stunning scenery, tough climbs and some long and smile inducing descents.
The trails are purpose-built and XC orientated, with avoidable black graded features providing more challenging riding. Dramatic mountain views provide a constant distraction, the imposing Skiddaw massif and impressive Grisedale Pike ridge-line wetting your appetite to explore beyond the forest.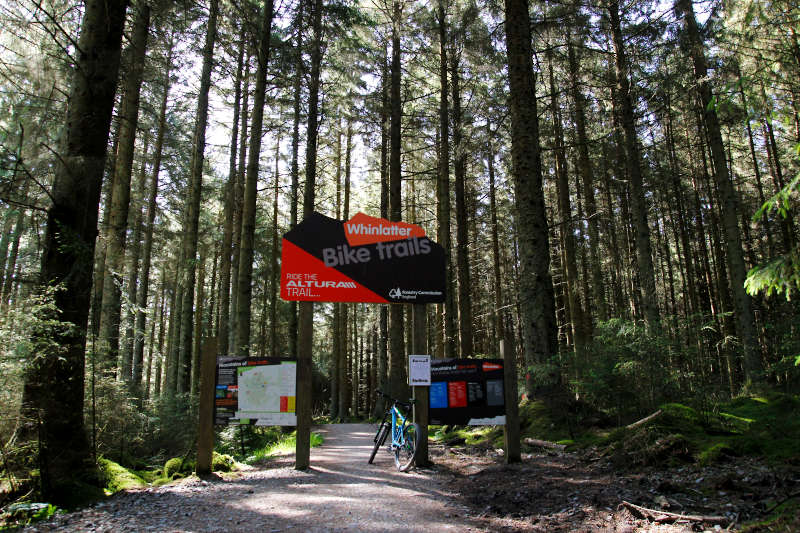 The scenery is perhaps more memorable than the trails, that said the riding here just feels epic and for that reason you need to add it to your itinerary!
The Altura Trail is a Red graded MTB trail divided into two loops totaling 12 miles (19 km). The trails navigate the forest in a rough figure of eight, and are signed from the visitor centre. There's nothing particularly gnarly at Whinlatter so a short travel full susser or hardtail mountain bike will suffice.
The Altura Trail North Loop
Distance: 5.9 miles (9.5 km)
Trail Difficulty: Red (intermediate)
Time: 0h 30m – 1h 30m
Strava Segment: Altura Trail North Lap
The Altura Trail North Loop is a singletrack trail with berms, jumps and some Black graded features (should you wish to test your technical skills).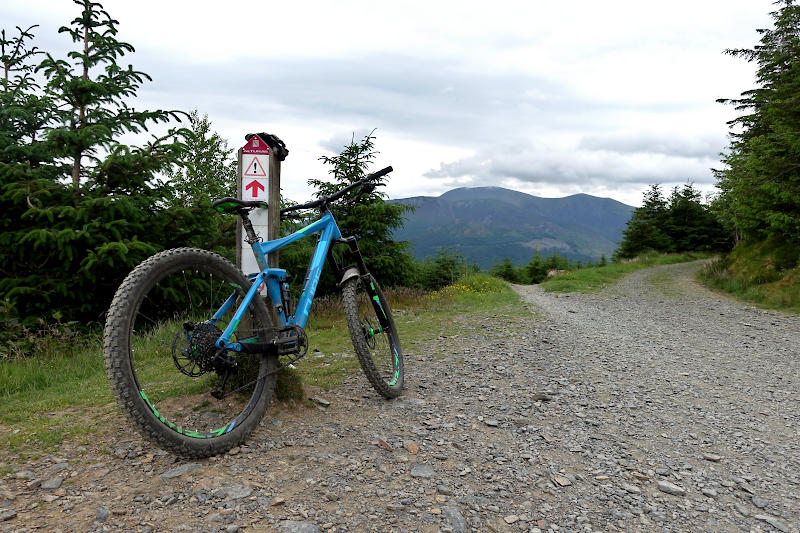 A height gain of 200m presents some leg burning climbs as you eventually top out at an elevation of nearly 500m. The payback is a fast and thrilling descent, the trail winding its way down through forested and open sections of singletrack.
One section of the descent hugs the edge of a steep valley, commanding your concentration whilst at the same time bringing a beaming smile to your face – quite possibly the highlight of the Whinlatter trails.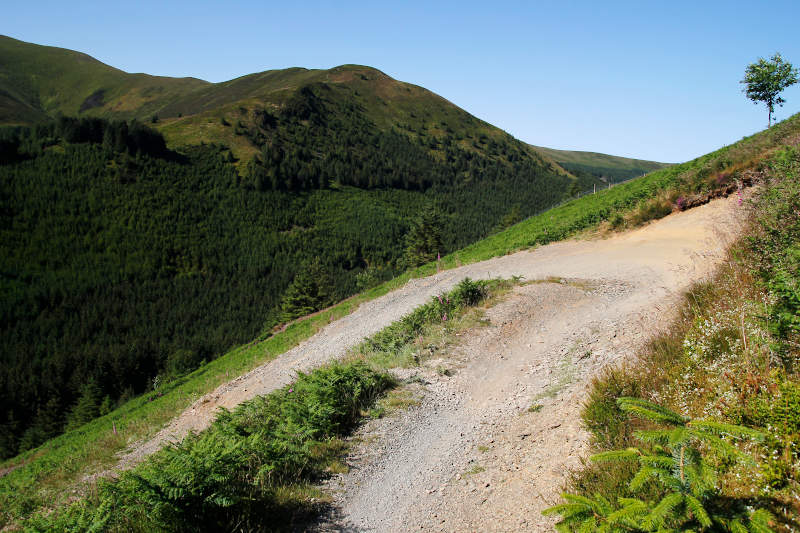 A backdrop of dramatic mountain panoramas presents plenty of photo opportunities, and being a relatively short trail you can come back for round 2 if you miss any. The trail starts just beyond the Cyclewise bike shop (see below) and is clearly signposted.
The Altura Trail South Loop
Distance: 6.2 miles (10 km)
Trail Difficulty: Red (intermediate)
Time: 0h 30m – 1h 30m
Strava Segment: Altura Red South Full Loop
The Altura Trail South Loop is essentially made up of a big climb, followed by a big descent. A series of switchbacks leads you to the top of Hospital Fell Ridge, a height gain of almost 200m. The sweeping views here are sublime, and one would be forgiven for spending a good few minutes absorbing the scenery.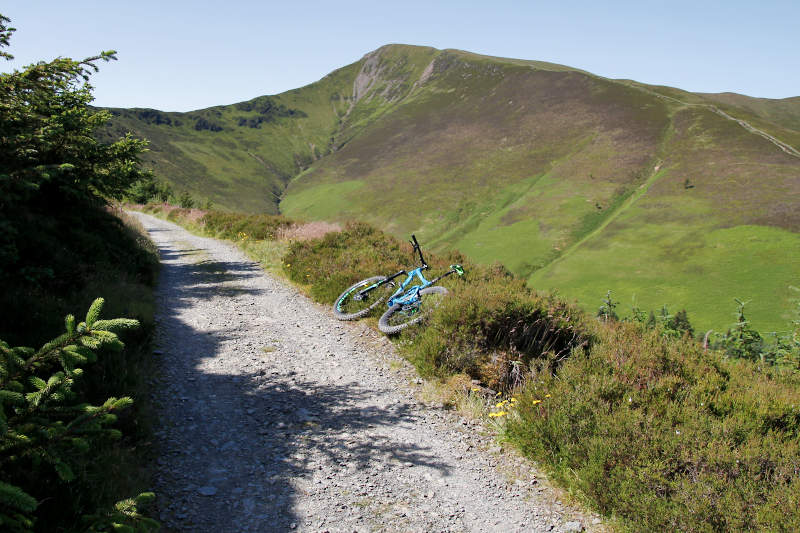 A rough cobbled section leads into a long sweeping singletrack descent featuring berms and jumps. It's then a short blast back to the start, which is on the opposite side on the valley (over the road) from the main visitor entrance.
Quercus Trail
Distance: 4.6 miles (7.5 km)
Trail Difficulty: Blue (beginner/moderate)
Time: 0h 20m – 1h 00m
Strava Segment: Whinlatter Blue
A cheeky blast around the Quercus trail is the perfect way to end your day's ride at Whinlatter. Its fast (in the XC sense) and flowing, with some easy berms and rolling jumps thrown in to keep things interesting. Views of the Helvellyn range and Skiddaw massif will once again have you reaching for your camera.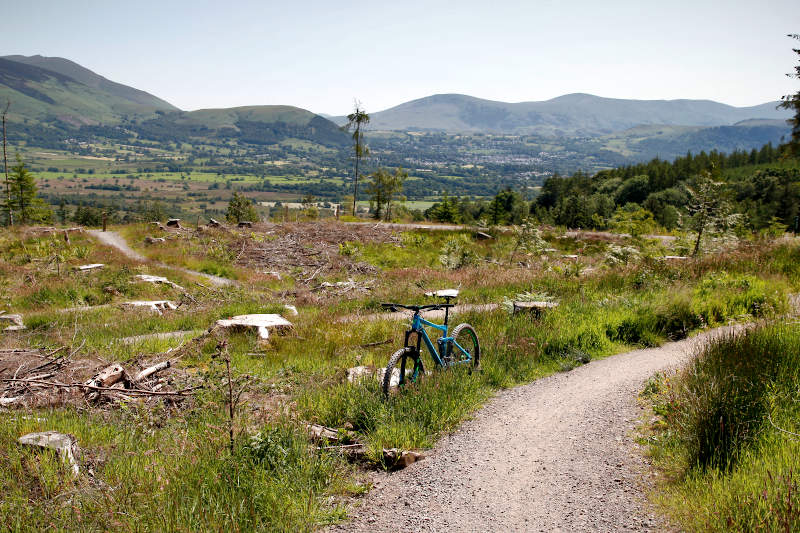 Further Info
Bike Hire – Bike Hire is available at Cyclewise (open daily 10-5) and covers the full range of options, including Electric Full Suspension and Hard Tail mountain bikes. The shop is located within the forest, at the head of the Altura trails.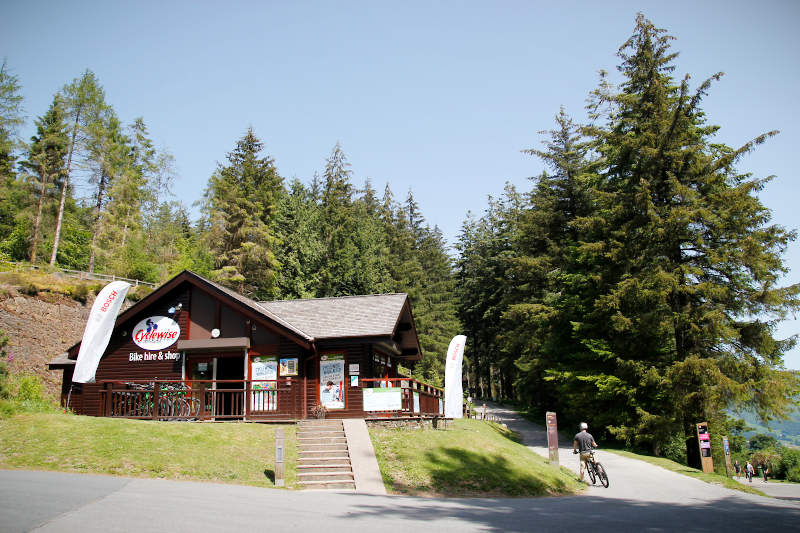 Getting There – Whinlatter Forest Sat Nav Postcode: CA12 5TW / Pay on Exit parking at the main car park will set you back a pricey at £8 – so best take your stove for the brews! The visitor centre and cafe are signed from the car park. If you forget cash/cards there is free parking 2 miles DOWN the pass, just outside the village of Braithwaite.
Nearby Accommodation – Lots of accommodation options in Keswick or if you're on a budget Whinfell Campsite and Lanefoot Farm Campsite are both close by.
Trail Map – Forestry England download.