Escape the crowds and nail some Wainwrights on this undulating 10 mile walk amongst exceptional Lakeland scenery.
Distance: 16.25km (10.1mi) / Elev Gain: 1095m
High Point: Dale Head - 753m
Map: Lake District BMC Map
GPS Download: Newlands Horseshoe
Starting Point: Littletown Farm Car Park
Route Highlights include Robinson (737m), Dale Head (757m), Dalehead Tarn, High Spy (653m), Maiden Moor (576m) and Catbells (451m).
Having ticked off the most popular big mountain walks in the Lake District its time to start exploring some of the lesser known but equally enjoyable walking routes.
One such walk is the Newlands Horseshoe, a 10 mile circular route which packs in over 1000m of ascent and includes one of the most prized views in all of Lakeland.
Read on for my espresso guide to the Newlands Horseshoe.
Espresso Guide to the Newlands Horseshoe
Starting from the rural hamlet of Little Town the walk begins on a tarmac lane, soon passing the quaint Newlands Church on what turns out to be a long and gradual ascent.
Transitioning from road to path the long approach to Robinson is marked by a wooden sign. You'll soon be surrounded by farmland and mountainous terrain, as you follow the path up the valley. Look back for a preview of the impressive views to come.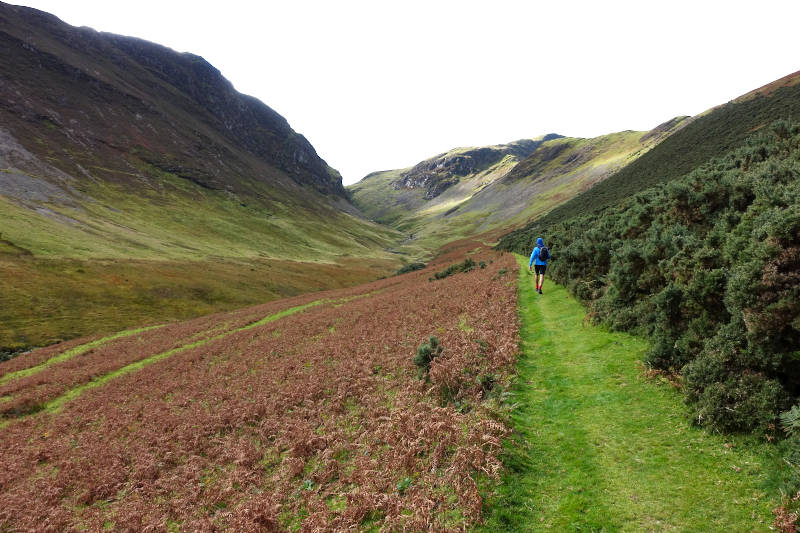 The final approach to the summit plateau Robinson is via a steep slope. We actually lost the path amongst the long grass, which which wasn't an issue from a navigation perspective but did leave us with partially wet feet!
Panoramic views from the summit of Robinson are sublime – which my photo fails to capture… I'm blaming the weather for that! One thing I love about this walk is trying to identify the numerous distant mountains, lakes and other land features – and one can certainly spend time doing that here!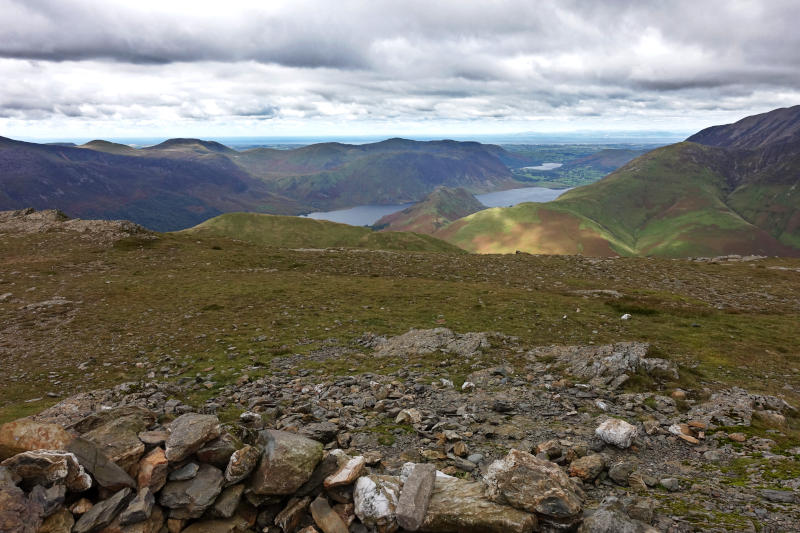 From the summit of Robinson the path ahead (marked Littledale edge on my map) is clearly visible (on a clear day!), as to is Honister pass and Buttermere.
En route to Dale Head there is an option to deviate to Hindscarth (727m), before retracing your steps and continuing on. Its an opportunity to tick off an additional Wainwright, and one in hindsight I wish we had taken!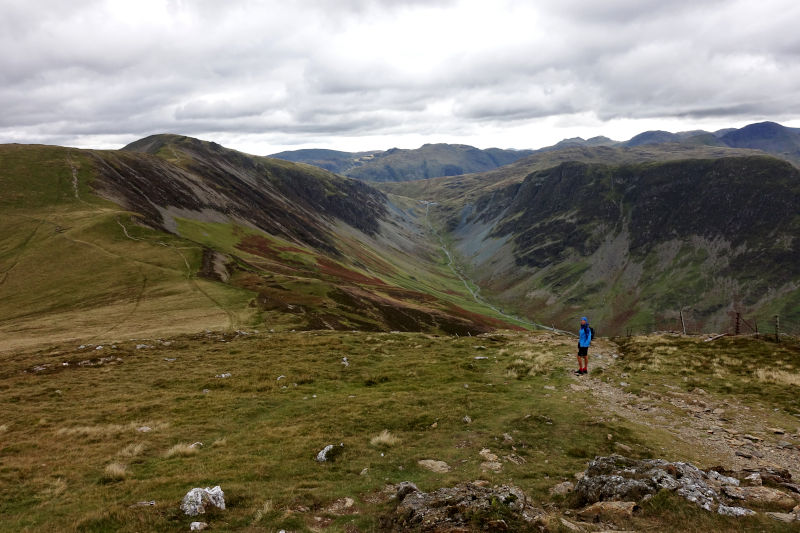 The approach to Dale Head is easy underfoot and gradual in nature, allowing time to take in the surrounding views as you walk.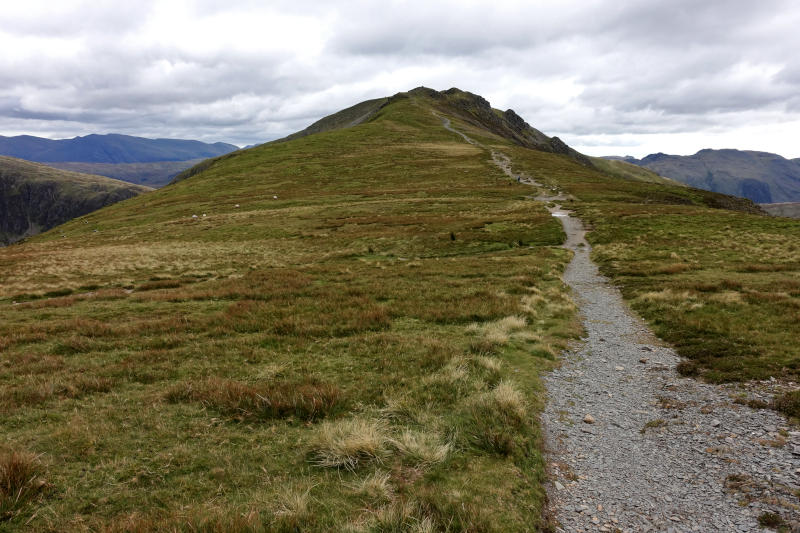 The summit of Dale Head is marked by a distinctive cairn – quite unlike anything I've seen before. I wondered how it managed to stay intact year round – no doubt some skilled dry stone walling has been deployed here (or a cheeky underlayer of mortar!)
The views from Dale Head are once again far reaching and impressive – I'd love to return here on a blue sky day that's for sure.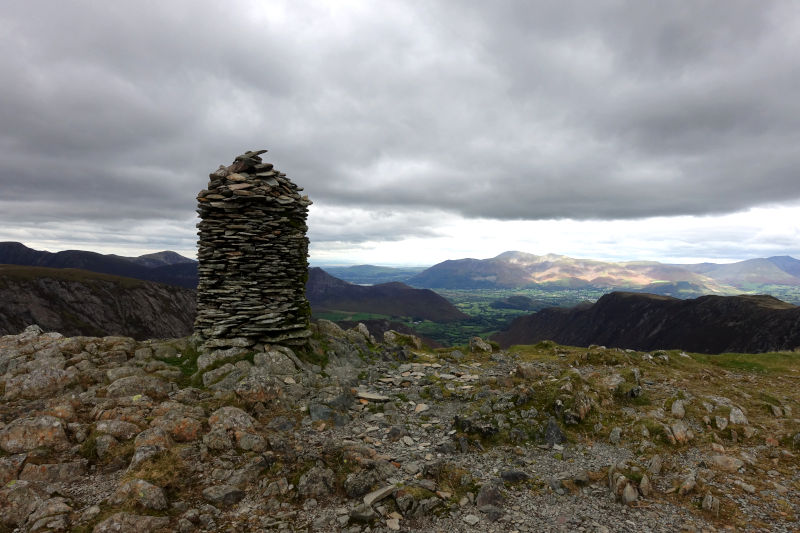 The descent off Dale Head is steep and stepped (and would be a trudge in reverse – as confirmed by the sole walker we passed), eventually levelling out close to Dalehead tarn.
Close to the tarn I noted a couple of very flat and surprisingly well manicured sections of grass surrounded by a now collapsed stone wall. It felt almost like a micro campsite in the middle of nowhere, and would be an ideal wild camping spot!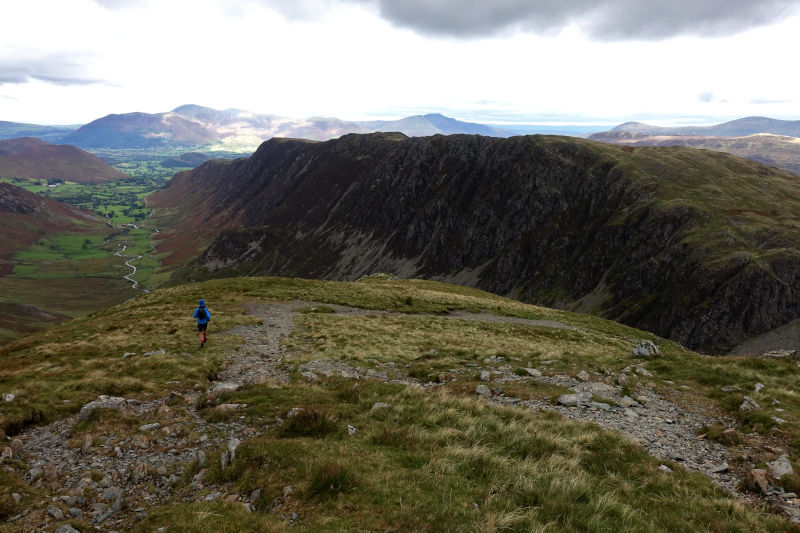 From Dalehead tarn its less than a mile to High Spy via the most mountainous terrain of walk. This for me is one of the most enjoyable sections of the entire walk.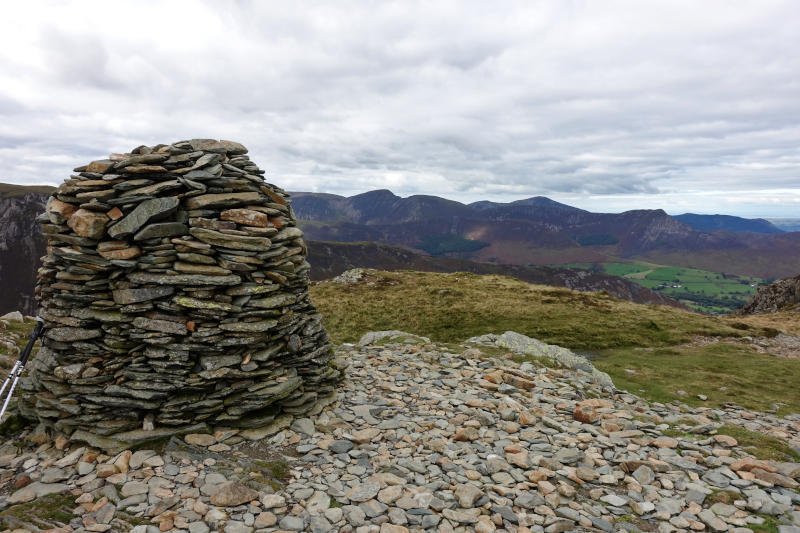 Another cairn marks the summit of High Spy and once again provides far reaching views. From the summit an easy traverse over a broad grassy ridge leads to Maiden Moor, where the view really opens up and Catbells becomes visible for the first time.
The descent from Maiden Moor is dominated by expansive views and of course the protruding mound that is Catbells.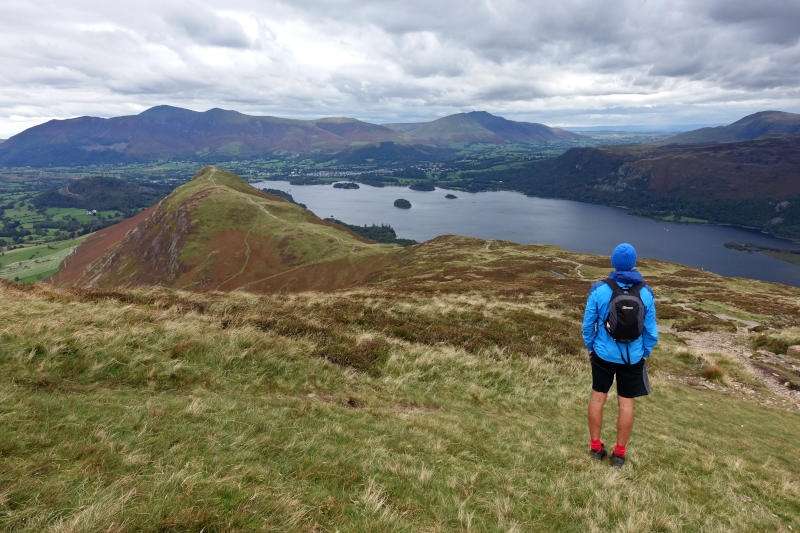 Catbells is reached by a short ascent, the final one of the day in fact! The lofty view from its rocky summit is simply majestic, and the highlight of the walk. Its commanding position close to Derwentwater presents an unrivalled panoramic mountain vista, which will bring a beaming smile to your face and surely have you reaching for your camera.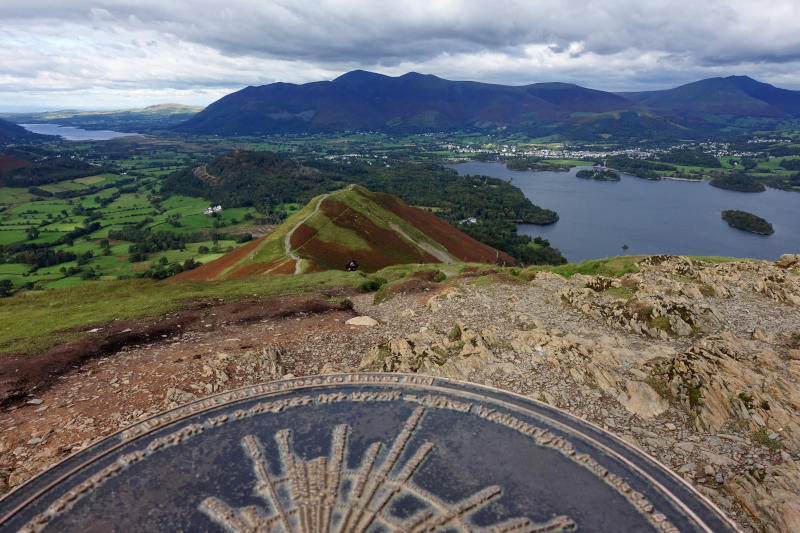 A metal orientation plaque (I'm never sure what these things are actually called!) provides a great reference to the many landmarks that can be seen. You probably wont be alone here as Catbells is a popular short walk from Derwentwater and the surrounding area. but of course having already walked over 8 miles it feels all the sweeter i'm sure!
A short rocky down climb from Catbells is the most technical part of the walk, after which its plain sailing back to Little Town. There is a Cafe at Little Town Farm selling ice creams and hot drinks etc – providing the perfect end to a great day in the lakeland fells!
Remember – we cannot highlight all potential hazards when out in the great outdoors. Safety is ultimately down to you. Educate yourself in safety, weather reports, navigation and equipment specific to the activity you intend to undertake and conditions/terrain you may encounter! Check out adventuresmart.uk for general outdoor safety considerations – and activity specific guidance for hill walking, paddle boarding, mountain biking and open water swimming.
Conclusion
This walk saves the best till last and its why for me it makes sense to complete the Newlands Horseshoe in an anti-clockwise direction.
Physically I found the walk easier than I anticipated, I think that's because the elevation gain is split between multiple ascents rather than one big ascent (say like walking up Scafell Pike from Wasdale Head). Also I was coming off the back of some Covid-19 interrupted trail marathon training which obviously helped! Clearly though its not going to be easy for everyone!
So if you are looking to explore beyond the most popular and somewhat obvious walks in the Lake District you really can't go wrong with the Newlands Horseshoe!