Do you need to look any further than the Silva Trail Runner 4 for your next running specific head torch? Read on to find out!
As the nights draw in and winter approaches its time to reacquaint myself with my running head torch – namely the Silva Trail Runner 4. I've owned it for just over a year, and bought it primarily for winter night running. I also use it for hiking/camping, and its now my main source of light when rummaging around in the loft!
Anyhow as I'm about to put it through its paces for the next 6 months I thought I'd re-familiarise myself with the features and lay down my opinion on its credentials as a running head torch.
What's in the Box
A quick reminder of what's included in the box (which I still have!): the head torch unit, headband, battery case, extension cable and a quick guide.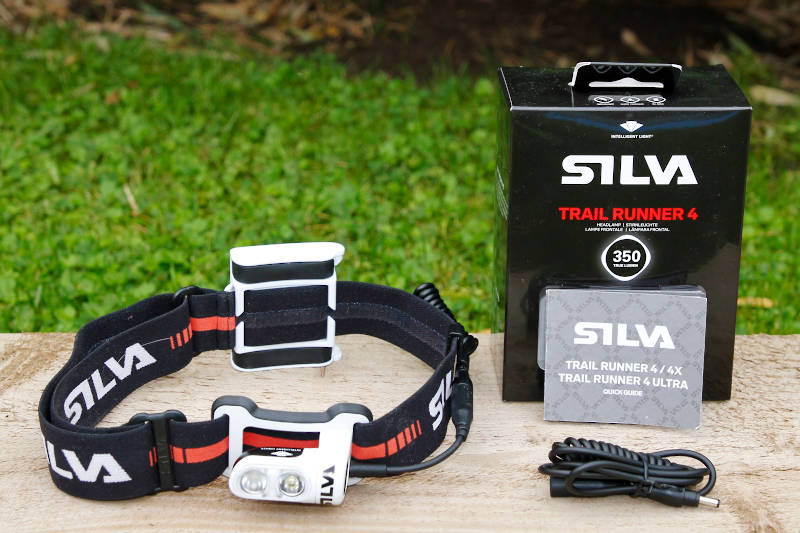 Key facts and features
Here are the key facts and features of the Silva Trail Runner 4:
Intelligent Light: the Intelligent Light is a key feature across the range of Silva Trail Runner head torches. Put simply its Silva's way of saying the head torch has dual lights – a floodlight to light up the immediate foreground and a 'long reach' spot light which allows you to see the terrain and surrounding trail features ahead.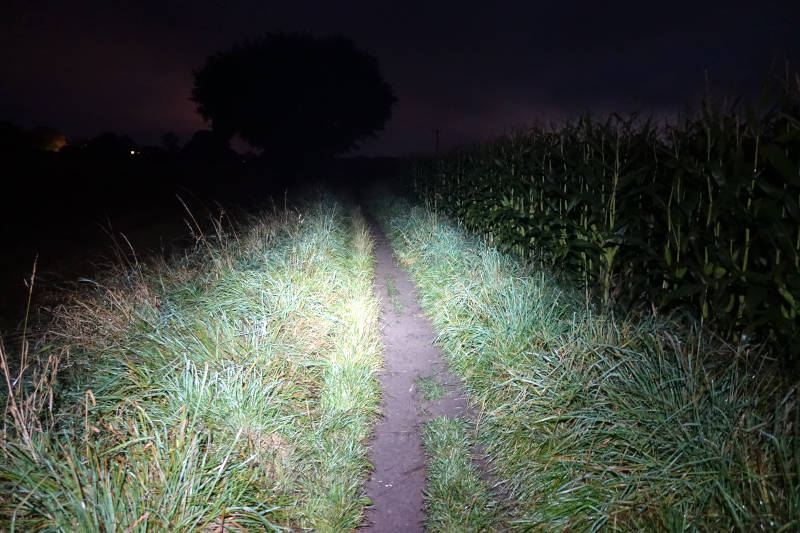 Anti-slip headband: a wide headband with integrated adjustment buckle. On the inside of the headband is an anti-slip rubbery strip, designed to keep the head torch firmly planted on your head and free of movement when running. A cable guide for the headband is also included.
Battery case: a battery case with integrated power cable, requiring 3 x AAA batteries.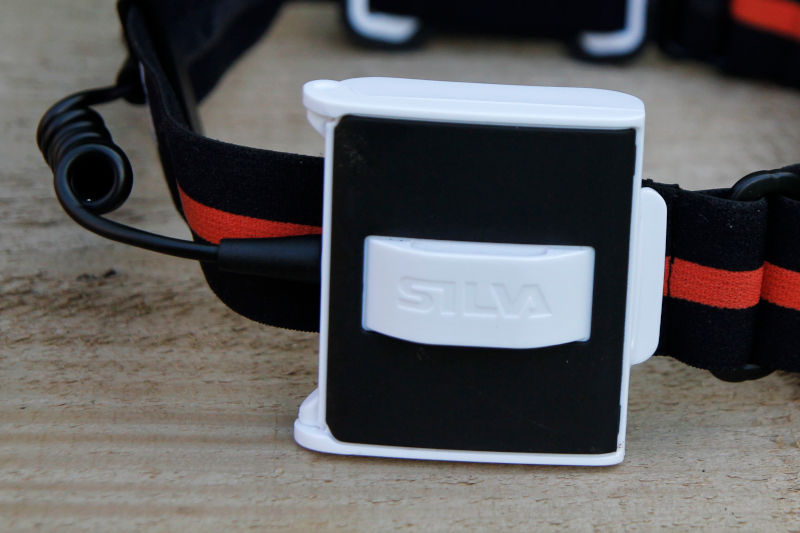 Battery level indicator – when you turn the head torch off, you'll be greeted with either a Green light = batteries ok, or a Red light = batteries need changing/re-charging. More on this below.
Extension cable – the extension cable allows you to store the battery pack in a backpack instead of attaching it directly on the headband. I'm guessing the intended application is when wearing the head torch under a helmet, e.g. if mountain biking. The extension cable also allows connectivity to a rechargeable battery pack – available separately or bundled with the Trail Runner 4 Ultra.
Water Resistant – The headtorch is water resistant to IPX5, which means you are good in heavy rain – but don't go swimming with it on!
Light Modes & Burn Time
There are 3 light modes plus a blink/flashing mode, the below stats are taken directly from the box:
Max: Lumens: 350 lm / Light distance: 75m / Burn Time 10h-25h (temp dependent)
Med: Lumens: 150 lm / Light distance: 50m / Burn Time 20h-40h (temp dependent)
Min: Lumens: 50 lm / Light distance: 20m / Burn Time 60h-90h (temp dependent)
Press the power button for 0.5 seconds and the headtorch will by default switch on in Max mode. Each subsequent press cycles through the 3 modes from Max>Med>Min.
To turn off simply press and hold the power button for 2 seconds.
Blink mode can be activated only when the head torch is switched off, by pressing and holding the power button for 2 seconds.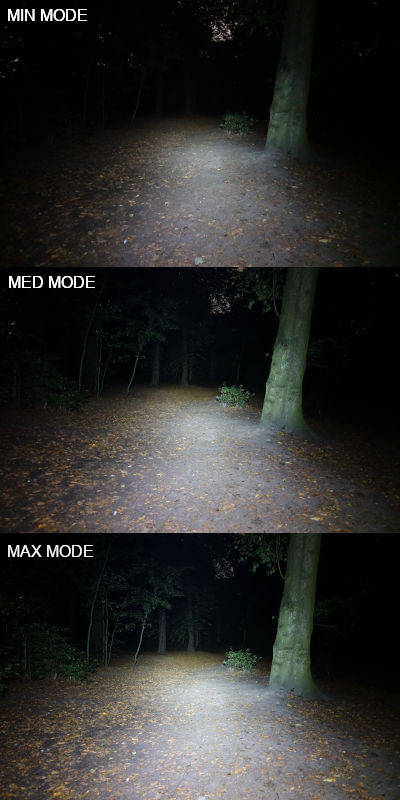 In terms of the 3 light modes, I generally use Min on pavements (partially lit by street lights/houses etc), Med on completely dark pavements and trails where the terrain is mostly level/smooth, and Max on completely dark trails and mountain paths where the terrain is predominantly uneven – roots, rocks etc.
I often choose the Med light mode over the Max mode, as the lumen output on Max can cause glare especially off lighter surfaces which are naturally more reflective. In reality when on a run I'll change the light mode as required to best suit the changing terrain and surroundings.
Burn Times
I find the stated burn times (see above) laughable tbh, and would love to know what batteries are used and the conditions for the tests. I have not achieved anywhere near the burn times mentioned however the battery life is more than satisfactory for my needs.
Using Ni-MH 750mAh rechargeable batteries I normally get 2-3 runs (ranging from 60-90 mins each) before the red battery level indicator shines. I generally run on the Min setting for 50-60% of the time and circa 20% each on the Med and Max light modes.
Clearly my experience and findings are far from scientific however I hope it gives you an idea of what its like using the head torch in the real world.
Anyhow, I always carry a set of spare batteries with me so I'm not relying on the red battery level indicator (or luck) to avoid getting caught out in the dark!
In terms of the red battery level indicator, I find it somewhat useful although I don't really know what its telling me. How much battery life is actually left? The official video on YouTube for the Trail Runner 4 states that it means the battery is 'ok', what does that even mean! I've started a run on green and ended up needing to change out the batteries – hence for me a spare set of batteries are essential.
Running with the Silva Trail Runner 4
The Intelligent Light (dual bulb) feature means I can run confidently and at pace, even on the darkest of nights on uneven and undulating terrain.
With the Trail Runner 4 snug on my noggin there is no noticeable movement when running, in fact its easy to forget its even there! This is no real surprise given the light unit weighs next to nothing, and of course as the battery case is independent of the light unit. This means the light beam shines where I want it to shine – all the time, allowing me to focus my energy running and assessing the trail ahead rather than messing about making adjustments.
The large mode/power button is easy to both find and press when running, with or without gloves. A power symbol is cut into the rubber button, providing additional grip when things get wet out on the trail.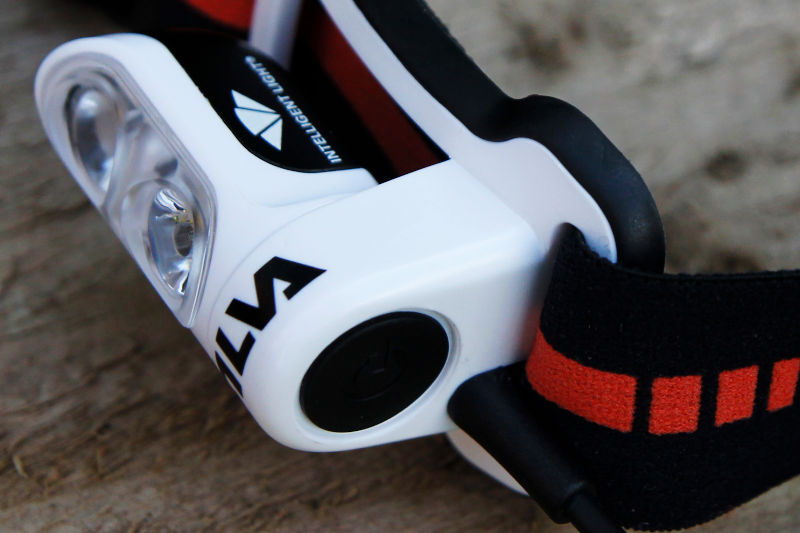 Talking of wet, I've run in torrential rain on numerous occasions with no issues. The Trail Runner 4 is rated water resistant to IPX5, and I certainly couldn't argue based on my experience.
Adjusting the angle of the beam is super easy, the dual bulb unit swivels in a smooth and steady manner allowing for a micro level of control. The light will swivel through approx 140 degrees, starting from a vertical position pointing at the toes – which for running I find to be more than adequate.
Also of note is that the dual bulb unit rotates independently – this I like as it means the mode/power button always remains in the same place, which has not been the case with other headtorches I have owned!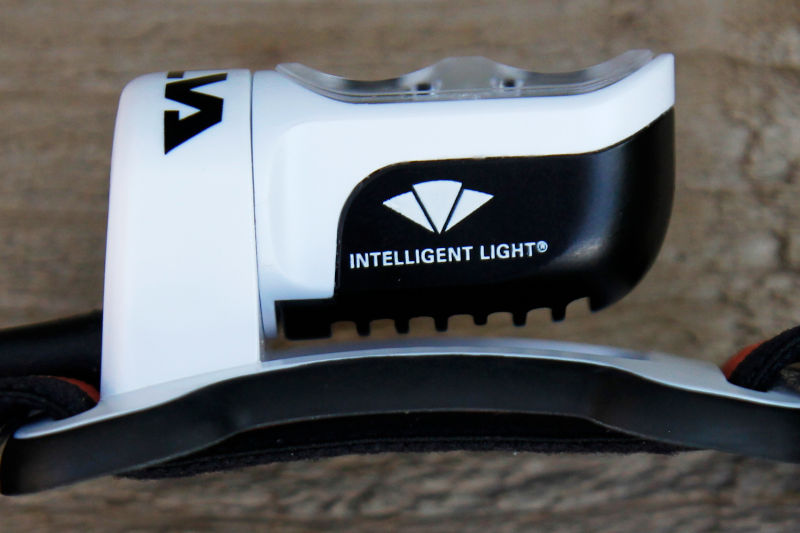 Conclusion
I have no qualms recommending the Silva Trail Runner 4 to anyone looking for a running specific head torch. Its light, durable, super bright, micro adjustable, has a good battery life and is flexible thanks to the battery case and bundled extension cable.
Are there better head torches out there for running? Perhaps, but for the average runner running roads, trails and mountain paths what more could you need? There is always a balancing act to be had between feature set and cost – and at the below £50 mark I am personally happy with this headtorch.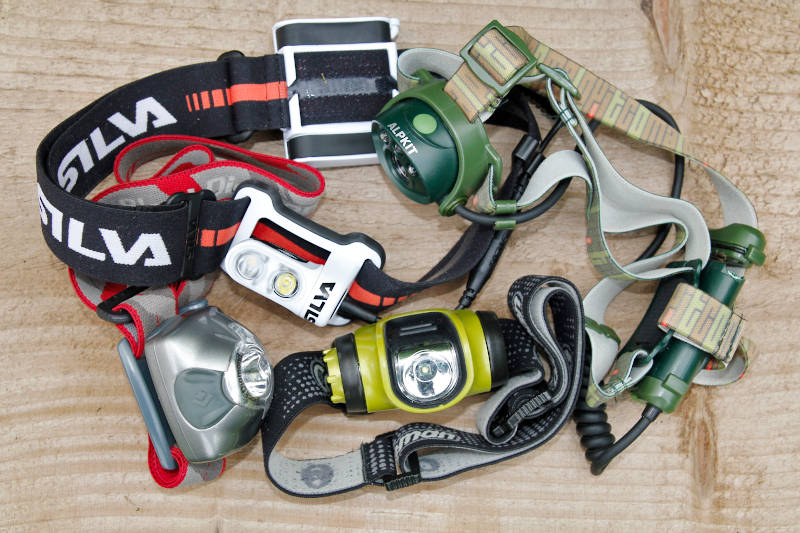 If I were to pick out room for improvement it would be the red battery level indicator, I'd like to see a more scaled indication as to how much battery life is left. However carry a spare set of batteries (or switch to freshly charged batteries ahead of each run) and your reliance on this feature disappears.
Also on this model there is no rear red light – this however is available on the Trail Runner 4 Ultra (along with a beefy rechargeable battery unit) if its something you must have. Personally I just use a rear bike light attached to my running vest, if I feel I need to be seen.
So the question is if you are looking for a running specific and multi-use head torch and want change from £50 should you buy the Trail Runner 4. Only you can answer that question however you'd go hard pressed to find anything better at this price point in my opinion!
Buying the Silva Trail Runner 4
If I've convinced you the Silva Trail Runner 4 is the running head torch for you then I'd appreciate you purchasing it via my amazon affiliate link: Silva Trail Runner 4. This helps fund the site and keeps me motivated to pump out content for the site, often into the early hours when I should (according to my wife) be catching up on my beauty sleep!
I hope this review has helped in your buying decision and importantly motivated you to keep your running going throughout the dark winter months, whatever the weather.
Did you buy the Silva Trail Runner 4? What headtorch do you recommend for running? Leave a comment or question below, and for the latter I'll respond asap!