Cornwall is the spiritual home of UK surfing with around 100 surf breaks spread along its coastline. Why head to mainland Europe when you can catch a barrel right here in the UK!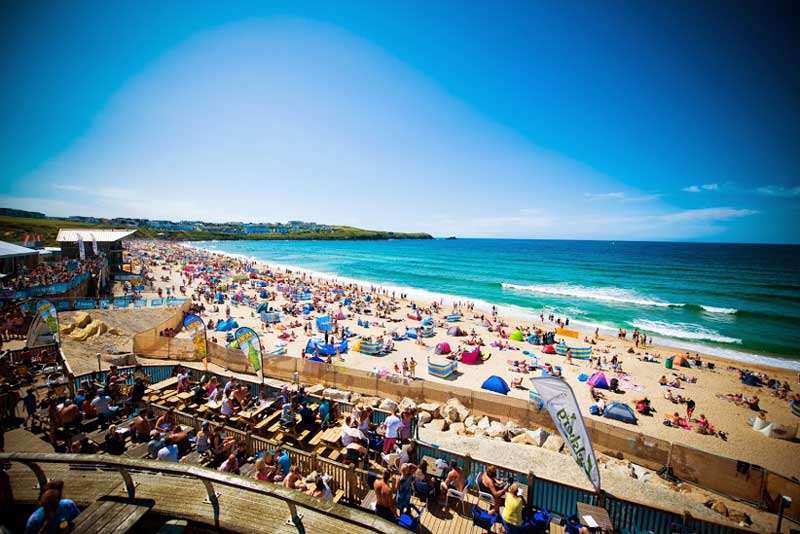 When the surf's up Atlantic low pressure systems drive powerful rollers eastwards to produce some of the finest surfing conditions in Europe. Newquay on its north coast is the epicentre of Cornwall's surf culture, and in the summer months its population swells with both surfers and holidaymakers. The legendary Fistral beach (in Newquay) is home to the annual Boardmasters pro surf contest, with the main festival headquarters just up the coast at Watergate Bay. Away from Newquay there are numerous popular surf spots to suit all abilities and most conditions. For anyone looking to experience the UK surf scene Cornwall is a must do destination.
North Coast
Fistral beach, Newquay
Fistral is a three-quarter mile stretch of sandy beach famous for its big swells, peaky waves and tube riding. Its the most popular surfing location in Cornwall, attracting surfers of all abilities. Little Fistral and North Fistral are popular with intermediate/advanced surfers, the low tide barrels at North Fistral are legendary within the surf community. Beginners tend to stick to the middle of the bay, where a number of surf schools offer lessons – see below. Fistral can become very crowded in the summer months, especially during the annual Boardmasters pro surf contest. North of Fistral is Cribber, a big surf spot where expert big wave riders take on upto 6 metre waves on the rare occasion the conditions are on.
Surf Lessons at Fistral Beach:
Fistral beach Postcode: TR7 1HY
Parking: Paid parking at the beach (cash or smart phone) – beware of staying even 1 minute beyond your ticket time, if you do a £100 fine will very likely drop through your post box and ruin your memories of this beautiful beach.
Watergate Bay, nr Newquay
A two mile long stretch of sandy beach close to Newquay. Good beach break waves ride-able at all tides and suitable for all levels. Cafe, restaurants and board hire by the beach.
Surf Lessons at Watergate Bay:
Watergate Bay Postcode: TR8 4AB
Parking: Paid parking (cash or card) at Watergate Bay car park.
Crooklets beach, Bude
Close to Bude town centre, with a large car-park and showers at the beach. The infamous high tide shore break in front of Bude Surf Life Saving Club holds swell up to 2m (6ft). Popular with locals, the right-hander at Wrangles Rocks breaks either side of low tide. To avoid the crowds at low-tide head north towards Northcott Mouth. Cafes close-by and surf shops in town.
Surf Lessons in Bude: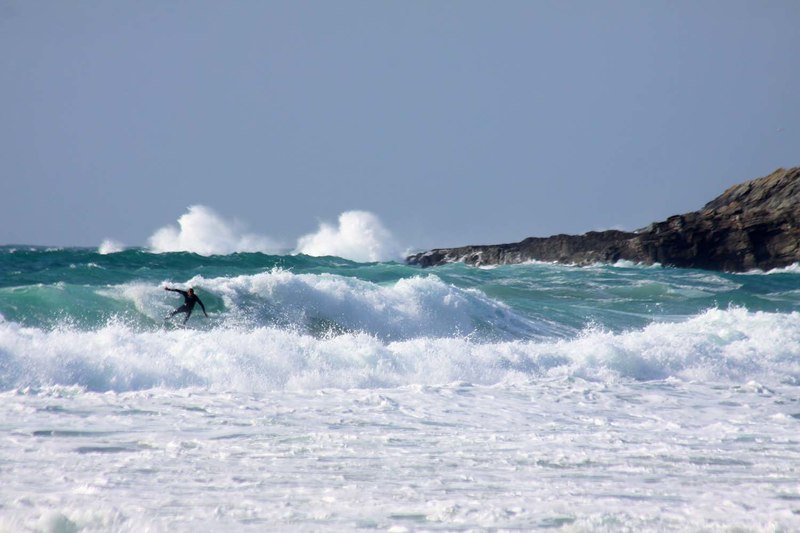 Crooklets Beach Postcode: EX23 8NE
Parking: Paid parking at the beach (cash or smart phone).
Constantine Bay, Padstow
The exposed Constantine bay is a beach and reef break regarded as one of the best surfing locations in Cornwall. The waves break both left and right at the beach break in the middle of the bay. The reef break at the south end of the bay breaks left. The surf works year round and at all tides, therefore it can get crowded. Beginners should be aware of hidden rocks and strong rips – our advice would be to contact the local Constantine bay surf school.
Constantine Bay Postcode: PL28 8JQ
Parking: Free parking if you can find a space at Constantine bay car park, otherwise a few paid options.
St Agnes (Trevaunance Cove)
A popular beach break with right handers that work best at mid tide with a decent winter swell. One of few spots that works with a prevailing wind from the south-west. The summer is mostly flat. Watch out for rocks! Cafes, toilets and seasonal lifeguard cover. St Agnes is also home to the popular world belly board championships surf heritage event !
Surf Lessons in St Agnes:
St Agnes Postcode: TR5 0RU
Parking: Limited paid parking above the beach.
Gwithian – Godrevy
Exposed beach break with lefts and rights that can work all year round and at all tides. Offshore winds from south east produce the best conditions. Watch out for rips. Cafes at Gwithian, beach parking and surf school at Godrevy.
Surf Lessons in Gwithian – Godrevy:
Gwithian Postcode: TR27 5ED
Gwithian Camping: Gwithian Farm Campsite
Parking: available at the Godrevy National Trust car park.
Sennen Cove
An exposed beach break with pretty consistent surf that works all year round. Offshore winds are from the east, waves break both left and right. Can get busy in the summer, although in winter you may have the place to yourself – being the most westerly beach in Britain its miles from pretty much anywhere! Cafes and shops by the beach.
Surf Lessons at Sennen Cove:
Sennen Cove Postcode: TR19 7BT
Parking: Paid parking at the beach.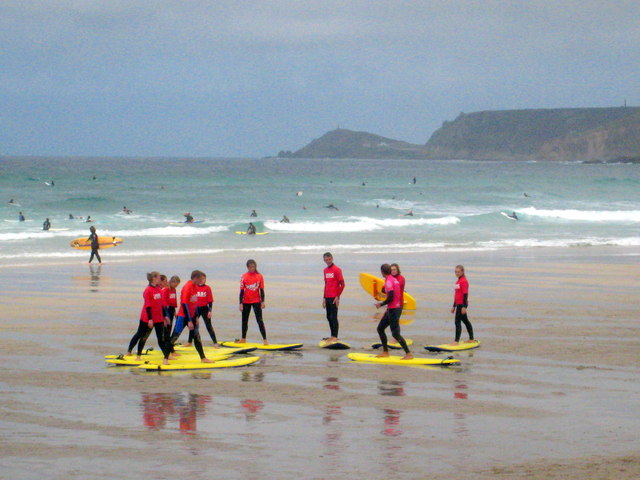 South Coast
Praa Sands
A beautiful and exposed white sand beach break on the south cornwall coast. Conditions are best either side of high tide. Can get busy when the north coast surf spots are blown out. Big swells can produce dangerous rips. Local amenities include a beach front pub, shop and surf shop. There is also a campsite just a few minutes walk from the beach.
Praa Sands Postcode: TR20 9TB / Praa Sands Beach
Parking: Paid parking at the beach.
Praa Sands Camping: Higher Pentreath Campsite – Rustic back to basics camping along with a few mod cons (free wifi, device charging points etc) and a farm shop.
Porthleven
Widely regarded as Britain's best right hand reef break. With a big south west swell and a light north easterly the tubes are sublime and every man and his dog drops by for a piece of the action! This is a challenging surf spot where mistakes can be costly to both body and board. Low tide must be avoided as the uneven reef becomes exposed, high tide can be tricky. Not a spot for beginners.
Porthleven Postcode: TR13 9EH
Parking: Parking is in the town, and can be a challenge in the summer.
Did you go surfing in Cornwall? Share your experience with us via Twitter or Instagram, we'd love to hear from you! @wildblighty #eXploretheUK