Bone-shaking descents, technical lung-busting climbs and awesome sweeping views are just some of the reasons why the Peak District is a must do mountain biking destination. This is adventure riding in an untamed landscape, a welcome change from the UK trail centre scene – and for some the only way to ride!
Peak District MTB Routes
The Dark Peak and in particular the Hope and Edale valleys are amongst the most popular areas to ride. The riding is generally considered all mountain, however down-hill riders need not despair for there are some classic DH runs to keep the adrenaline flowing high. Limited only by your map and compass its easy to see why the Peak District is such an addictive ride!
Here are some routes to ease you into the Peak District MTB scene, further routes will be added as and when I discover (and ride) them!
The Dark Peak Blast: This 20 mile blast covers a loop of the Hope and Edale valleys, with a cheeky (optional) extension down to the edge of Ladybower Reservoir. A rollercoaster of loose rock, gravel, dirt and tarmac awaits, requiring a decent level of fitness, shin pads and ideally a big set of cahunas!

The Dark Peak Epic: Experience the thrills of the Dark Peak on this epic 34 mile all mountain ride. This lung-busting mixed terrain route is for experienced and fit mountain bikers comfortable with technical climbing and fast rocky descents ('proper' DH trails are avoided!). The route takes on some of the most iconic trails and locations in the Peak District.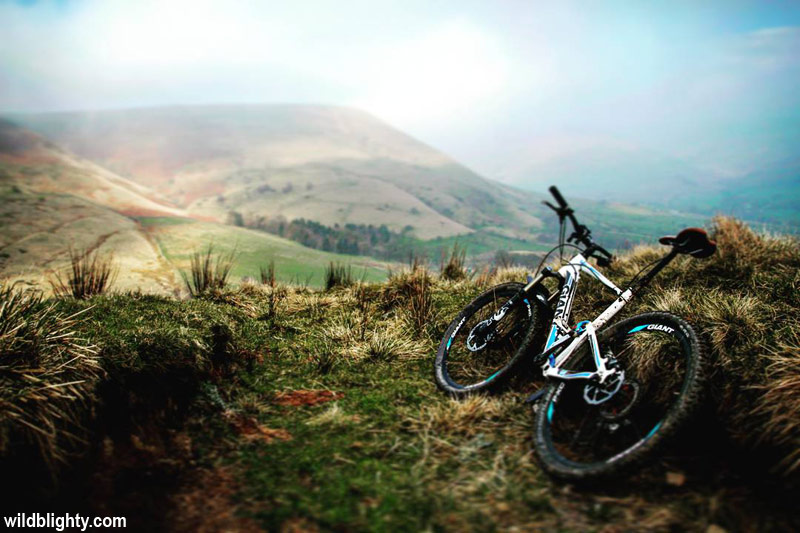 Down-Hill Mountain Biking in the Peak District
You wont find uplifts in these parts however if you are prepared to put the miles in there are numerous opportunities to chuck yourself down ridiculously steep and rocky runs all in the name of enjoyment! Just don't forget these are not purpose built MTB trails, watch out for walkers and of course XC riders carrying their bikes in the opposite direction!
Amongst the more well known runs are the technically challenging Jacobs Ladder and the boulder field that is Cave Dale – Wild Blighty is still wondering how anybody can ride a bike down there and stay in one piece! Head on over to the good folk at MonkeySpoon for further info.