The diverse Cheshire landscape provides a unique backdrop for outdoor activities. With a mix of lanes and plains, forests and hills & canals and quaint villages, you're never far from adventure. Discover the charm of this landlocked county and you'll be grinning like a Cheshire Cat with an endless supply of fresh cream!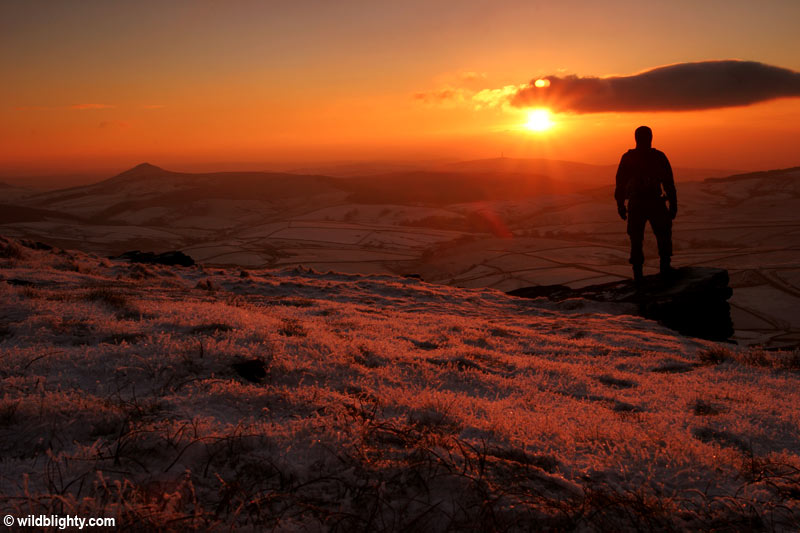 Adventure Highlights
Adventure Highlights include Cycling up the famous Cat and Fiddle, Mountain Biking at Delamere Forest, Climbing at the Boulder Hut, and watching the sunset from Shining Tor.
Cheshire Activities
Places to Visit
Chester
The historic city of Chester is a tourist mecca and must do destination when in Cheshire. The small city sits by the River Dee, its centre within the UKs most complete city walls – a 2 mile circular walk on the red-sandstone wall is a great introduction to this delightful place. Within the walls are a smattering of Tudor and Victorian buildings, intermingled with numerous cafes, shops, bars and restaurants. To get your bearings head to Chester Cross, the stone pillar sits at the junction of Chester's four main streets, namely Watergate Street, Eastgate Street, Bridge Street and Northgate Street. The unique Chester Rows are a series of two-story arcades dating from the medieval times, they fan out in each direction from the Cross and house a plethora of independent and high-street shops. On Eastgate Street is Eastgate Clock, Chester's famous landmark sits upon the sandstone arch which marks the original entrance to Chester's Roman fortress.
Chester's roman amphitheatre is the largest of its kind in the UK, despite being less impressive than one might expect its still worth a selfie! From the amphitheatre head down through the Roman Gardens to the riverside promenade. Along the promenade are lots of benches, a bandstand, boat rides and an ice-cream parlour. If you need a meat fix Hickorys is by the river and serves drinks on the outdoor terrace during the summer. At the far end of the promenade is a white suspension bridge called Queens Park Bridge, opposite the bridge walkway is a path leading into Grosvenor Park. The Victorian gardens are full of character, especially during the peak summer when its a hive of activity and hosts various events including at the pop-up open air theatre. Other things to do in Chester include visiting the impressive Cathedral, seeing a show at the Storyhouse theatre or heading for race day at Chester Racecourse.
The nightlife in Chester is varied from the sophisticated to the cheesy. A mix of tourists, students, locals, hen and stag do's can certainly make for an interesting night out. Lower Bridge Street is good place to start your evening, venues include the timber-framed Bear and Billet public house, The Brewery Tap ale house and upmarket Oddfellows. Other drinking establishments include The Church, Fiesta Havana and The Botanist. If you are staying close to the train station, the Old Harkers Arms is a great traditional pub by the canal, and The Cellar is a late night live music venue – both are situated along Station Road. Other live music venues in Chester include Alexander's and Telford's Warehouse.
Accommodation options in Chester cover all budgets, one of the cheapest options being Chester Backpackers which is walking distance into town. The suburb of Hoole is also a popular accommodation hub for Chester, with numerous hotels lining the main A56 road into town.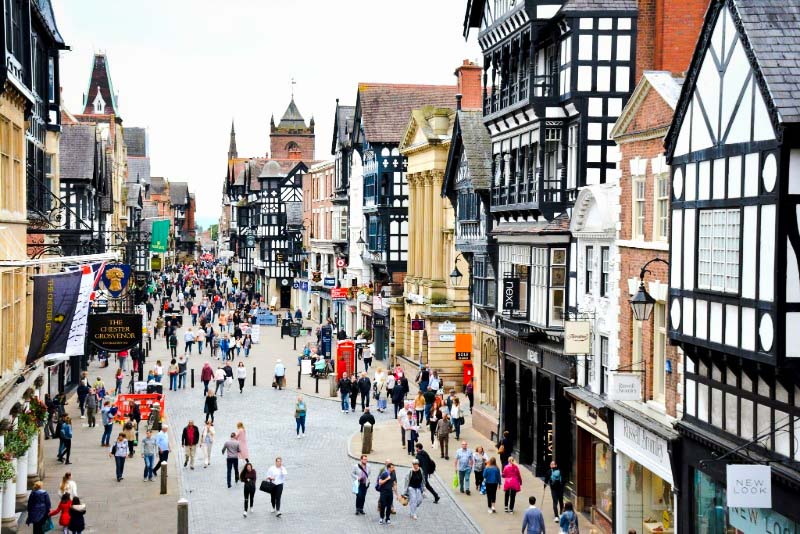 Knutsford
The affluent market town of Knutsford is a great lunch or brew stop. Wander around the compact town centre and you will discover traditional timber-framed buildings intermingled with Italianate and classical architectural styles. The main two streets are Princess Street and King Street, along which you will find a mixture of restaurants, pubs, cafes, shops and high-end boutiques. If you are into your bikes head to the Courtyard Coffee House, the cafe doubles up as a Penny Farthing museum and is hidden down a narrow alley along King Street. For an insight in Knutsford's past head to the heritage centre also along King Street. At the end of Princess Street is an entrane to the impressive Tatton Park, an 8 sq km deer park with gardens, lakes, a medieval manor house, cafe and host to a multitude of annual events. Knutsford is accessible by train or there is plenty of both paid and free parking around town.
Delamere Forest
Delamere Forest is the largest area of woodland in Cheshire. Its landscape is a mixture of deciduous and evergreen trees, bogs and lakes, intersected by two minor roads and the mid-Cheshire railway line. The numerous undulating paths and trails sprawled throughout the forest and beyond attract outdoor enthusiasts in there droves. Popular activities in Delamere include Mountain Biking, Trail Running and Walking. There is also a Go Ape high ropes course and Segway hire within the forest.
A highlight of the area is Old Pale Hill just to the South of the main forest canopy. It rises to a height of 176m and is the highest point for miles around. Its summit (known as Pale Heights) can be approached via different paths, each of which are steep in places and provide a good workout. Once at the summit you are presented with a sweeping 360 degree panorama. A stone circle provides an orientation to each of the 7 counties that can be seen from here on a fine day. Inscribed metal plaques within an inner circle provide a guide to each visible landmark, which includes Jodrell Bank, the Liverpool skyline and the Cheshire Plain.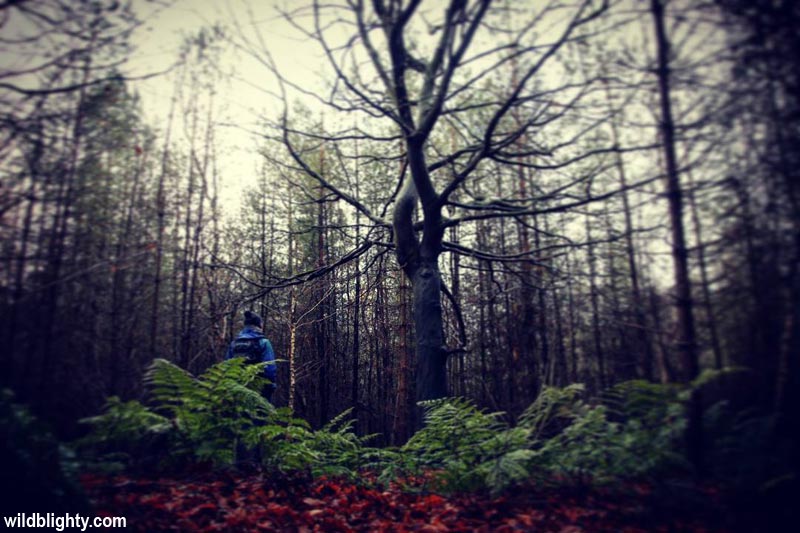 Facilities within the forest include a visitor centre, cafe and bike shop.
Related Content
Running Routes in Cheshire
The Alternative EHM
Distance: 13.1mi (21.1km) / Elev Gain: 886ft (270m)
Approx Time: 2 – 3 hours
An alternative English Half Marathon (EHM) route covering the less trodden paths and beautiful countryside of Warrington in Cheshire.
Road Cycling in Cheshire
Cheshire Blast
Distance: 60km / Elev Gain: 559m
Starting point: Lay-by off Junction 10 of the M56 (Free parking on either side of Tarporley Road near the Cheshire Spire private hospital)
Sat nav (nearest postcode): WA4 4LU
Strava Route: Cheshire Blast
GPX Download: Cheshire Blast
This route is a taster of what's on offer in Cheshire incorporating Frodsham Hill, Delamere Forest, Great Budworth and Arley Hall. Cafe stops in Frodsham and Delamere Cafe (deviation required).
Cat and Fiddle, Buxton
Distance: 10.2km / Avg Grade: 3% (Max 8%) / Elev Gain: 333m / Max Elev: 494m
Strava Segment: Cat & Fiddle Hill Climb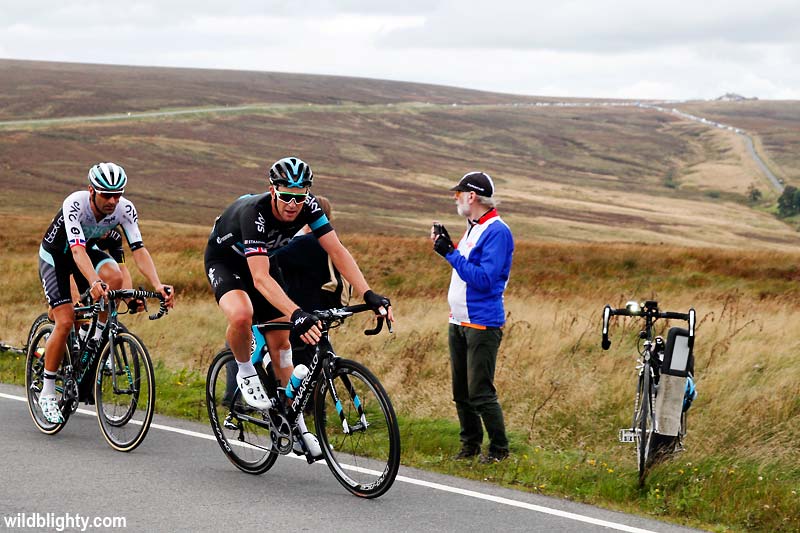 The Cat and Fiddle is one of the longest climbs in the UK, averaging 3% over 10km. It is steepest when departing the town of Macclesfield before winding its way up through the wild landscape of Cheshire to the beautiful spa town of Buxton in the Peak District. The climb itself is pretty steady with some false flats and lots of bends. Distant views of Manchester and the Cheshire plain are a constant for the majority of the ascent. This climb undoubtedly features on the bucket list of many UK based roadies, however a word of caution; this is a busy and sometimes dangerous road best avoided during peak traffic.
Winter Sports in Cheshire
"Winter sports in Cheshire" I hear you say ! OK well admittedly Cheshire is not exactly known for its snow. However there is an artificial ski slope and of course on the occasional winter snow day you'd be a fool not to dust off your sled!
Runcorn Snowsports Centre
Runcorn Snowsports Centre is an artificial slope offering skiing, snowboarding and tubing. Lessons and equipment hire are available or for the more proficient skiers and snowboarders there are daily open slope sessions. Its a very old skool set-up however if you live close by it makes sense, and its a cheaper alternative to the Chill Factore in Manchester.
Where to go Sledding in Cheshire
Sledding or Sledging – whatever you want to call it, there are few more enjoyable winter family activities than throwing yourself and your kids down a steep hill with only a thin piece of plastic between you and the snow covered ground! Next time it snows wrap up warm and head to one of the below locations.
Lyme Park
Sat Nav / Postcode: SK12 2NR
Lyme Park in Disley is within the boundary of the Peak District National Park and their are some big hills! Access can be an issue after heavy snow so check before you travel! Entry is free for National Trust members.
Delamere Forest
Sat Nav / Postcode: CW8 2JD
The lower slopes of Old Pale Hill close to the visitor centre at Delamere Forest Visitor Centre is worth checking out. You could also venture to Pale Heights, the summit of Old Pale Hill.
Castle Park
Sat Nav / Postcode: WA6 6DG
Castle Park in Frodsham has a short slope suitable for families, and a playing field at the top of the park.
Walton Gardens
Sat Nav / Postcode: WA4 6SN
Walton Gardens in Warrington has some gentle slopes suitable for younger kids.
Cheshire Accommodation