With awesome scenery, challenging terrain and cafés aplenty its no surprise the Peak District is a road cycling mecca. Both the Tour de France and Tour of Britain have passed through in recent years, a testament to just how good cycling is in this area of the UK.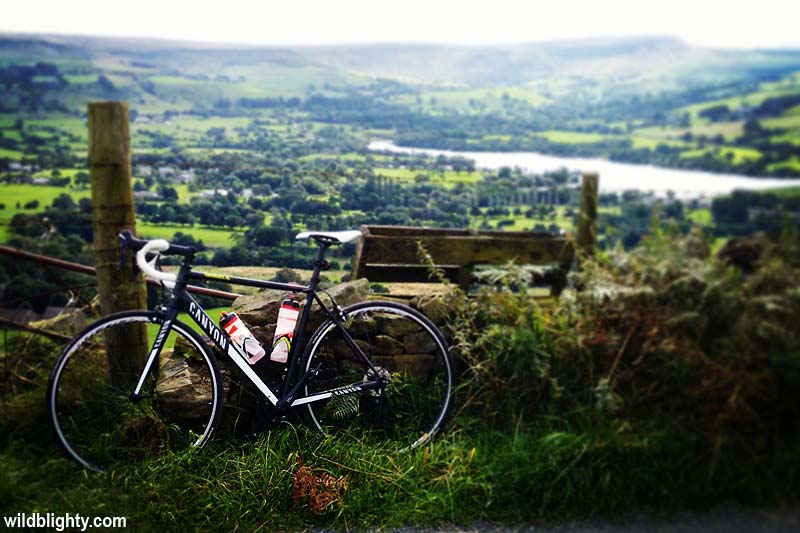 View from Eccles Pike, Peak District.
Peak District Routes

Hope Valley Blast
Distance: 17.4km / Elev Gain: 390m
Starting point: Mam Nick Car Park
Sat nav (nearest postcode): S33 8WA
Strava Route: Hope Valley Blast
GPX Download: Hope Valley Blast
This route is a taster of the Peak District incorporating the infamous Winnats Pass climb, speculator views and beautiful villages – all packed into less than 18km of cycling!
Beginning from the Mam Nick Car Park (see above) you take on the epic Mam Tor descent to Barber Booth, with sweeping views if you dare look up! Next you pass by Edale before looping around to Hope and Castleton. Finally the ascent of Winnats Pass leads you back to the starting point. Cafe stops in Edale, Hope and Castleton. Note – caution should be taken on the descent from Mam Tor to Barber Booth, its very steep!
High Peak Mini-Tour
Distance: 68.8km / Elev Gain: 1346m
Starting point: Derbyshire Bridge Hikers Car Park
Sat nav (nearest postcode): SK17 6TT
Strava Route: High Peak Mini-Tour
GPX Download: High Peak Mini-Tour
This route gives you a great introduction to the High Peak with steep climbs, fast descents and numerous cafe stops to choose from. A spare 3-4 hours and a decent level of cycling fitness are required!
This ride begins at the Derbyshire Bridge Hikers Car Park (see above), very close to the top of the Cat and Fiddle climb. Its essentially two big loops, one of those being the Hope Valley Blast route described above. Highlights include the spa town of Buxton, the Hope valley, Winnats Pass, Eccles Pike, Long Hill and the Goyt Valley.
Peak District Climbs
Fancy challenging for a Strava KOM? Why not try these classic Peak District climbs:
Winnats Pass, Castleton
Distance: 1.8km / Avg Grade: 11% (Max 30%+) / Elev Gain: 208m / Max Elev: 415m
Strava Segment: WINNATS PASS Full Climb
To the west of the village of Castleton in the Hope Valley lies Winnats Pass. This epic narrow road winds its way through a natural amphitheatre, surrounded by towering limestone cliffs and steep slopes. The climb itself is short but relentless, and will test the mettle of any cyclist up for the challenge of its 30%+ gradients. If the climb doesn't take your breath away, the truly stunning alpine-like views of Winnats Pass certainly will.
Mam Nick (aka Mam Tor), Barber Booth
Distance: 2.1km / Avg Grade: 10% (Max 22%+) / Elev Gain: 213m / Max Elev: 465m
Strava Segment: Mam Tor Hill Climb
Mam Nick is a tough 2km climb beginning in Barber Booth to the South-West of Edale. The ascent starts with a long steep straight, before winding it's way up the hill. A short respite around halfway is followed by the steepest sections of the climb which reach over 20%. A near double hairpin leads to the final assault of this classic and extremely scenic climb. Note, this climb is traditionally known as Mam Nick, however has more recently also been known as the Mam Tor climb – likely in part due to the closure of the A625 as a result of ongoing landslip.
Holme Moss, Holmfirth
Distance: 4.6km / Avg Grade: 7% (Max 13%+) / Elev Gain: 341m / Max Elev: 529m
Strava Segment: Holme Moss
Google Maps: Holme Moss
Holme Moss is a tough climb most famous for its appearance on stage 2 of the 2014 Tour de France – where an epic crowd of over 60,000 fans lined its slopes to cheer the worlds best cyclists tackle the Côte de Holme Moss! Its certainly not the steepest in these parts however its a pretty relentless effort from start to finish. A couple of hairpins mixed in with some steep kicks and scenic views keep things interesting. There is a radio transmission tower at the top of the climb reminding you this is a pretty elevated part of the UK at 529m above sea level. If nothing else you should complete this climb and see just how slow you are compared to the pro peloton!