This walk has everything packed into less than 5 miles – epic views, summit ridges, a little scrambling and some leisurely rambling – i'm struggling to think of a more enjoyable short walk. So grab your camera and go check out them there hills!
Distance: 7.6km (4.7mi) / Elev Gain: 383m
High Point: Chrome Hill - 425m
Map: OS Explorer OL24
GPS Download: Chrome and Parkhouse Hill Circular
Starting Point: Quiet Woman Pub
Route Highlights include Earl Sterndale, Dowel Dale, Chrome Hill & Parkhouse Hill.
This popular and highly rewarding walk is all about the magnificent protrusions of limestone which dominate the landscape from afar – namely Chrome Hill and Parkhouse Hill.
These distinctive grass covered hills formed part of the seabed of an ancient tropical ocean, and are now recognised as a Site of Special Scientific Interest.
Mini-mountains they may be, however their lack of height is countered by the undeniable character and charm they possess. Throw in some great photo opportunities and summit ridges and you'll struggle to find a more rewarding short walk in the hills.
Starting from the rural village of Earl Sterndale the walk began at the only pub in the village – The Quiet Woman. I wandered through the gated yard (by the side of the pub), signed 'Recycling Centre' and picked up a footpath soon enough.
A traverse over farmland (and an encounter with a friendly herd of cows) presented elevated views of Parkhouse Hill, with Chrome Hill beyond. I was tempted to head straight for the summits, however on this occasion was determined to save the best till last!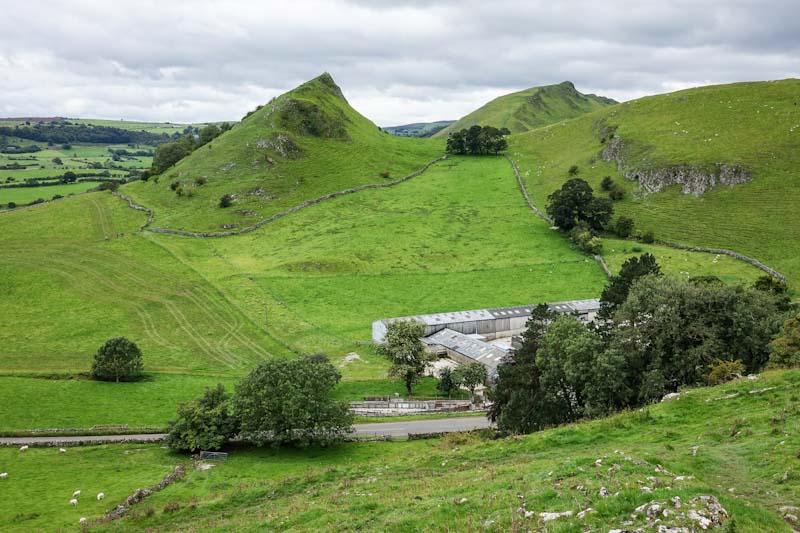 Joining the road a short dash lead to Glutton Farm, I headed through the gate and farmyard.
A signed path marked the start of a steady ascent through a lush and open valley. I felt one could (in the warmth of summer) while away the hours under a tree (with a book perhaps) in relative remoteness. Alas, I didn't have time for any of that and continued at pace!
Joining a farm track and then heading over farmland, Chrome Hill took on the appearance of a distant sleeping stegosaurus whose spine was jutting above the landscape – albeit without a head, to potentially scare the kids perhaps?!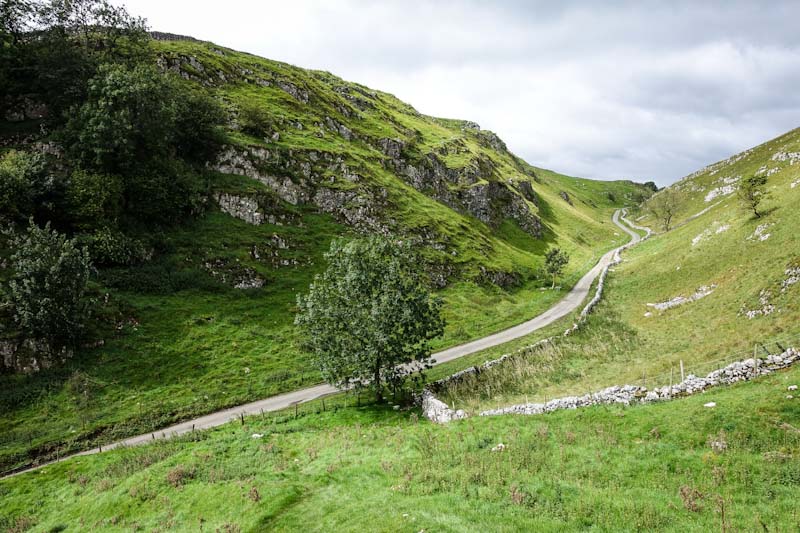 At the crest of a minor hill, Dowel Dale presented itself – the view was pretty awesome and reminded me of of a mini Winnats Pass (for details checkout my Great Ridge and Winnats Pass Walk). I wandered up the narrow and fairly steep road for some time, encountering only a quad bike and some excitable sheep.
Joining another minor road I picked up a sign for Stoop Farm, and before long Chrome Hill became visible once more.
The approach to Chrome Hill itself was signed although with good visibility on the day I was confident I was where I needed to be.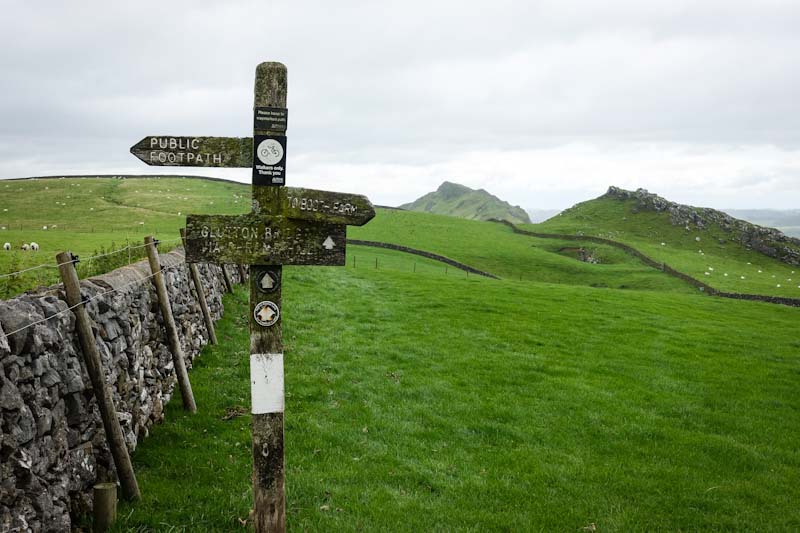 Descending through fields Chrome Hill took on the form of a sleeping dinosaur (or perhaps a reptile) once more.
A short steep path lead to the summit path, and I was somewhat surprised that actually it started to feel like a mountain – albeit on a mini scale. I'm not sure what I expected, perhaps a grassy mound rather than an undulating rocky path which was steep in places and somewhat exposed (and ridge-like) – accentuated by a few seemingly random gusts of wind!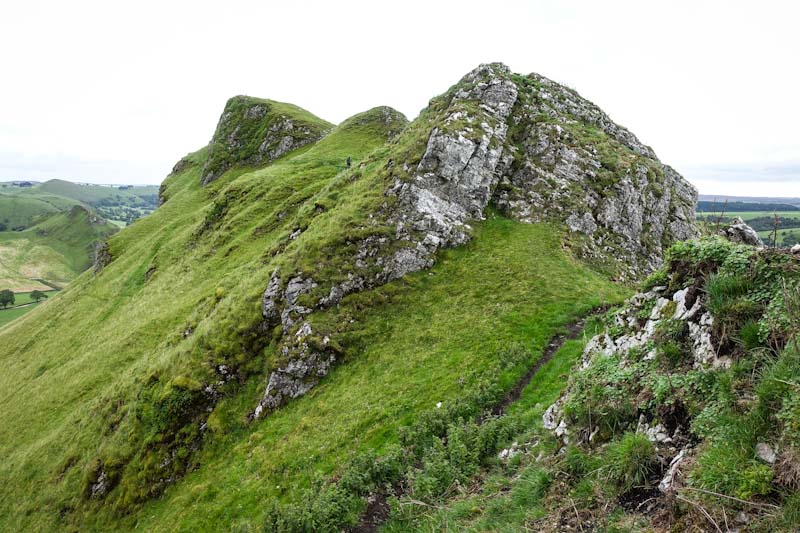 The views from the summit path and summit itself were far reaching and amongst the best i've witnessed in the Peak District. The good weather undoubtedly helped and I have so say the pictures I took did not do it justice!
The grassy descent off Chrome Hill was trouble-free and I continued taking in the panoramic vista, noticing a couple tents pitched on what looked like a very peaceful campsite – which I later discovered was at Dowall Hall Farm.
Parkhouse Hill loomed in the distance and became more impressive the closer I got. A low level wide ridge close to the minor road (which actually leads to the aforementioned farm) somehow made me feel at a much higher altitude than clearly I was at. (Pictured in the main image at the top of this post)
Crossing the road and looking up at Parkhouse Hill I was at first unsure of the route, and noted the OS Explorer map does not show a path leading over the summit. I could see people descending and so went left (the north face!), which as I got closer did seem to be the only option.
A short but steep semi-scramble up the side of the grassy bank got me onto the summit ridge path. The wind had picked up and one gust in particular forced me to place a supporting hand on the ground!
The final push to the summit involved a short rocky scramble, I found it no problem although someone coming down was sliding on their bum over the rocks and seemed rather uncomfortable with the whole situation. Certainly in wet conditions it could become slippy I guess.
The summit of Parkhouse Hill presented more sweeping views, with much of the days route visible and of course now recognisable. Still blown away by the beauty of my surroundings I reluctantly needed to keep moving.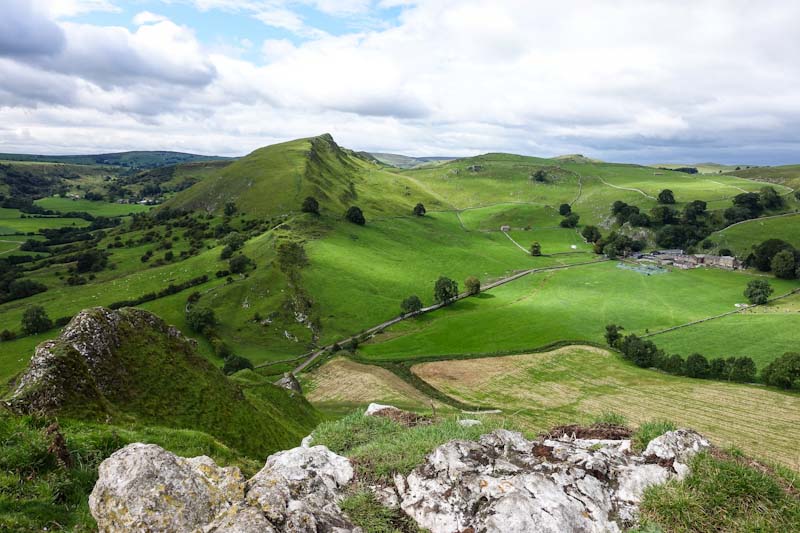 Jogging the majority of the descent off Parkhouse Hill and over fields was no problem, and I soon arrived back at the road. It was then just a case of retracing my footsteps including another traverse of the cow field – thankfully they were still as utterly disinterested in my presence as earlier in the day.
Arriving back at The Quiet Woman I instantly thought how much i'd enjoyed the walk, and that i'd be back to do it again someday – perhaps in reverse and with some additional hills thrown in to beef up the distance (looking at the map Hollins Hill could be a contender). The pub was closed at the time of writing due to the ongoing C-19 lockdown hangover, though as I was driving a pint wasn't an option anyhow.
At 5 miles this certainly wasn't (for me) overly demanding in the physical sense, though to be honest I wasn't bothered. This walk is as I said at the start all about Chrome Hill and Parkhouse Hill, and it definitely lived up to and beyond my expectations. I will certainly be encouraging all I encounter to give it a go one day. Until next time, Adios x
Hazards
The summits of Chrome Hill and Parkhouse Hill are somewhat exposed – and therefore in high winds, rain or poor visibility could certainly become dangerous. Other than that I guess if the cows are grazing be alert – they may not always be as friendly as I experienced on this occasion!
Remember – we cannot highlight all potential hazards when out in the great outdoors. Safety is ultimately down to you. Educate yourself in safety, weather reports, navigation and equipment specific to the activity you intend to undertake and conditions/terrain you may encounter! Check out adventuresmart.uk for general outdoor safety considerations – and activity specific guidance for hill walking, paddle boarding, mountain biking and open water swimming.