This walk in the wild Berwyn range will take you off the beaten track and is a great alternative away from the crowds in Snowdonia.
Distance: 13.9km (8.64mi) / Elev Gain: 982m (2,928ft)
High Point: Cadair Berwyn - 830m
Map: OS Explorer Map 255
GPS Download: Cadair Berwyn Walk from Pistyll Rhaeadr
Starting Point: River Rhaeadr parking
Walk highlights include Pistyll Rhaeadr, Moel Sych, Cadair Berwyn, Cadair Bronwyn and Llyn Llucaws.
The narrow and undulating approach road to Pistyll Rhaeadr was 4 miles I didn't particularly enjoy driving, knowing full well that if I encountered another vehicle one of us may be in for a rather long reverse manoeuvre! Luckily as I was arriving relatively early that didn't happen, and I was more than happy to find an off-road space for the car – thus avoiding what I understand to be a £10 fee (pound coins required ?!) to park at the café car park!
First on my hit list for the day was a quick march to the base of Pistyll Rhaeadr – the waterfall is one of the seven wonders of wales, and its natural beauty didn't disappoint. The recent rain ensured a gushing torrent thundered down the 73 metre 3-stage fall, into what I can imagine would be a pretty inviting pool on a warm summers day. However with a chill in the late February air and the walk barely started I hastily pressed on..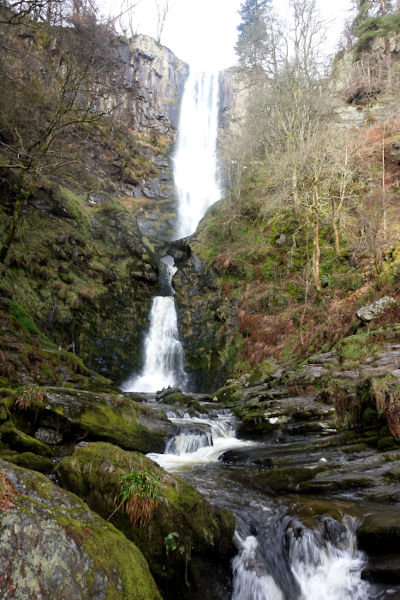 An unsurprisingly boggy shaded forest path lead to a zig-zagged loose stone trail, which was wet and slippery under foot. I traversed the moorland, intermittently staring up the valley which stretched into the distance, a welcome distraction from the now steady ascent.
My original route bypassed the top of the waterfall, however I couldn't resist the quick diversion. The elevated situation and rock strewn surroundings provided an altogether different perspective to the falls, together with sweeping views of the valley floor. The edge of the falls are exposed and a gust of wind reminded me that a slip here would not end well, hence I kept a safe distance – no silly selfie attempt this time !
A steep slog over grassy terrain transitioned into a narrow but easily sighted path, no doubt the chosen route for the woolly locals who live out on the hill. As I gain elevation I was somewhat surprised to come across the odd patch of snow, easily avoidable though inviting all the same – who doesn't like plunging their foot into a crusty and crunchy clump of snow!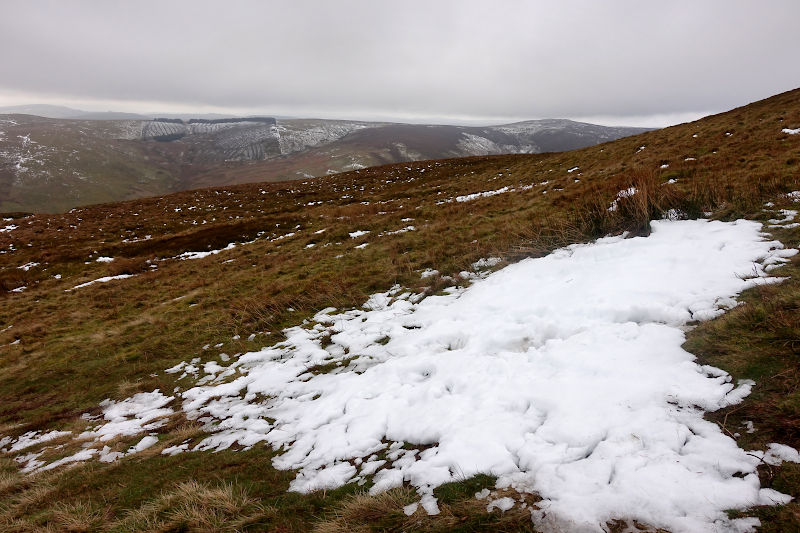 The next section of the route was slow going (and a bit miserable really!) due to the saturated boggy conditions underfoot and chilling headwind. Careful precision foot placement was required to avoid an almost certain submersion into icy cold water – I recall thinking I should have worn my sealskinz waterproof socks! I stuck to the fence line (on my right) where I could, however natural dips in the terrain created makeshift swamps, requiring me to circumnavigate via a network of grassy tufts.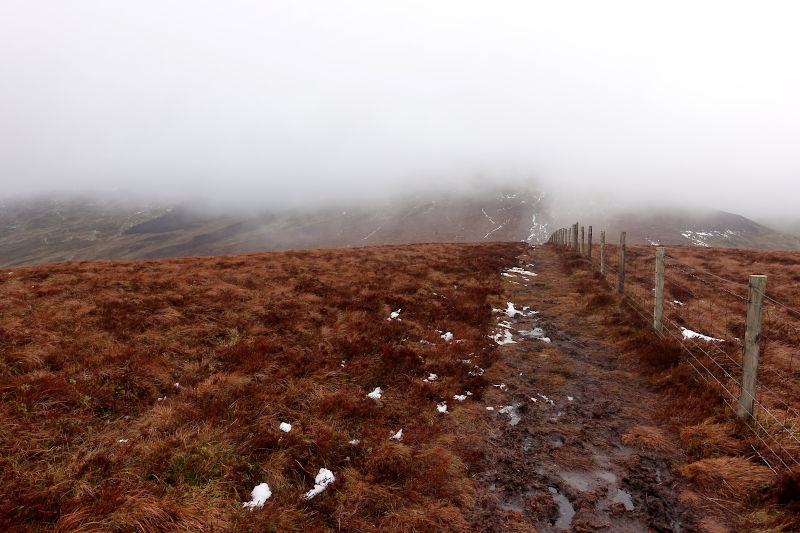 Dark grey clouds and semi-silhouetted distant mountains were intermingled with rays a bright white light, the sun was desperately trying to show itself.
Moel Sych (827m) was the first named summit of the day, and with my head down its scattered rock cairn emerged from the bleakness. The wind by now was not insignificant, visibility was limited to 20-30 metres and with no-one around I did feel like I was in the middle of nowhere – which I pretty much was! The dull monotone surroundings of the summit and lack of views weren't conducive with hanging about, hence I moved on pretty sharpish.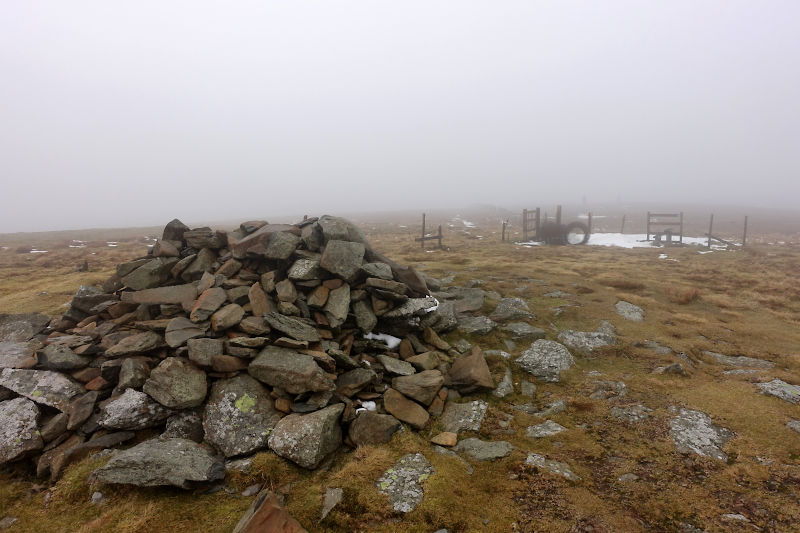 As I traversed the summit path the cloud seemingly dispersed to present my first glimpses of Llyn Lluncaws – I suspect on a clear day that would have been sooner. Over my shoulder an anthracite grey wall of cloud framed distant snow capped hills.
Pretty much the only banter of the day was with a fellow walker to discuss why the stile leading to the summit area of Cadair Berwyn was surrounded by barbed wire (which was easily avoided). A regular to these parts, he wasn't sure but suggested it was recent and that clearly the landowner was unhappy about something. Having studied to map post walk I did note that this section of the route is via a permitted footpath – undeterred I continued on!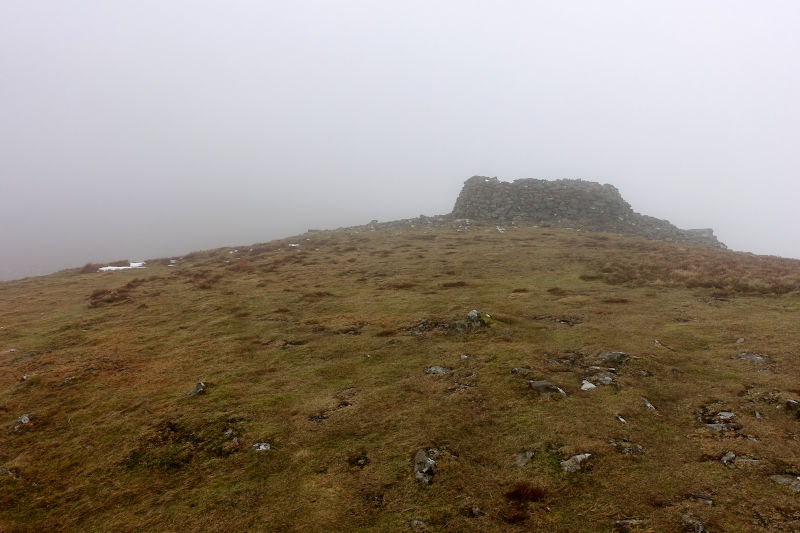 The Summit of Cadair Berwyn (830m) was the high point of the day, and the sight of a circular rock pile shelter gave me confidence of my imminent arrival. My decision to take temporary refuge from the elements was soon thwarted, as snow had accumulated in the shelter such that sitting down would have inevitably ended with a very wet and subsequently cold arse! Hence I quickly consumed one of my pre-purchased wraps and was on my way.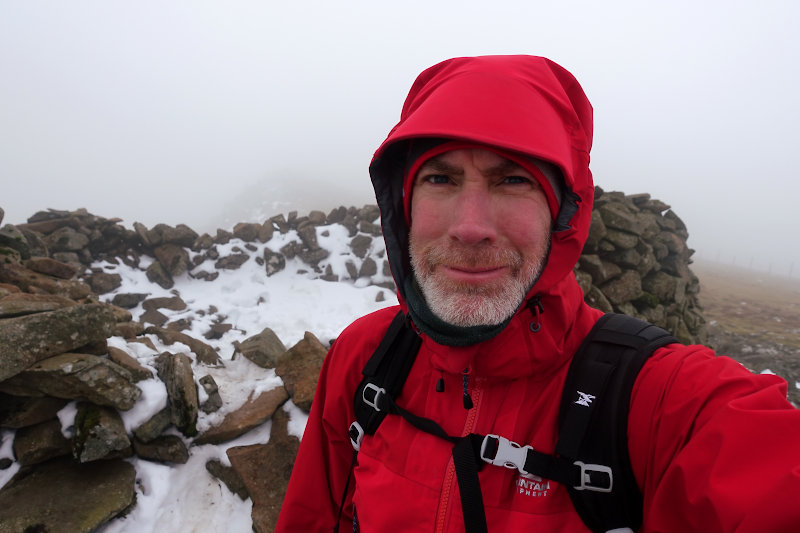 Continuing northwards along the ridge I soon arrived at a weather battered triangulation pillar, this spot is actually Cadair Berwyn North Top – 827m, although annoyingly its not marked as such on my OS Map!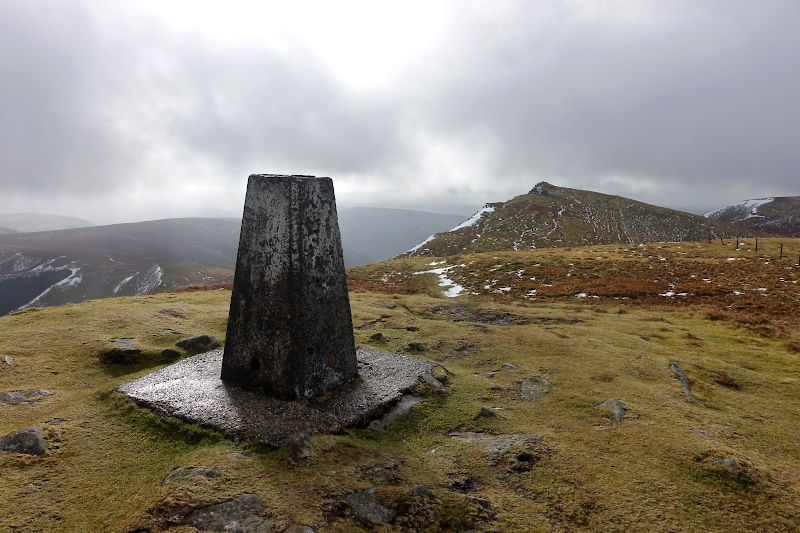 I began to gradually descend the broad summit ridge via an indistinct grassy path, here the views were far reaching and the most impressive so far. The path lead to a stile, and beyond a run of train sleepers – no doubt tactically positioned to avoid the bog they sat atop of – I was certainly very appreciative of the elevated way ahead.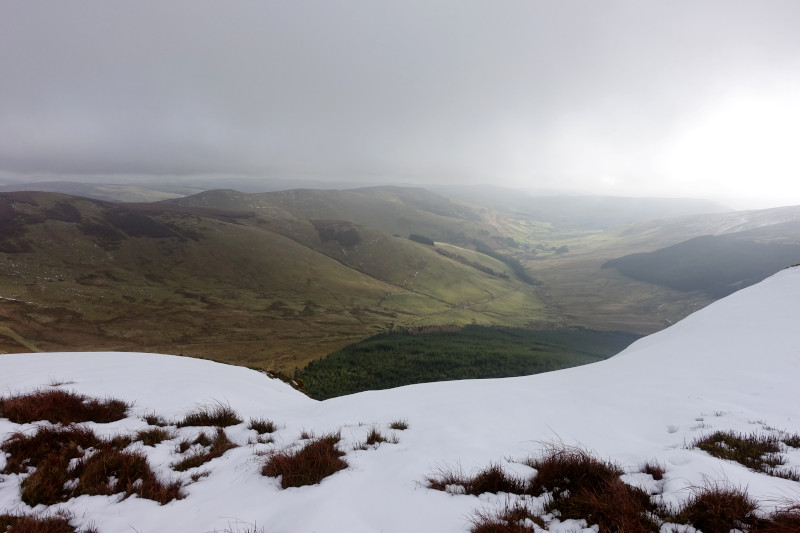 The approach to Cadair Bronwyn was in two parts, a downwards dip followed by an undulating and in parts steep ascent. Further train sleepers partially boarded over yet more super boggy terrain. A string of cheeky false summits delayed my anticipation of reaching the final summit of the day, however with the wind picking up considerably and the sight of her cairn I knew I'd all but made it!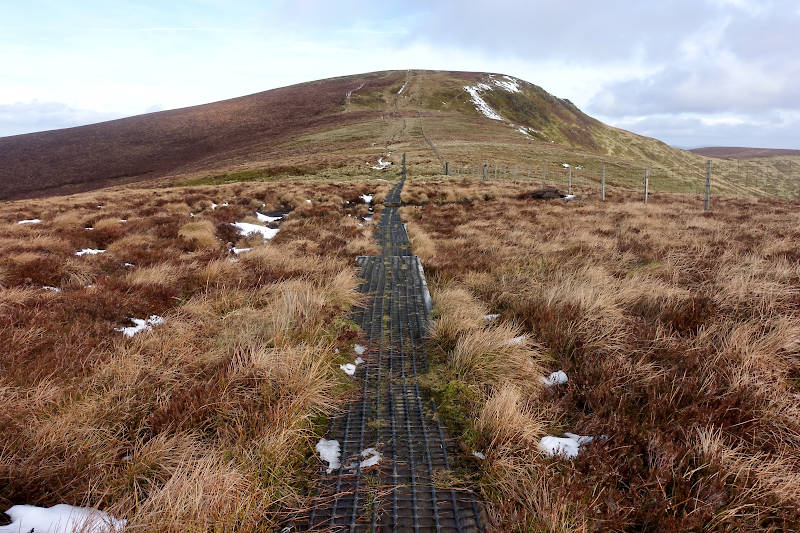 The summit of Cadair Bronwyn (783m) presented an impressive panoramic vista – an expanse of lowland fells as far as the eye could see. Standing still in the buffeting wind was near impossible, and I sought shelter in-front of the summit cairn, intent on devouring the remains of my now partially crushed wrap. On a warm and still day or with someone to chat to I'd have stopped for longer, however with the return leg ahead of me it was time to press on.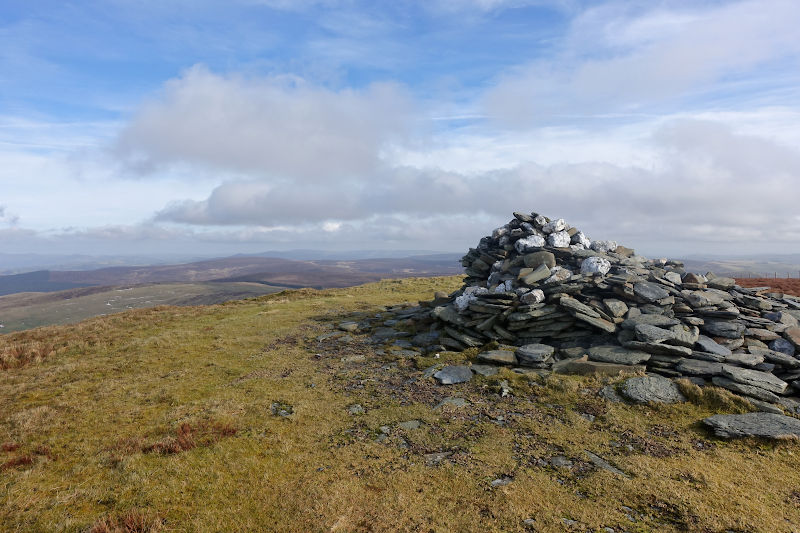 The head wind on the descent from Cadair Bronwyn was intense, and I hastily pulled up my neck warmer – into full-on ninja mode! In no mood to hang about I begin to run, and with laser like precision placed each foot in front of the other. Sure footed I'd gained the confidence to run on the sleepers, and before long (with my lungs working on overdrive) had retraced my steps up to Cadair Berwyn. After offering my services to take a photo of four beer drinking blokes standing in the summit shelter it was time to begin the descent down towards Llyn Llucaws.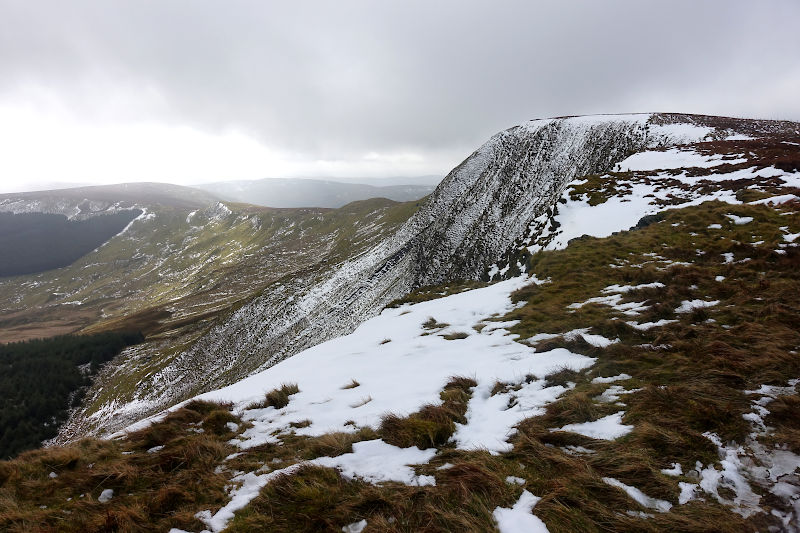 My planned route was to drop off Cadair Berwyn such that I'd pass to the right side (East) of Llyn Llucaws, however the way ahead via a small gully was shaded and subsequently blocked with snow! It wasn't impassable, however I had no safety equipment and with a steep drop to the right I decided to take the marked route on the OS – descending to the South of Llyn Llucaws from Moel Sych. There was no defined path (that I could see) on the grassy descent, however I planted my feet as best I could in the many boot-made divots dotted about. Close to midday a number of walkers were heading in the opposite direction – all panting for breath!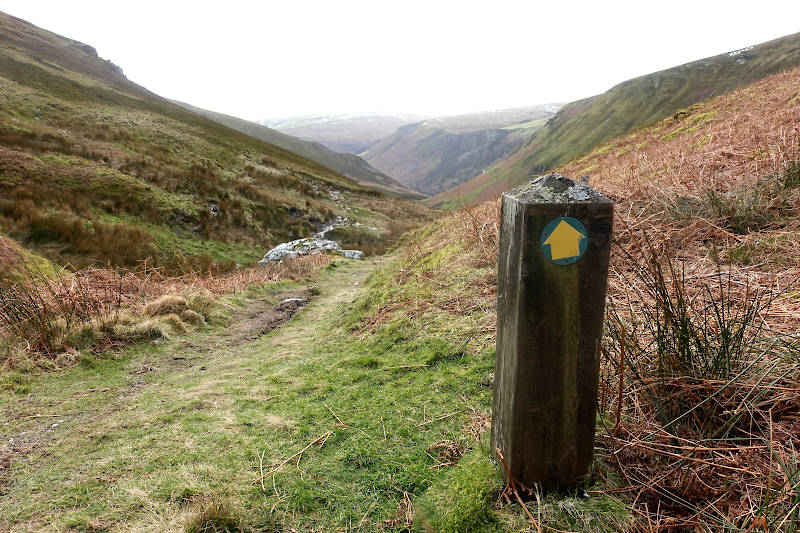 The final section of the walk lead down the valley back towards Pistyll Rhaeadr, via a predominantly grassy and in parts muddy path. I ran most of it tbh – the excitement for me was over at this stage! Close to the finish I missed a stream crossing and had to double back – my bad for assuming the path I was on lead to where I wanted it to ! The café car park was by now full and I was smiling inside having had Pistyll Rhaeadr all to myself just a few hours earlier – the chances of that now were zero!
Hazards
Certainly during prolonged wet weather the terrain can in parts be very boggy and flooded – thus creating slippery underfoot conditions.
Remember – we cannot highlight all potential hazards when out in the great outdoors. Safety is ultimately down to you. Educate yourself in safety, weather reports, navigation and equipment specific to the activity you intend to undertake and conditions/terrain you may encounter! Check out adventuresmart.uk for general outdoor safety considerations – and activity specific guidance for hill walking, paddle boarding, mountain biking and open water swimming.