This hard but equally rewarding wild camping route is perfect for a weekend trip to the Lake District. The walk includes the mighty Great Gable and a cheeky early morning ascent of Scafell Pike – the best way to enjoy England's highest mountain before the crowds arrive!
Distance: 18.8km (11.8m) / Elev Gain: 1,850m (6,070ft)
High Point: Scafell Pike - 987m
Map: Lake District BMC Map
GPS Download: Great Gable and Scafell Pike Wild Camp
Starting Point: Wasdale Lake Head Car Park
Route Highlights include Wasdale Head, Kirk Fell, Great Gable, Sprinkling Tarn, Angle Tarn Wild Camp, Esk Pike, Broad Crag, Scafell Pike.
The plan was to tick off some significant Lakeland summits whilst also incorporating a night out under the stars (or clouds!). Our primary goal was Great Gable, and with Scafell Pike being in such close proximity it seemed a no brainer that we also incorporate England's highest mountain. In hindsight we may have bitten off more than we could chew, as this walk would turn out to be tough when carrying fully laden (bordering on stupidly heavy) backpacks!
Day 1 – Wasdale Head > Kirk Fell > Great Cable > Angle Tarn
Day 2 – Angle Tarn > Esk Pike > Broad Crag > Scafell Pike > Wasdale Head
Day 2 – Swimming in Wast Water
Day 1 – Wasdale Head > Kirk Fell > Great Cable > Angle Tarn
Wasdale Head was the natural starting point for this wild camping adventure, the remote yet busy hamlet provides great access to the fells. It's also a place of considerable natural beauty, being surrounded by high mountains – views are enhanced even further from the shores of Wastwater, the Lake District's deepest lake. More on Wastwater later.
Day walkers and 3 peaks challengers head to Wasdale Head year round to take the 'tourist' path up Scafell Pike. Its undoubtedly popular and the route can become overcrowded on weekends. It is for this reason that our first summit of the day was not to be Scafell Pike!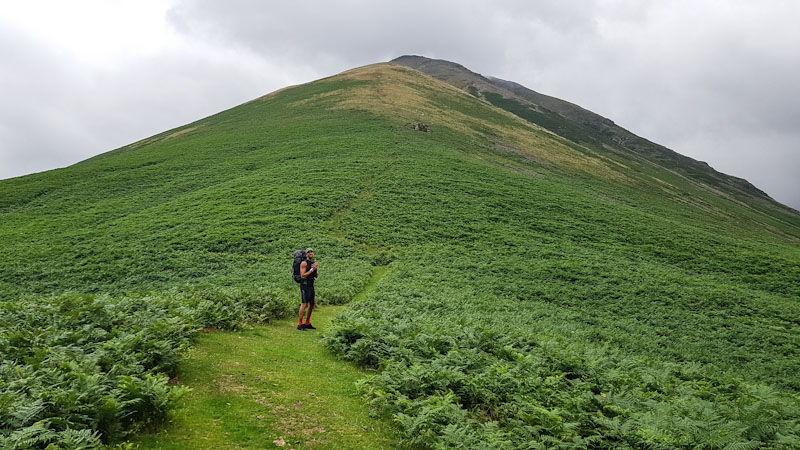 Backpacks loaded we set off from the National Trust car park, crossing Mosedale Beck before joining the access road towards the Wasdale Head Inn. We left the road as soon as possible, the gentle path allowed us time to adjust our packs and get our bearings. The views here are simply stunning and one can't fail to appreciate what a special place this is.
Looming ahead of us was Kirk Fell (802m), a late addition to our itinerary and a fell I had little knowledge of. Looking up we could see a couple of dots descending and noted the sheer gradient of the grassy path. Our legs were about to get their first test of the day!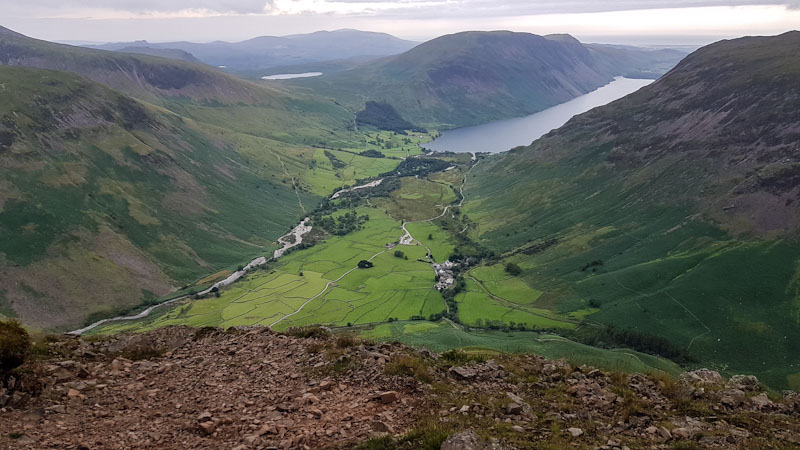 The direct path up Kirk Fell is not to be underestimated (one can take what appears a more gradual ascent around the west side), and was relentlessly steep. It was a hot day and the going was slower than expected – frequent stops to catch our breath and hydrate were a necessity!
As we got higher up Kirk Fell a false summit teased us, and a rock/scree field provided an unexpected challenge – the path seemingly disappearing. I was lagging behind and we became separated at one point – each choosing to stick to our preferred line. A bit of scrambling later and we were more than happy to have reached the summit of Kirk Fell after what turned out to be a 1 mile ascent! It was time to refuel, take in the surrounding views and review the GPS.
The descent off Kirk Fell was dominated by the looming presence of its neighbour Great Gable. Even in partial cloud it looked like a menacing mountain of great stature. In fact a previous attempt on Great Gable from Seathwaite had been abandoned due to extreme high winds, thankfully we knew today would be different.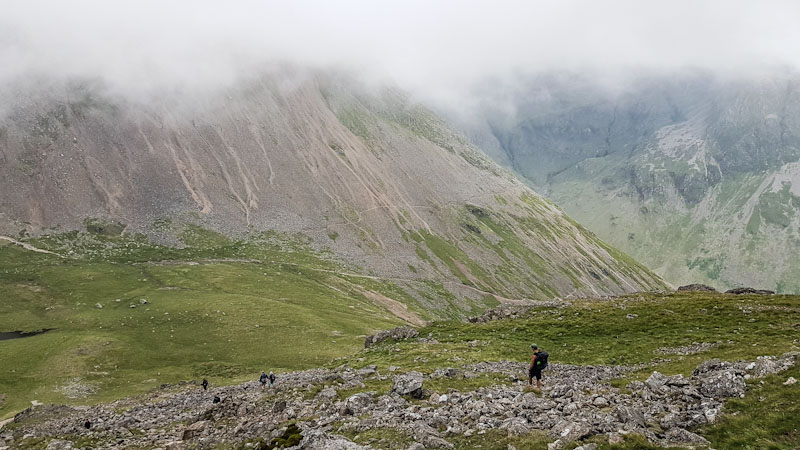 The ascent of Great Gable presented another tough albeit shorter challenge. Navigation wasn't a problem as the weather was in our favour, however scrambling was a little tricky with heavy packs. We both became conscious that slipping backwards would be harder to recover from with the additional weight. This made us doubly sure that foot and hand placement was as solid as possible. Another short stop to catch our breath and we made our way to the summit.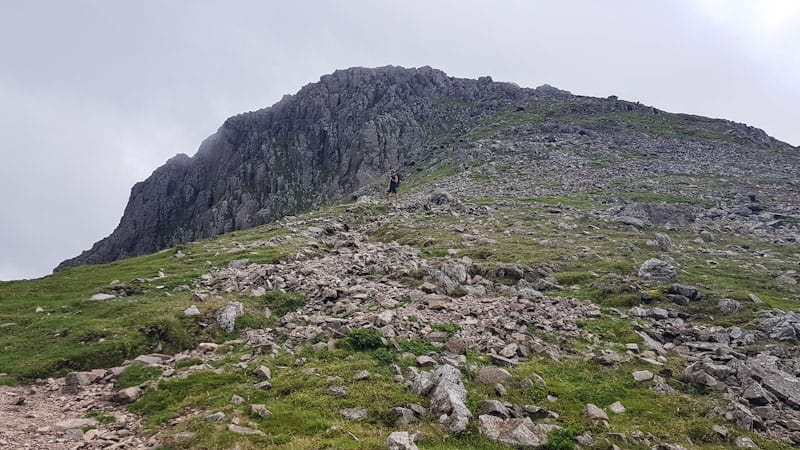 Great Gable stands at 899m, and deserves its place amongst the top 10 highest mountains in the Lake District. Its also boasts some of the finest views within England, the view back towards Wast Water is sublime.
The boulder strewn summit of Great Gable includes a plaque in commemoration of the local fell and rock climbing club members who died in World War I. Also of interest is Westmorland Cairn (circa 100 m south west from the summit) – erected by two brothers in 1876 to mark what they believed to be the finest view in the entire Lake District. Compass in hand I was fairly confident I found the spot!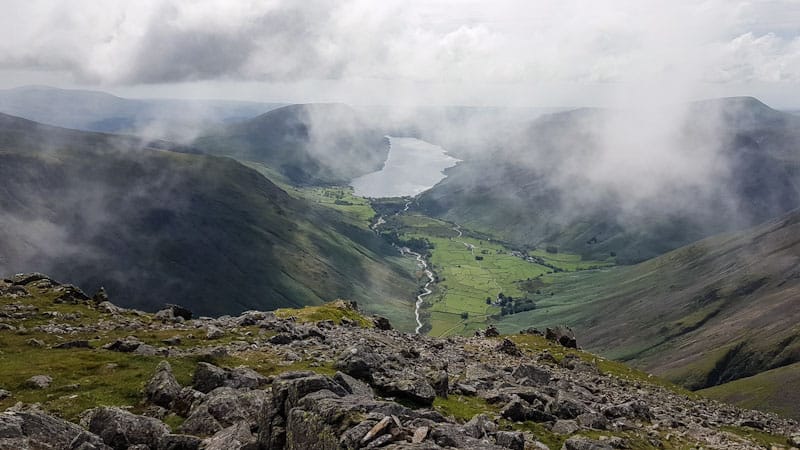 Somewhat refreshed and with the hardest of the days walking behind us it was time to leave Great Gable behind and begin the long yomp to Angle Tarn.
The next 3 miles were tougher than expected with nearly 1000 metres of elevation already in our legs. Having said that it was an opportunity to fully absorb the magnificent scenery, chat to a few fellow walkers (and some fell runners) and enjoy the unhurried nature of the great outdoors!
Passing Sprinkling Tarn we were tempted to switch plans and set-up camp. There looked to be plenty of level wild camping spots surrounding the lake, and away from the path. Certainly a good start when choosing the ideal wild camping spot. However it would have left us nearly 1.5 miles short of our target, and thus have increased the following days mileage.
Arriving at Angle Tarn was a welcome relief, dumping our heavy backpacks and collapsing to the ground with beaming smiles on our faces – what a great feeling! We actually chose a more elevated wild camping spot with panoramic views. This was to avoid potentially being attacked by midges, and we wanted to keep our distance from the tarn to avoid any latecomers pitching close by.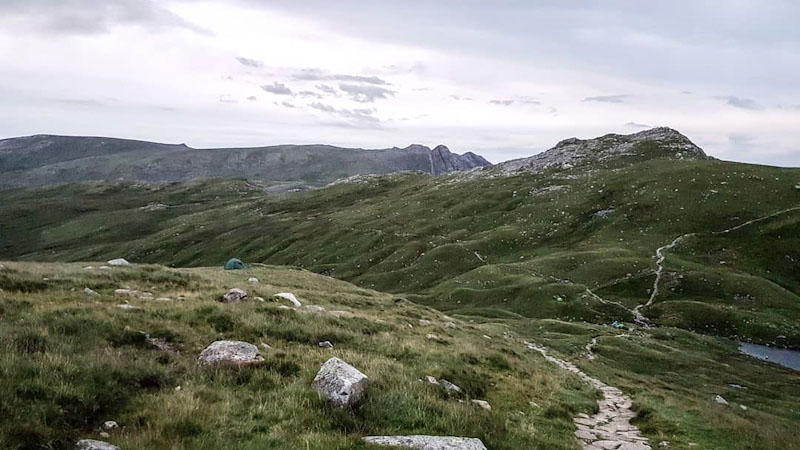 We hadn't pitched the Terra Nova Quasar for a good while, however it was quick and simple – with a lack of wind and favourable weather conditions certainly helping. We unpacked all of our gear and lay out the sleeping mats/bags. Hip flask out it was time to properly take in the stunning surroundings which would be our home for the night.
There is truly something special about setting up camp in the middle of nowhere, a feeling that never subsides and one that keeps me coming back as often as possible (which is not as frequent as I'd like!). Without getting too comfortable we begin the process of preparing a well earned hot meal. On the menu was four cheese tortelloni, tuna and passata.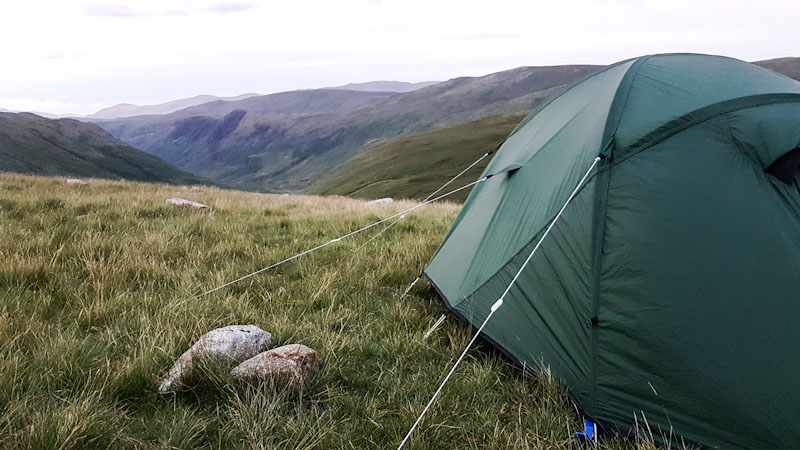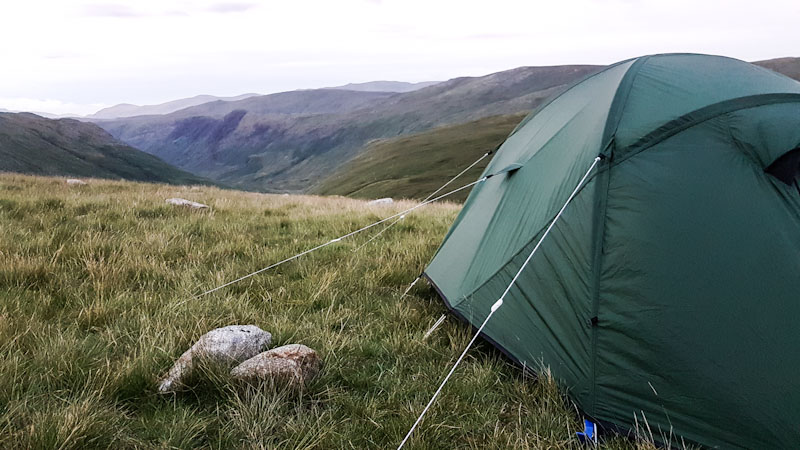 It was at this point disaster struck. The new gas cartridge I'd purchased for my MSR PocketRocket DIDN'T FIT !! Turns out Campinggaz cartridges have a bespoke press-fit type fitting – whereas my stove required a screw-in cartridge. I tried to get creative, removing a seal from the stove and pressing (forcibly) the cartridge into the stove – however no look. We were starving and the prospect and eating a cold and uncooked meal was rapidly becoming a reality!
Luckily a couple of parties (a young family and a small group of cadets) had turned up to camp by the tarn, and after some smooth talking on my behalf we were back in business – a mere hour or so later! We cooked by the tarn, thanked our hosts for allowing us the use of their stove and proceeded to consume possibly the most enjoyable hot meal we'd ever eaten!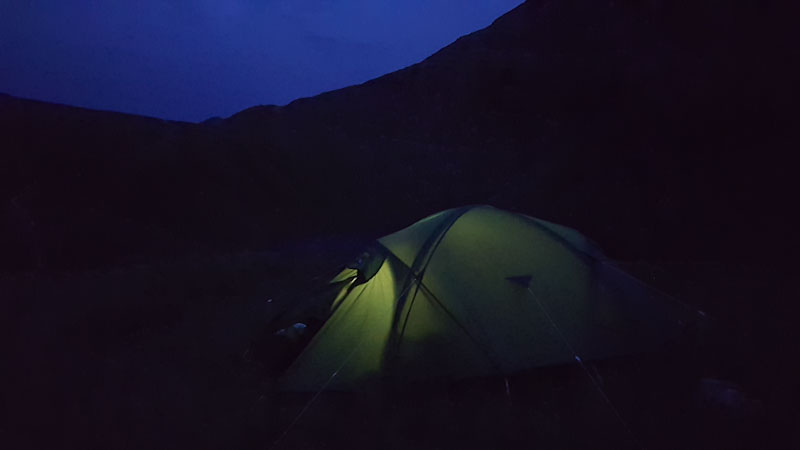 Day 2 – Angle Tarn > Esk Pike > Broad Crag > Scafell Pike > Wasdale Head
It had clearly rained in the night and was a little bit fresh first thing, although overall i'd had just about as good a sleep as I can remember in a tent! After some cold porridge (still no working stove !) we packed up and were on our way by 07.00.
First up was Esk Pike, another first for me and having not had any coffee (#nostove) it was hard to get going. The relentless uphill ascent had our hearts pounding and I was starting to curse the route choice – I wondered if I was getting a little old for 2 day walks?! My phone battery was also getting low so no photo stops for now. I have to say, my memory of day 2 is somewhat limited compared to day 1 – no doubt a result of the general fatigue I was feeling!
The summit of Broad Crag reminded me a bit of Tryfan, but without the exposure. Awash with a jumble of large boulders it felt almost other-worldly – like we shouldn't have been there somehow. Some awkward scrambling and boulder jumping with our now lighter packs saw us traverse the summit pretty quickly overall. Our eye was now firmly on Scafell Pike and we kept pushing on knowing we'd soon have completed the final ascent of the day!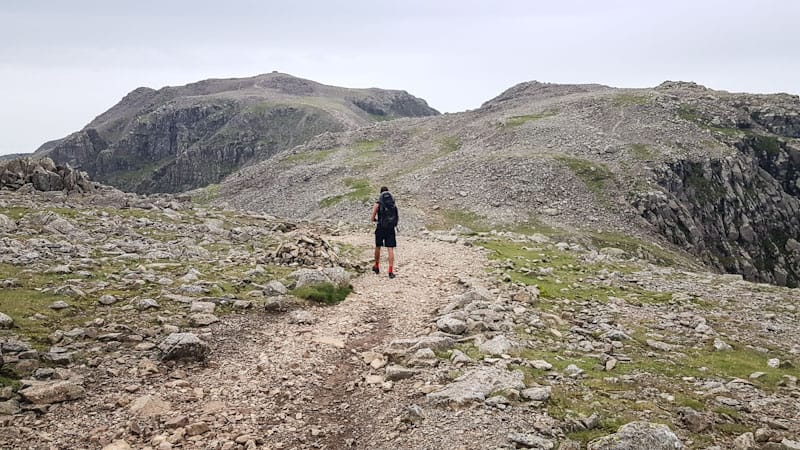 Scafell Pike (978m) is the highest mountain in England and as such gets very busy. We therefore felt pretty lucky to reach its summit and be the only people there (albeit not for long) – pretty cool! I guess one of the bonuses of wild camping is waking up literally amongst the mountains, often pretty early after a crap sleep – and therefore presenting the opportunity to be amongst the first walkers up high on a given day.
We spent a fair bit of time wandering around the summit, taking in the views, some obligatory selfies at the summit cairn and finally a breather in one of shelters – not that we needed any shelter as it was a fine morning. As more people began to arrive at the summit it was time for us to leave.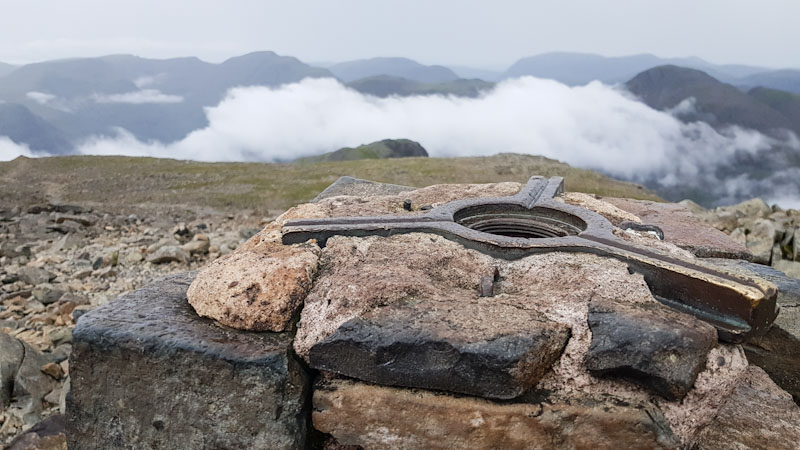 The descent from Scafell Pike to Wasdale Head was pretty tough on the legs. The path itself is a mixture of loose stone, rock and stone-slab steps – and certainly in good weather navigation wasn't a problem. The lower we got the busier the path became and it took some concentration to dodge what was now an almost unbroken stream of walkers. We started running in short bursts, for some reason it now felt easier than walking – I guess we were now pretty desperate to get back to base and grab a coffee.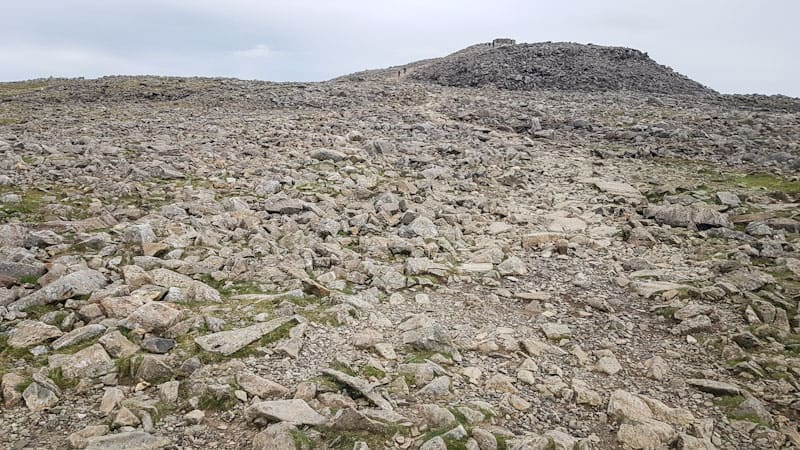 Arriving at the National Trust car park we were most pleased to find a mobile cafe close to the small membership hut, and could finally enjoy the hot beverage we'd dreamed about a good few hours earlier. Sat in the shade we started to cool down a touch and began to reflect on the mornings activities. That said our adventure wasn't quite over, we returned to the car and located our swimming shorts and towels before taking a short drive to Wast Water.
A quick swim in Wast Water
It was a surprisingly warm day and it seemed only fitting to finish off our trip with a swim in Wast Water. Approx a mile from the main NT car park is a small car park on the right just before a stone bridge. Opposite is a small loose stone/shingle 'beach', with absolutely stunning mountain views and direct access to the lake.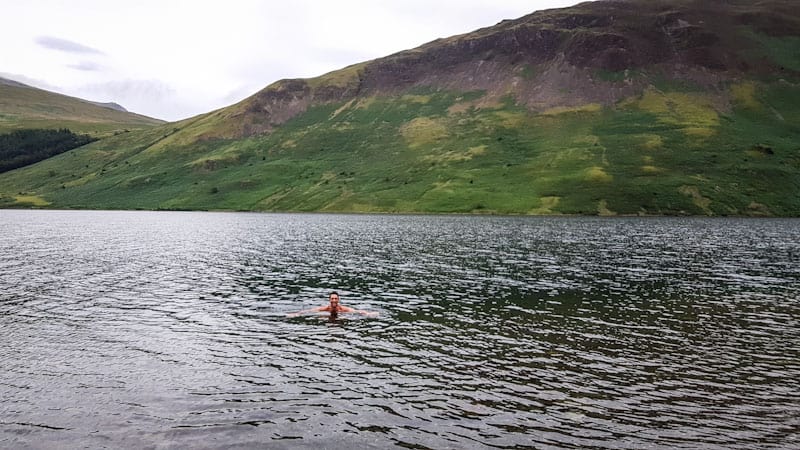 Swimming trunks donned we entered the water, slowly at first as the 'beach' wasn't overly friendly to bare feet – and the water was freezing cold! In-fact one swimmer had a wet suit on. Fully submerging my body into the water was bliss and provided temporary relief from my rapidly developing aches and pains.
We both swam out a little, once again absorbing what must be amongst the finest views in England (my picture doesn't do it justice!). What a great end to the trip! After a short while it was unfortunately time to leave, we both had families to get back to and a near 3-hour drive ahead. All good things must come to an end (until the next time!).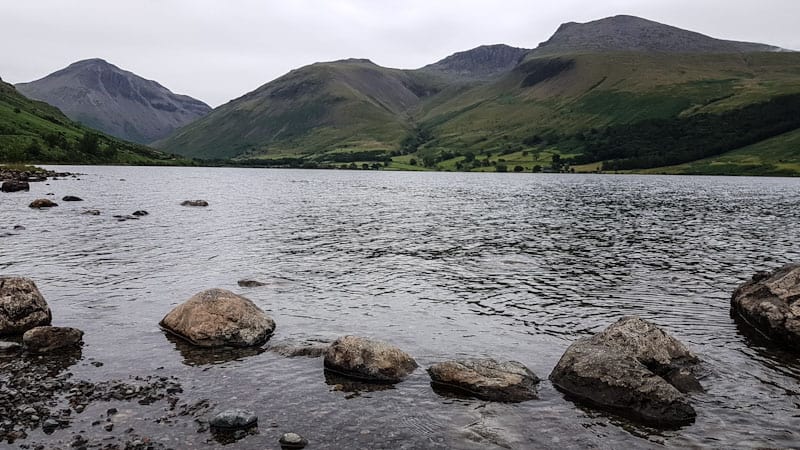 Hazards
Bad weather – including rain, high winds and low cloud can all impact the route – making scrambling and walking on the summits potentially dangerous, camping unpleasant and navigation tricky!
Remember – we cannot highlight all potential hazards when out in the great outdoors. Safety is ultimately down to you. Educate yourself in safety, weather reports, navigation and equipment specific to the activity you intend to undertake and conditions/terrain you may encounter! Check out adventuresmart.uk for general outdoor safety considerations – and activity specific guidance for hill walking, paddle boarding, mountain biking and open water swimming.