Kinder Scout is the highest peak in the Peak District and site of the famous 1932 mass trespass – paving the way for open country access and the walks many of us enjoy today. Read on for an espresso guide to Kinder Scout!
Kinder Scout Overview
Kinder Scout is the highest peak in the Peak District, standing at 636 metres above sea level. The impressive upland plateau is located in the Dark Peak area of the Peak District, and is visible from miles around. The plateau is exposed and strewn with rocks, boulders, peat bogs and heather – it can at times (and especially in crap weather) feel otherworldly on Kinder Scout!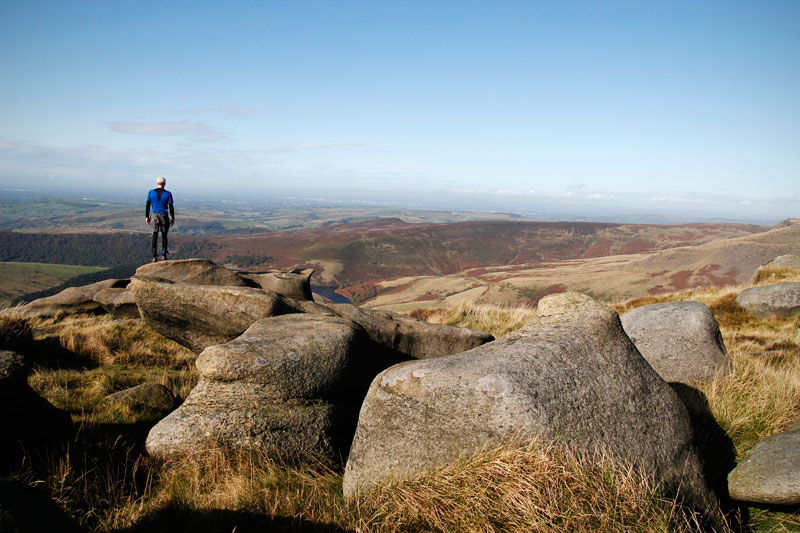 Kinder Scout is popular with day walkers, fell runners, mountain bikers and climbers – whose efforts are rewarded with awesome views reaching as far as Snowdonia on a clear day.
A prominent feature and popular lunch spot on Kinder Scout is Kinder Downfall, a waterfall which flows over the edge of the plateau. During a dry summer the waterfall is a mere trickle, however with the right weather conditions jets of water blow spectacularly back up and onto the plateau drenching walkers who get too close!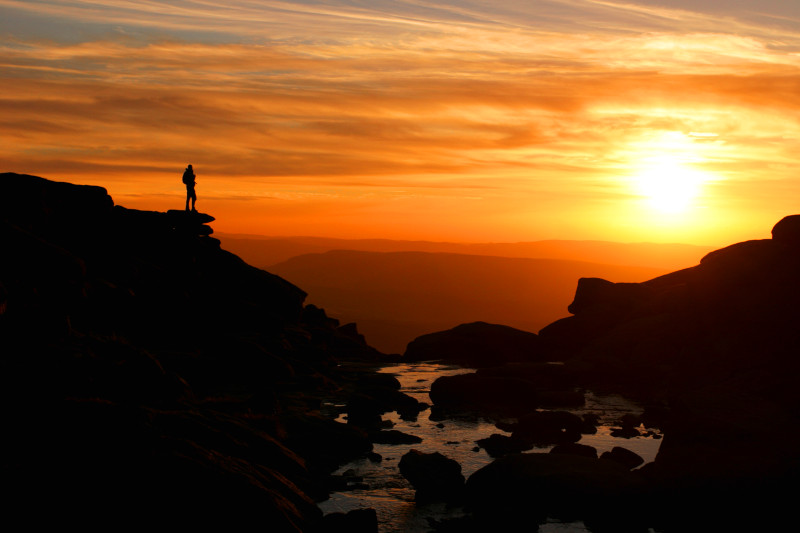 In the depths of a winter deep freeze Kinder Downfall is transformed into a frozen ice wall, and thus attracts experienced ice climbers from afar.
Below Kinder Downfall and the Plateau is Mermaid's Pool (not easily accessible from the plateau), a small pool which legend has it is inhabited by a mermaid who will grant immortality to whoever sees her on Easter Eve. I'm not getting any younger so I can see a planned trip happening at the next opportunity!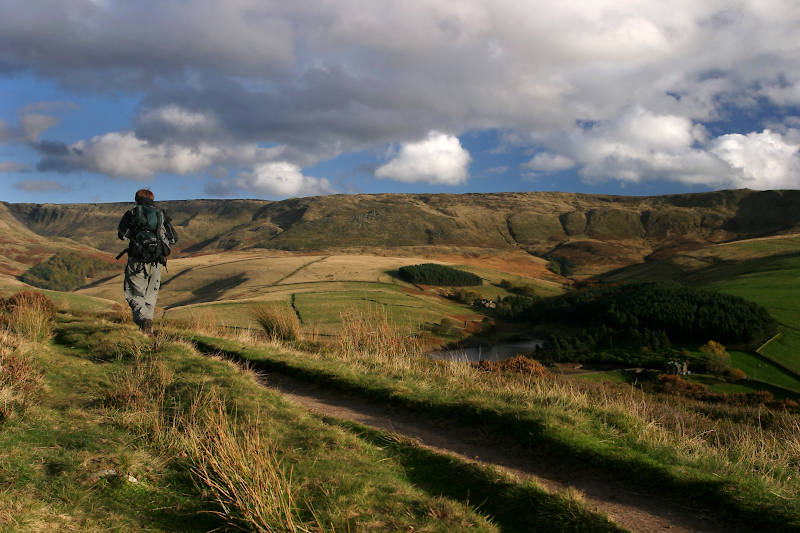 Kinder Scout was the scene of the famous 1932 organised mass trespass, where ramblers wilfully trespassed onto Kinder Scout to fight (some literally!) for access to areas of open country in England and Wales. For many Kinder Scout is very much the spiritual home of walking.
There are a number of aircraft crash sites on Kinder Scout which can easily turn a half day walk into a full day of exploration – see this blog on the Mammut website for a comprehensive overview.
It's often said that Kinder has its own micro-climate, a seemingly dry and warm day on the approach from Hayfield or Edale can quickly become wet, cold, windy and generally miserable on the plateau – you have been warned!
If the weather closes in, navigation can become difficult – a map, compass and suitable clothing are a must. It can and does often snow in the winter months on Kinder Scout. Whilst its clearly not in the same league as the mountains and North Wales or the Lake District it can still be very challenging in winter conditions.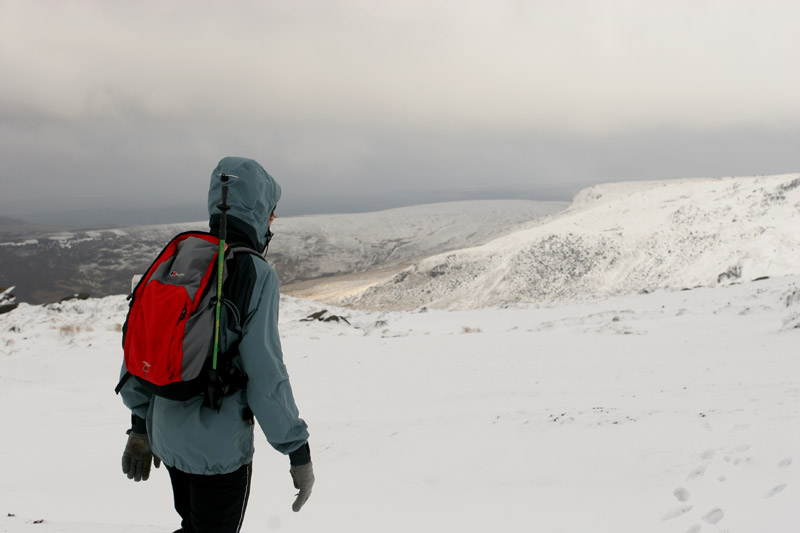 Popular Kinder Scout Walks
The most popular Kinder Scout walking routes are the Kinder Scout circular walk from Edale and the Kinder Horseshoe from Hayfield – both feature on my Best Walks in the Peak District post.
Where is the summit of Kinder Scout?
The official high point (636m) of Kinder Scout is north east of the Kinder Low trig pillar (633m) – and is a mere inconspicuous mound of grass amongst boggy and featureless terrain. As far as summits go its uninviting to say the least and thus is avoided by the majority of walkers. Instead walkers are happy to regard the prominent Kinder Low trig as the official summit of Kinder Scout – its certainly easier to find and better for a selfie!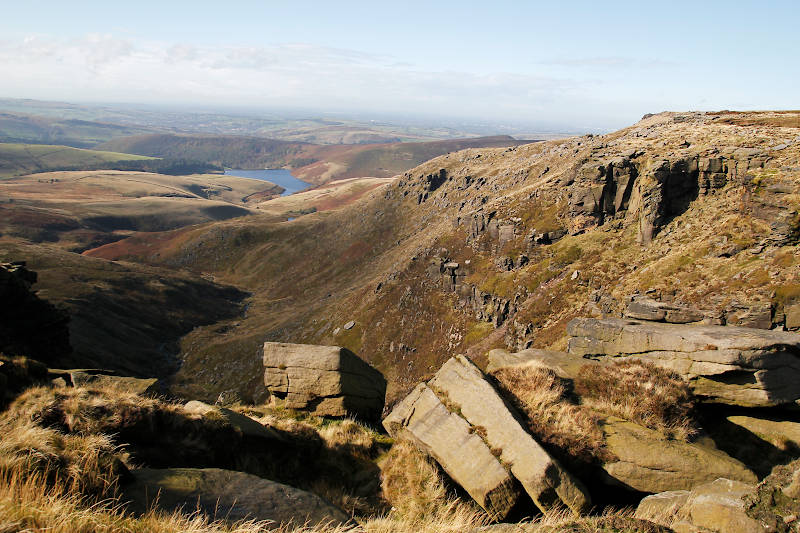 Which OS Map for Kinder Scout?
The OS Explorer OL1 map of The Peak District: Dark Peak is scaled at 1:25000 and covers Kinder Scout in its entirety.
The Great Kinder Beer Barrel Challenge
The Great Kinder Beer Barrel Race is the most bonkers fell race I'm aware of. Teams a runners must carry a full beer barrel (its full of water rather than beer – allegedly!) from the Snake Pass Inn to the Nags Head Inn via Kinder Scout. All manner of homemade contraptions are used to to carry the barrell, generally incorporating a ladder or number of scaffold poles! It must be super thirsty work and no doubt a few pints get consumed once the ordeal is over.
What are your experiences on Kinder Scout? Which is your favourite walking route? Did you get lost? Any interesting facts or additional info I should include on this post? Leave a comment below, I'd love to hear from you!