Mountain biking in Grizedale Forest is generally centred around the popular North Face Trail, however it is the surrounding network of bridleways that provide the more exhilarating ride and which locals rate as some of the best natural riding in the UK. Red and Blue MTB trails are XC orientated and a short Black route provides an enduro edge, however for the more adventurous it really does pay to explore beyond the purpose-built trails. The forest itself is located centrally between Coniston Water and Lake Windermere, and together with the surrounding hills offers some decent elevation and classic lakeland scenery.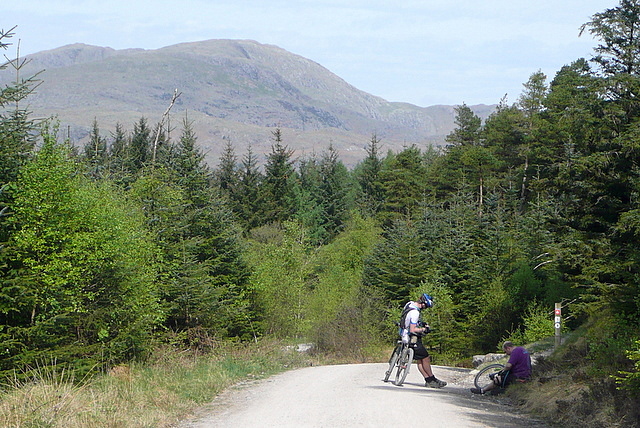 One of the many fireroads at Grizedale Forest, in the background are the Coniston fells. Photo © Graham Horn (cc-by-sa/2.0)
The North Face Trail
Distance: 10.5 miles
Trail Difficulty: Red (intermediate)
Time: 1.5 – 2 hours.
The North Face Trail is a single-track mountain bike XC route with technical climbs, boardwalks and occasional rock features. Ride the trail on a short travel bike at high speed and you should enjoy the blast. Enduro nut's should combine with the black trail and some of the natural riding in and around the forest – otherwise you'll be heading home somewhat disappointed. Trail highlights include the initial technical climb which allows you to unleash you're climbing skills on what is actually a fairly interesting uphill segment. The final high speed descent is good fun and whilst not mind blowing will certainly bring a smile to your face. Other than that there are a number of boring fire-roads and some seemingly pointless boardwalks to navigate. Beyond the trail there are some great mountain vistas to keep your attention, don't forget the selfie stick!
The Black Trail
Distance: 0.5 miles
Trail Difficulty: Black (advanced)
Time: 2 mins.
A short black graded trail signed from the main North Face trail. The trail has an average gradient of -11% and includes berms, drop-offs, jumps, table-tops and steep descents. Its a fun section and rumour has it plans are afoot to extend this trail in the near future.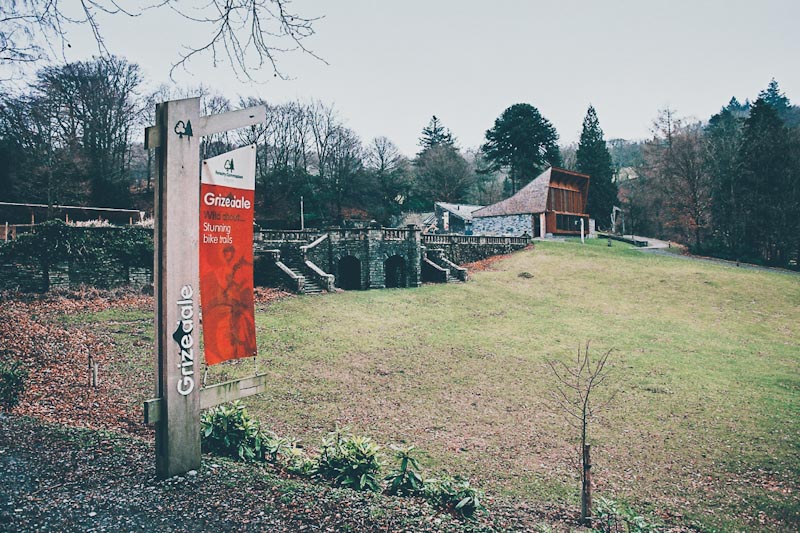 Grizedale Forest and the Visitor Centre. Photo © p&p photo (cc-by-sa/2.0)
The Bridleways
The natural riding in and around Grizedale forest is regarded by mountain bikers as some of the best on offer. A network of bridleway's include fast technical descents, exhilarating rocky climbs and wild vistas, making for some great adventure riding. Popular routes generally incorporate sections of the North Face Trail and then deviate off into the surrounding hills. If you don't know the area navigation can of course be tricky, by all means go for an explore however plan accordingly and have a map and GPS to hand! If you don't fancy going freestyle then hire a guide from Grizedale Mountain Bikes (see below) or follow a pre-planned route. To get you started here is a 17 mile loop which begins from the Grizedale visitor centre and heads out towards Coniston water, the route includes the infamous Parkamoor descent (Strava segment here) to High Nibthwaite.
Other Trails
There are a bunch of other family orientated Blue and Red graded trails within the forest – see here for full details.
Further Info
Bike Hire – Bike Hire is available at Grizedale Mountain Bikes and includes Full Suspension and Hard Tail MTBs, e-MTBs, Gravel bikes and kids bikes/trailers. The shop is located at the forest, parking at the main visitors car park (see below).
Getting There – Grizedale Forest Postcode: LA22 0QJ / Pay and display parking at the Visitor Centre which also incorporates a cafe.
Nearby Accommodation – Grizedale Campsite is situated 1.5 miles from the visitor centre, options include tent pitches, pods and a bunk barn. For a more comfortable stay there are a plethora of lake district accommodation options, including in the nearby village of Coniston or the vibrant tourist town of Ambleside.
Trail Map – Forestry England download.