This short walk leads directly up to Stanage Edge, an epic 3 mile long gritstone escarpment in the east of the Peak District. A short approach will get you onto the edge in no time, allowing you to maximise your time exploring the boulders, wandering along the edge and taking in the magnificent views.
Walking Route – Stanage Edge Quickie
Distance: 10.5km (6.55mi) [Full edge route] / Elev Gain: 200m
High Point: High Neb - 458m
Map: OS Explorer OL1
GPS Download: Stanage Edge Quickie
Starting Point: Hook's Carr car park
Starting from the car park (see further info) it's an approx 5-10 min steep(ish) walk to get up and on to Stanage Edge. The paved footpath is sign posted and the edge itself is clearly visible from the car park.
Once on the edge head left (north-west) along the summit path. On a dry day you'll see climbers on the rock faces and amongst the boulders below the edge. Fine views of the edge itself and surrounding area will see you reaching for your camera. If time allows its also worth exploring in and around the boulders below the edge, where you'll find the odd small concealed cave or natural shelter – just be aware of climbers above!
The summit path eventually leads to High Neb (458m), this is the highest point of Stanage Edge and is marked by a trig point. From High Neb the path continues or you can start making your way back.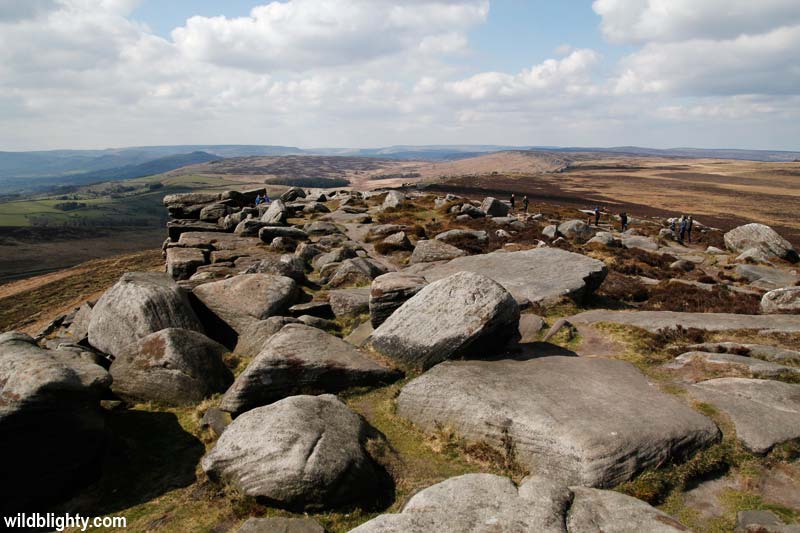 Options on the route back include dropping down to Stanage Plantation – the small forest is strewn with boulders and is one of the most popular Bouldering locations in the Peak District. There is also a toilet close by (off the road) if needs must!
This route is super simple to navigate and the distance you'll cover depends on how far in each direction you decide to walk. To walk the entire edge in both directions is an approx 6.5 mile walk – as per the above route map.
Further Info
Starting Point – Hook's Carr car park (Stanage Popular End) – is situated below Stanage Edge, limited free parking is available on/off road. If full head further down the road to Hollin Bank (Stanage Plantation) – a large pay and display car park with toilet facilities nearby.
Getting There – On passing through (heading east) the nearby village of Hathersage go left up School Lane, this road soon becomes The Dale. After approx 1.5 miles you'll pass over a cattle grid, take your next left (Stanage edge is visible from here), and you'll arrive immediately at Hook's Carr. For Sat Nav use the Postcode S32 1BR – it will get you pretty close to Stanage Edge..
Other Notes – there are a number of bike stands/locking points at Hook's Car – I personally wouldn't leave an expensive bike there for any period of time however. If you are on a mountain bike there is also bridleway access to Stanage Edge – the trail is steep, rutted and rocky!