Anyone who calls themselves a mountain biker must ride Snowdon in Snowdonia at least once in their lifetime. The opportunity to summit the highest mountain in Wales with your mountain bike and then take on an epic big mountain descent (with breathtaking views) is surely a ride you can't ignore!
Riding Up Snowdon
The Llanberis Path runs parallel to the Snowdon Mountain Railway and is the least challenging and most rider friendly route to the summit of Snowdon. Make no mistake though, its anything but easy – this lung busting climb is over 4 miles with an average gradient of 13%!  Its rocky and technical in parts and whilst the majority can be ridden you will very likely find yourself pushing in parts. In terms of how long it takes to cycle up Snowdon, it really depends how fit you are. As a guide elite riders can do it in around 1 hour, however for the average weekend warrior a more realistic aim would be anywhere between 2 and 3 hours.
Strava: Llanberis Path Climb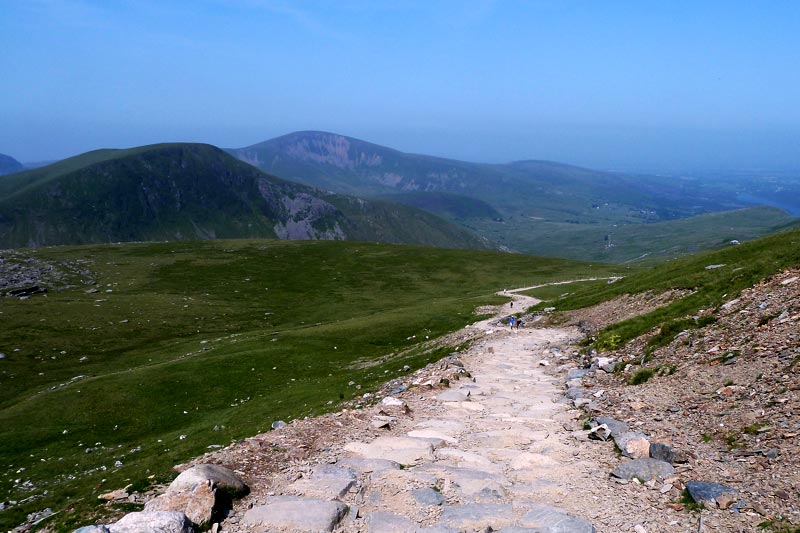 Looking down the Llanberis Path
"Llanberis Path, Snowdonia" by rob-young/ / CC BY
Riding Down Snowdon
From the 1085m summit of Snowdon there are number of routes which will take you back down to civilisation:
The Snowdon Ranger Path & Telegraph Valley
This is an epic big mountain descent and the most popular for Mountain Bikers. Think steep technical riding on loose rocks, mini boulder fields and sweeping switchbacks. The Ranger path itself heads down towards Llyn Cwellyn to the West of the mountain, and if you dare to look-up the views are sublime. Telegraph Valley is your route back to Llanberis, this single-track path is a thrilling ride in its own right. The descent overall will test both you and your bike, for this is an unforgiving ride but worth every moment!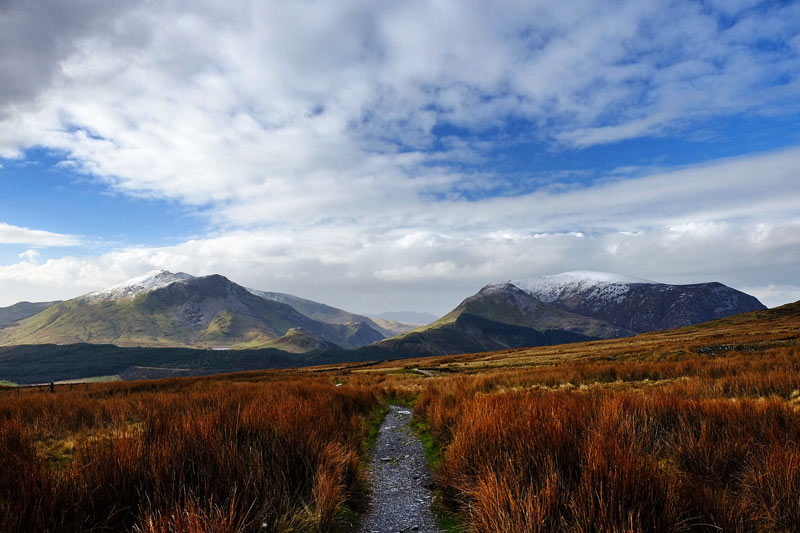 The Epic Snowdon Ranger Path
"Snowdon Ranger Path" by scotbot / CC BY
The Llanberis Path
The Llanberis Path is the least challenging of the descents. Its long, relatively straight and not as technical as the alternatives. If speed is your thing this is the route for you, at the time of writing top strava riders are doing the segment in sub 12 minutes! Note – if you do choose this option you really need to be hitting it at dawn or dusk to stand any chance of a clear run.
Strava: Snowdon Downhill (Llanberis Path)
Rhyd Ddu
hyd Ddu is a big step up both physically and technically. Its for expert mountain bikers who are comfortable in big mountain environments. The reward is an epic big day out, however its dangerous in places and not for the faint hearted!
Strava: Rhyd Ddu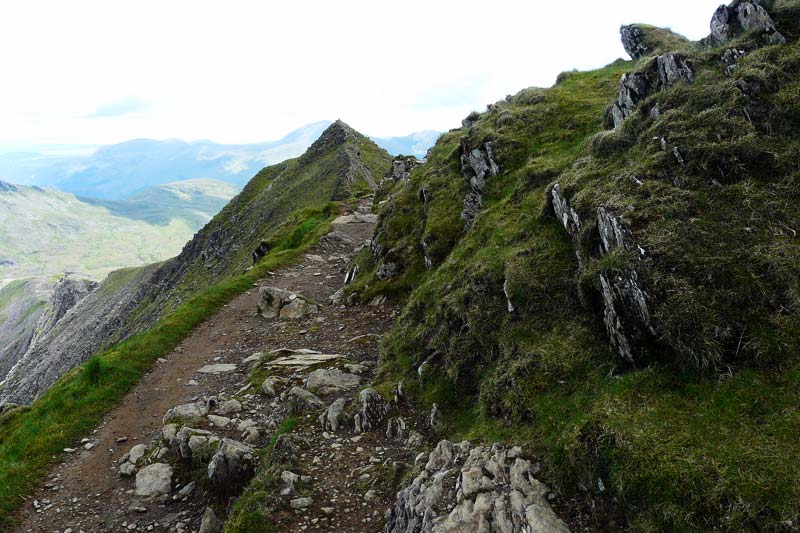 The gnarly Rhyd Ddu path
"Rhyd Ddu Path on Snowdon" by bradbox/ / CC BY
Who it's suitable for?
You need to be on your game to ride Snowdon and it's certainly not for beginners. The majority of the near 1000m (3000+ ft) vertical ascent of the Llanberis Path is rideable, however this relentless rocky climb is a huge physical test.  What goes up must go down and this is where the fun really starts! You have a choice of routes (see below), each is physically and technically demanding – a well maintained full suspension mountain bike and the skills to use it are essential!
The best time to ride Snowdon?
Snowdon is the most popular mountain for walking in the UK. During the summer months literally thousands of walkers will head to the summit come rain or shine. For this reason and due to safety concerns there is a voluntary access agreement in place between 1 May – 31 Sept, which restricts riders from riding Snowdon from 10am to 5pm daily. It actually makes total sense as trying to ride the mountain with so many people about would be less than enjoyable. Instead why not make this a real adventure, ride up during the early hours with lights and be at the summit for sunrise. It might seem like a big effort however the pay-off will be a (hopefully) clear descent along with stunning early morning views. And of course you'll be back in Llanberis well before Pete's Eats opens !
Related Content