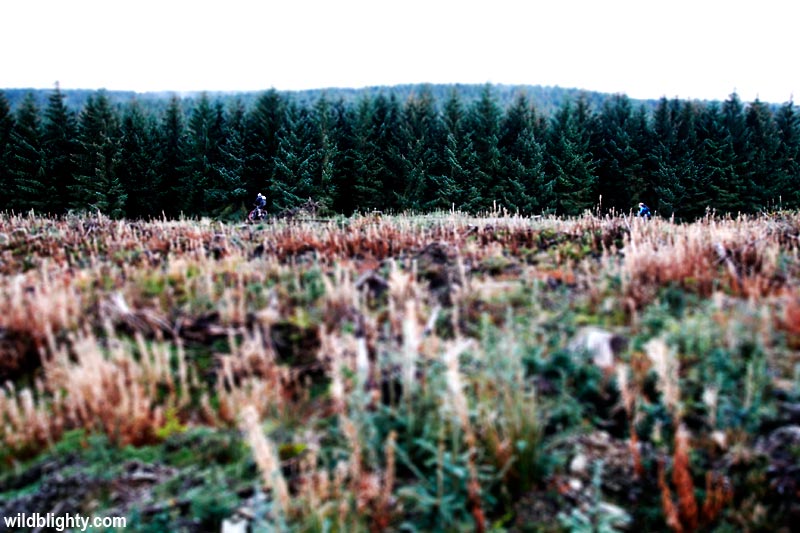 Coed Llandegla B-line boardwalk from the Red trail
Activities
MTB, Trail running
Mountain Biking
Coed Llandegla forest in North Wales is one of the most accessible and popular mountain bike trail centres in the UK. Fast and flowing waymarked routes are graded to suit all abilities. Berms, switchbacks and boardwalk sections will put a smile on the face of less experienced riders whilst adrenaline junkies will get their rush from the steeper and faster single track sections with drop-offs, rock slabs, table-tops and jumps.
If you want to hone your trail skills head to the skills area, freeride area, pump track or book a skills course with one of the on-site instructors.
We recommended a decent fitness level to tackle all but the green route, in particular the red and black routes include some hellish short steep climbs!
MTB Routes

Green route / family / 5km
Blue route / beginner / 12km
Red route / intermediate / 18km
Black route / experienced / 21km
The Masts and World's End – Circular Extension
When the trails at Llandegla are dry this 4.6 mile (7.4 km) circular extension will turn your trail centre ride into an adventure! You will head off the way-marked trail up to the summit of Cyrn-y-Brain (565 m) and the transmitter masts beyond. On on clear day the views from the masts are sublime, reaching as far as Snowdonia and the Peak District. From the masts an epic near 2-mile descent to the tarmac of World's End will undoubtedly bring a smile to your face. After a short climb on World's End you will join the Offa's Dyke path which takes you back into the forest via Llandegla moor.
Ride Details: Map above (inc. GPS download). Otherwise the instructions are pretty straightforward, see below.
Approx 2.5 miles from the trail head whilst still on the main way-marked climb for the red and blue trails, head left along a short fire-road to a stile.
Don't cross the stile, instead ride up the path running parallel to the fence, in the distance you will see the transmitter masts you are aiming for.
You will arrive at a stile, cross it and continue following the path up-hill and via a likely boggy area where you may wish to carry your bike!
You will join a loose stone path, continue on to the second mast past the ruins (on your right) of Sir Watkin's Tower.
At the second mast come off the main loose stone path (go left), head east past the mast and follow the path downhill.
Continue on the path down-hill for almost 2 miles, this descent is epic and can be taken at speed!
You will eventually arrive at a single-track tarmac road, in an area called World's End.
Head left up the road for approx 0.5 miles, on your left you will see a signed path which is part of the Offa's Dyke long distance footpath.
This path goes over Llandegla moor via sections of old train sleepers, and eventually arrives at a stile which brings you back to where you started.
Here you simply re-join the blue and red trail by heading up-hill.
NOTE: this route is not an official cycle-way and some sections such as Offa's Dyke are dedicated walking paths. Locals do ride here and non riders do seemingly tolerate it, please consider this and give right of way and respect to any walkers and runners you come across.
Trail Running
Trail running at Coed Llandegla is served by two 10km waymarked routes. Expect undulating and uneven forest terrain with steep ascents, technical descents and plenty of mud if it's been raining. There is also a stream crossing thrown in for good measure on the red route.
For those more adventurous runners the Offa's Dyke long-distance footpath runs through the forest enabling you to use the facilities as a base to explore beyond the forest.
Running Routes

Blue route / challenging / 10km / 354m ascent
Red route / more challenging / 10km / 382m ascent
Back at the ranch
After a session on the trails treat yourself to a bacon sandwich and mug of coffee in the award winning onsite cafe. If you find yourself visiting on a Wednesday evening the ever popular summer BBQ is worth a go.
and Finally…
If you are visiting in the winter months always check the conditions ahead of your visit, its not uncommon for the access road to be closed due to excessive snow or the trails to be icy/snowy, although the team at One Planet Adventure always work hard to get things operational again.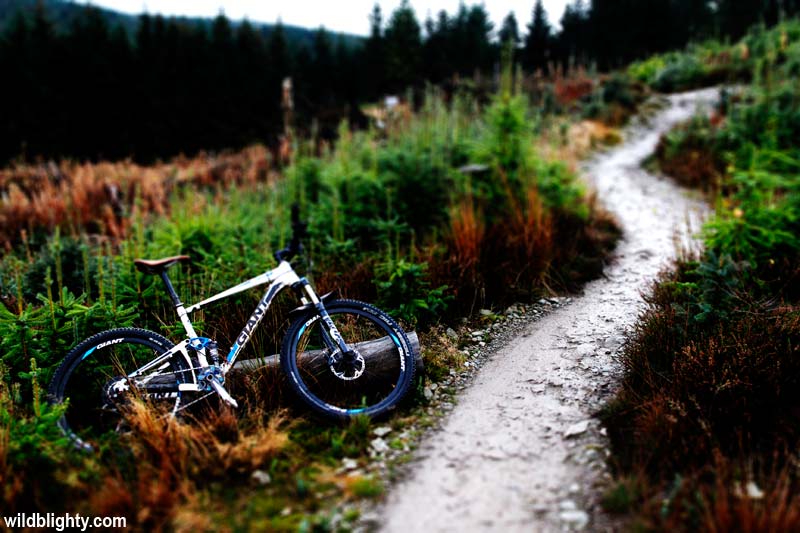 Coed Llandegla Red trail
Getting there
Coed Llandegla Forest, Ruthin Rd
Llandegla
Denbighshire
LL11 3AA
Facilities
Cafe
Toilets
Bike Shop / Workshop
Bike Hire
Bike Wash
Parking
All day parking is £4.50 per car, bring cash.
Opening Hours
Summer
Mon – Thurs: 9.00am – 9.00pm
Fri – Sun: 9.00am – 6.00pm
Winter
Mon – Tues: 9.00am – 6.00pm
Wed: 9.00am – 9.00pm – night riding.
Thurs: Sun 9.00am – 6.00pm
Visitor Centre
Mon: Closed (open Public Holidays)
Tues: 9.00am – 6.00pm
Wed: 9.00am – 9.00pm
Thurs – Sun: 9.00am – 6.00pm
Accommodation
Llyn Rhys Campsite
Approx 3 miles from Llandegla, Llyn Rhys campsite is a working farm with awesome views, new facilities (as of 2016) and friendly staff. Camping and caravan pitches available.
llynrhyscampsite.co.uk
Llandegla Fishery
Situated less than a mile from the forest, Llandegla Fishery offers camping, caravan pitches and B&B.
llandeglafishery.com
Llangollen
If you are looking for a more luxury stay, the small picturesque town of Llangollen (approx 11 miles from Llandegla) offers a range of hotels, B&Bs and self catering options.
tripadvisor.co.uk
More Information
Coed Llandegla Forest
This is the official website for Coed Llandegla Forest.
coedllandegla.com

One Planet Adventure
One Planet Adventure manage the MTB trails and visitor centre/cafe etc.
oneplanetadventure.com
Llandegla Weather