Overview
Cannock Chase in the Midlands boasts two dedicated mountain bike trails and a down hill area. The red intermediate graded XC trails form a figure of eight with Follow The Dog leading into The Monkey Trail. The undulating singletrack is surprisingly physical as it traverses its way through the beautiful forest landscape. The climbing can at times feel somewhat relentless despite the profile never getting super steep, this is rewarded with some nice fast flowing descents with berms, jumps and drop-offs providing a welcome dose of adrenaline. As the trail weaves through the forest it gets tight in places, a natural obstacle we liked however one that clearly caught some folk out judging by the evidence of numerous handlebar tree collisions! Avoidable black graded sections offer the more technically orientated rider a challenge, although we thought they felt perhaps a little too man-made for the trail. Having said that the volunteer trail builders have clearly put a lot of effort in here and many trail centre riders expect this nowadays. Overall its absolutely worth checking out Cannock Chase, however it should be noted that these trails are very popular (given there proximity to the M6 motorway) and weekends may well be best avoided.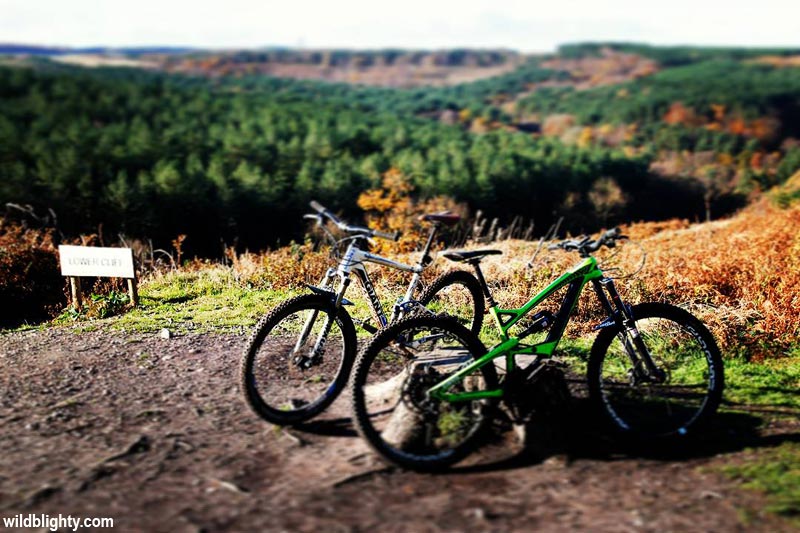 Follow The Dog
Follow the Dog is a 10.8 km red graded trail that can be ridden alone or in combination with The Monkey Trail. Its predominantly singletrack and is a fun ride that can be nailed at speed well within an hour. The trail flows well in parts and has some nice berms, rollers and small drop-offs. Theres nothing knarly however some blind bends may well catch you out in the latter part of the trail. We particularly liked High Voltage, Son of Chainslapper and Rock 'N' Rollers.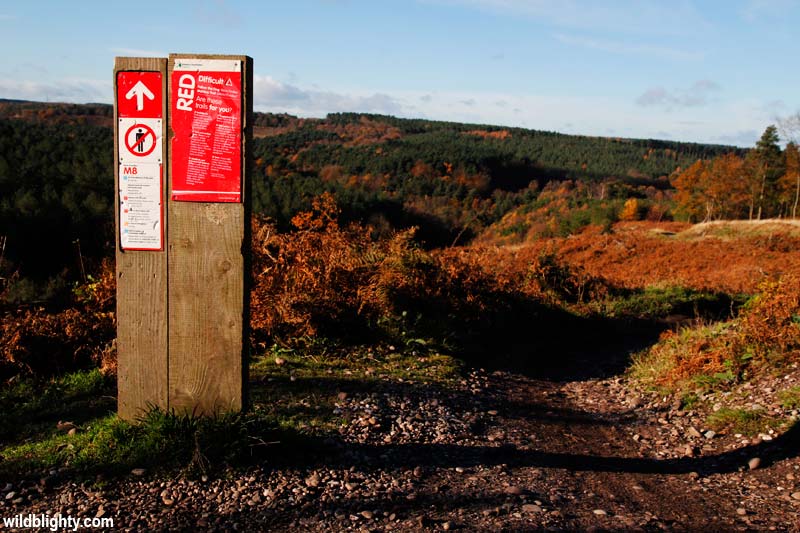 The Monkey Trail
The more physically demanding Monkey Trail is reached via Follow The Dog – its well signed and can't be missed! The mainly singletrack trail can feel like a slog at times, however you are gifted with some great sweeping views of the forest and along with boardwalks, jumps and drop-offs you will certainly be entertained. They have saved the best till last with the awesome Lower Cliff descent arguably being the best section of trail on offer at Cannock. It leaves that lingering memory in your mind that you would like to think will again be played out in the future!
Facilities
Cafe
Toilets
Parking
Bike Shop / Hire
Bike Wash
Getting there
Cannock Chase Postcode: WS15 2UQ
Follow the Dog starts from the Birches Valley Visitor Centre
Parking
The car park is open dawn till dusk – stay later and you might see some vampires running around the forest! £4 per car, bring cash.
More Information
Forestry Commission
Trail map and for mountain biking at Cannock Chase.